The second "Dancing for Shelter" competition was a success on Friday, with an organizer reporting it provided more than $30,000 for the East Kentucky House of Hope. 
Organizers paired local community leaders with dance instructors to raise money for the homeless shelter at this event, which also featured performances by professional and student dancers.
Competitors turned out in full costume, with some of them admitting they were dancing outside of their "comfort zone." 
That was the case for Fitzpatrick Baptist Church Pastor Tommy Reed, who earned a perfect score from the judges after his football-themed rap song routine with instructor Ashleigh Dotson of Panache in Pikeville. 
Reed joked, "It took me four weeks just to understand what a Floss was." 
He praised the homeless shelter committee for its efforts.
"I'm very proud of the leadership we have, our point people. I'm very thankful for the community, for jumping in. It seems like the eyes of our community has become clear ... It is an issue. It's our issue. These are our folks and I'm very thankful for the people that are serving," he said. 
Competitors were judged by four panelists, and votes also poured in from throughout the community and the audience. Officials reported that 9,000 votes were cast in the competition, and the majority of them came during the competition. 
Prestonsburg Elementary Principal Melissa Turner won the contest, with a skit based on the song "Better When I'm Dancing," featuring her instructor Bill Bettinazzi and PES students. 
"One of the big things that I've talked to (the students) about as we practiced is this is community service. This is important and we need this more than anything. And to be a part of it, to be a part of it with these girls, it's amazing," she said. 
Teri Kinzer-Crum, granddaughter of the late Lucy Kinzer, earned a perfect score after dancing in her grandmother's honor at the event. She was named a finalist in the competition alongside Turner and Tim Hatfield, the CEO of Highlands ARH.
Hatfield, dancing with instructor Jennifer Hartsock, brought down the house with two performances. He wore parachute pants for a rendition of "Can't Touch This," by MC Hammer, and he also dressed up as a doctor in the final competition. 
Floyd County Judge-Executive Robbie Williams performed the Mashed Potato and the Twist with instructor Nadina Delong at the competition. He praised homeless shelter officials for the work they are doing to combat homelessness.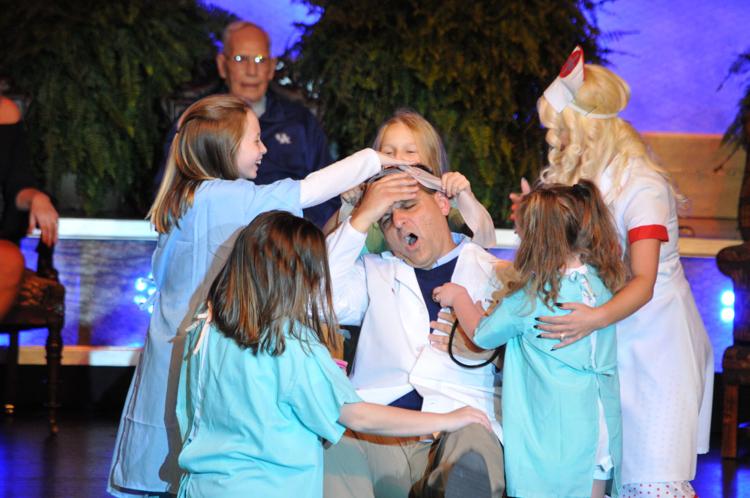 "This is for a good cause. I feel like as community leaders or just good citizens, we need to step up and help the homeless shelter as much as possible," Williams said. "This is (like) Dancing with the Stars, but, you know the real stars of the show is you (Gail Spradlin), Mickey McGuire, the board, the folks that do this for the homeless shelter. And I want to thank you for what you do." 
Prestonsburg Mayor Les Stapleton presented a plaque of appreciation to Mickey McGuire, one of the founders of the homeless shelter who served as instructor for three Dancing for Shelter contestants this year. McGuire, a ballroom dancer, came up with Dancing for Shelter to raise funds for the homeless shelter last year. He danced with three competitors at the event. 
"A couple of times in my life, there but by the grace of God, there go I," Stapleton said. "I could have been in the same situation," Stapleton said. "I, my family, the city and our community in general, you know, everybody in this area tries to take care of each other and that's what it's all about, taking care of each other." 
Gail Spradlin, president of the Floyd County Homeless Shelter Committee, talked about the vulnerability of local residents.
"I think that most people that live here and work, day to day, I think they're probably one paycheck away from homelessness themselves," she said. 
Stapleton, Big Sandy Community and Technical College President Dr. Sherry Zylka and Floyd County Circuit Court Judge Tom Smith returned for their second year on the stage at Dancing for Shelter. 
Stapleton was "killed" on stage for stepping on the toes of his instructor Dr. Bonnie Hensley during a rendition of "Kung Fu Fighting," while Zylka danced the polka to honor her heritage and Smith donned a cowboy hat for a rendition of "The Get-Up." 
"We're just so blessed to have so many people show up and come to an event like this and support the homeless shelter because ... we have more homeless than we realize," said Leslie Nelson, a board member of the homeless shelter committee who taught Smith how to do "The Butterfly" dance for the competition. 
Dick Clark, who has operated Hall and Clark Insurance in Prestonsburg for 54 years, danced on his prothetic leg during the competition. A cancer survivor, Clark danced with Charlotte Soder to the song, "A Circle of Life" from the Lion King. He emphasized the importance of helping the homeless. 
"We as a community need to take care of our own homeless and not depend on people from outside the area. We've got a responsibility to these people and we need to stand up for them," he said. 
East Kentucky House of Hope officials reported that the shelter has served 131 clients since it opened in March and more than 60 of those clients have found other types of suitable housing. 
They read statements that were written by some of the clients.
"This shelter has given me a new outlook on life and a passion to strive and do better," one of them wrote. "It has given me hope and taught me to love myself. Most of all, it has given me a second chance with new friends that understand my situation and listen without judgement." 
Another shelter resident wrote, "This shelter has given me life again. They help me so much." 
For more information about the homeless shelter, visit ekyhouseofhope.com or call, (606) 886-2201.