A new location helped make opening day a success for the Floyd County Farmer's Market on Saturday, May 25.
The market moved from its former location on South Lake Drive to the grounds of the Kentucky Attorney General's Prestonsburg office, located at the intersection of Ky. 114 and North Lake Drive. 
Vendors sold canned goods, jellies and jams, fresh breads, strawberries, flowers, tree saplings and crafts at the market on Saturday. It was family day, offering inflatables and games for children.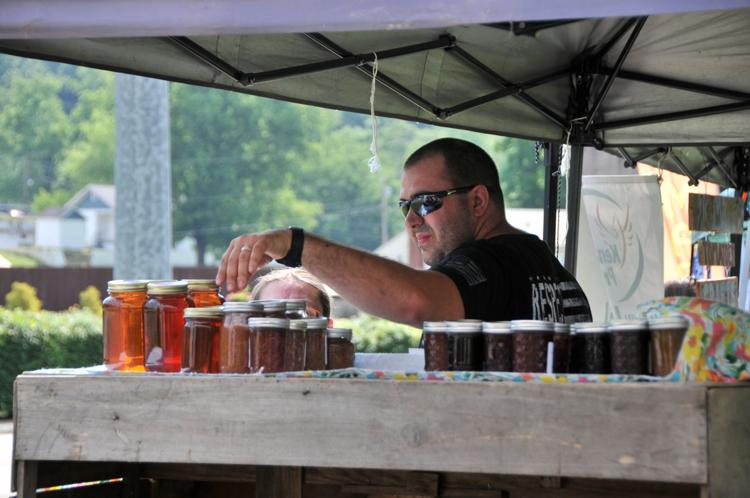 The farmer's market will continue to be held through August or September from 9 a.m. to 1 p.m. every Saturday. Visitors can expect to find live music and other events and activities throughout the year, including a special "Christmas in July" day that's being planned for the end of July. 
Floyd County Farmer's Market board President Gary Gearheart encourages local residents who raise gardens to consider becoming a farmer's market vendor. He and his family sell vegetables and eggs they raise on their farm in Floyd County, as well as essential oils his wife offers through her business. 
Nine vendors have signed up to sell items at the market this year, Gearheart said, and there is space for others to join.
"We have a new location. We're very excited about that location," Gearheart said. "We just are looking for vendors and there's a fine line between the vendors and the people who come, so as long as there's vendors, people will come." 
Johnson County farmer Benette Howard has been selling her canned goods and fresh produce at the Floyd County Farmer's Market for about five years. She said customers return to her booth each year for her baked and canned goods, which include honey, sauerkraut, pickled corn and beans, beets, pickles, green tomatoes, jellies and other items. She added a new paw paw jam this year and said her peas should be ready to sell at the market on June 1. 
She has farmed all of her life. 
"It's just something I grew up doing with my family, and I enjoy doing it, so I just continue to do it," she said. "It just seems to, both of my parents are gone, so it seems to make me closer to them, is one reason I do it." 
Local farmers who want to become vendors at the farmer's market must undergo a short training on food safety at the Floyd County Extension Office. 
For details about the training, call, (606) 886-2668. For information about future events at the farmer's market, visit the organization's Facebook page.