One of the Mountain Arts Center's most popular attractions is still going strong after about a decade on the stage.
Hundreds of people pack the MAC on Fridays throughout the summer for Front Porch Pickin,' which offers free admission and a unique opportunity for local residents who want to perform. 
Josh Shepherd, a member of the Billie Jean Osborne's Kentucky Opry who plays guitar as part of the Front Porch Pickin' band, calls it "one big jam."
"We leave all egos at the door, and we just have fun," he said. "And it's a way for people that mostly play at home, or always wanted to play on the Mountain Arts Center stage, they get the opportunity to come out to play."
Clyde Porter, who has been teaching at the MAC for at least 25 years, said some of the performers wouldn't otherwise get the opportunity.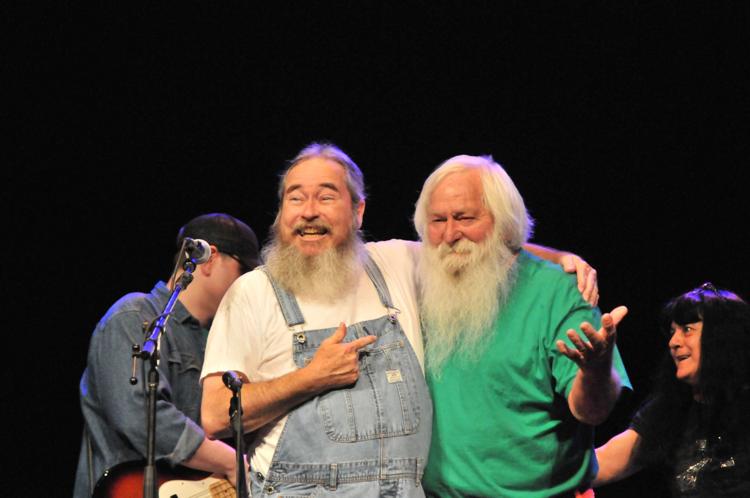 "We've seen 700, 800 plus here on a Friday night, years and years past," he said. "Some people would never get a chance to play that big a crowd, and they get nervous, but they do and we do the best to back them up."
Shepherd, Porter and other musicians who regularly attend Front Porch Pickin' are tasked with providing the background music for all singers — some of whom step up to the microphone to sing original songs.
Shepherd said he's proud of what is accomplished at Front Porch Pickin.' He talked about how it helped build friendships for some attendees.
Performer Connor Dale told the audience on June 21 that he met his wife, Billie Jean Osborne Kentucky Opry member Rachel (Messer) Dale, at Front Porch Pickin.' He performed "Blink of an Eye," a song he said he wrote for her at the event.
"We're proud of this place," Shepherd said. "We're proud to be a part of it … There's been a lot of relationships, a lot of friendships, rather, that's come out of Front Porch Pickin.'"  
Porter said some famous musicians have also attended Front Porch Pickin' in the past. 
Performers on Friday included children and adults from throughout Eastern Kentucky and as far away as Owensboro. 
There is no age limit to participate at Front Porch Pickin.' Singers and musicians fill up seats on the stage and step up front when it's their turn to perform. The event often features members of the Billie Jean Osborne Kentucky Opry and its Jr. Pros.
It's a come-as-you-are type of atmosphere that's open to any person, regardless of skill level. Admission is free via a partnership with Appalachian Wireless. 
Upcoming Front Porch Pickin' events will held at 7 p.m. on July 5, July 19, Aug. 9 and Aug. 9 at the MAC. The MAC will also host Front Porch Pickin' at Archer Park at 7 p.m. on July 26 and at 7 p.m. on Oct. 9 at the city stage in downtown Prestonsburg.