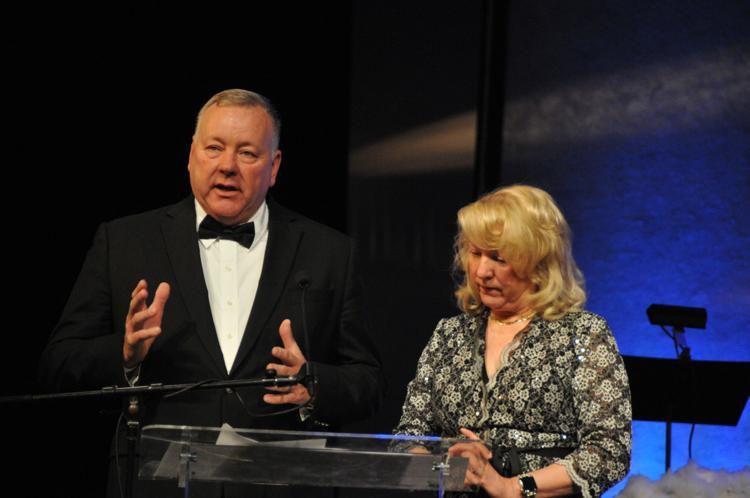 The Mountain Arts Center and Big Sandy Community and Technical College announced a new arts and entertainment awards program for the Appalachian region last week.
On Dec. 20, officials gathered at the MAC to announce the launch of the Appalachian Arts & Entertainment Awards, or "The Appys."
Greta Heintzelman Slone, director of strategic communications at BSCTC, said the program shows the "evolution" of the partnership between the MAC, BSCTC and the City of Prestonsburg. The city inked an agreement with BSCTC to operate the MAC years ago to improve MAC and its educational offerings.
"This is really the next stage, the natural evolution of this partnership ... This is testament to the model that works, and we're so proud of that, going into, you know, as time has passed and we see that this partnership is just really blossoming and growing," Heintzelman Slone said. "And I think that we see education and a commercial entity, through the arts, actually does work, and so, this just makes sense to all of us."
Officials reported the goal of the program is to increase awareness locally about the importance of fine arts, provide scholarships for students interested in studying related fields, increase tourism and, among other things, "re-ignite pride" for Eastern Kentucky residents.
"The whole thing is to recognize the talent that comes from this area, in the entire area, the entire Appalachian region," Prestonsburg Mayor Les Stapleton said. "Because very few are recognized and escape this area and are able to really do well with it, and we've seen more and more of it lately because our music's been recognized. But we also have sculptors. We have woodworkers. We have chainsaw sculptors that do a phenomenal job. All of this needs to be recognized, not just for music, but for all the different arts."
With 50 categories, the awards are open to musicians, bands, performers, photographers, painters, writers and other artists who live in 13 Appalachian states.
"We have 50 categories, so it's a broad range, everything in the entertainment industry. That's what we wanted to do," MAC Director Joe Campbell said. "We're known for music here in Eastern Kentucky, but there's a lot more that goes behind the scenes to put a show together, an album together."
BSCTC President Dr. Sherry Zylka said the college will have a live audio engineering program in 2021 and hopes to offer workforce solutions certificate programs in related fields.
"The categories are very broad and we're really trying to reach out to the community to shine a light on the best practices within the Appalachian region," Zylka said.
Campbell said the Appys program will involve students from six or seven BSCTC departments, including cosmetology students who could do hair and makeup for the awards show, the carpentry students, who could help design the set, art, graphic design and communications students, who could create the Appy award and promotional materials and students in other specialties at the college.
"It's involving more of the college, like Greta was speaking earlier, it's the next step in this partnership with the Mountain Arts Center and the city and the college," Campbell said. "It's going to be really neat to work with all of these departments and use the education aspect for this program."
Prestonsburg Tourism Director Samantha West said one of the most impressive thing about award program is the educational aspect. She talked about the need to honor Appalachian artists.
"For anybody that can classify themselves as an Appalachian person, I think we can all agree that for way too long, we've been unfairly stereotyped with education and our artistry has been used to different advantages and disadvantages, and we, too, are aware, our Appalachian people are creators, we're quilters, we're singers, we're authors, we're storytellers. And it's ingrained in who we are; and tying that into education .... and our creativity, as well, to see those combined, to see it highlighted — what a beautiful moment that's been building for generations," she said.
MAC Assistant Director Shelly Crisp said Billie Jean Osborne, the founder of the opry at the MAC, would be proud to see the launch of the Appys.
"I'm getting ready to start my 19th year in January, so being here, I've seen a lot of things come and go at the MAC, and sitting up there watching the announcement for all of this just makes me proud," she said. "I think this was the big vision of Ms. Billie, too. She wanted more kids on stage, more awards, more participation. With the college involved, and the MAC, and the city and tourism, it's really going to hit home for a lot of people who understand the history of the Mountain Arts Center specifically."
Submissions for the Appys will be juried by a panel of "renowned" executives in arts and entertainment industries. Officials reported the panel, composed of about dozen experts from several states, will review applications and select winners. Ballots will be open for nominations in February 2020 and the award show will be held in March 20, 2021.
Officials are finalizing details of the application process, Jill Hamlin, assistant director of fine arts at BSCTC said, but those applications will be  available online in February.
The MAC is seeking organizations and individuals who'd like to serve as a sponsor or partner in this program.
The highest award presented at the Appys will be the Star City Award, named in honor of the City of Prestonsburg. Officials reported it will be given to someone in the arts and entertainment industry who has "gone on to bigger and better things" and who gives back to the Appalachian region.
The award categories include the following honors:
•Best Recording Studio/Engineer/Producer
•Television Host/Personality
•Best Middle School Band (Concert, Marching, Pep)
•Best High School Band (Concert, Marching, Pep)
•Best Middle School Theater/Drama/Speech/Acting
•Best High School Theater/Drama/Speech/Acting
•Best Middle School Choir
•Best Music Educator (Elementary, Middle, High, and College, Private)
•Best Acting/Drama/Speech/ Educator (Elementary, Middle, High, and College, Private)
•Best Dance Educator (Elementary, Middle, High, and College, Private)
•Best Jazz/Latin/Big Band/World
•Best Original Song (Lyric ONLY)
•Best Cover Band/Variety Act
•Best Vocalist (Female — Any style)
•Best Vocalist (Male — Any Style)
•Best Drummer/Percussionist
•Best Strings (Non-guitar/bass)
•Best Original Movie/ Short Film/ Documentary
•Best Digital/Mixed Media Art
•Best Children's Author/Writer
•Community Arts and Music Award (CAM)