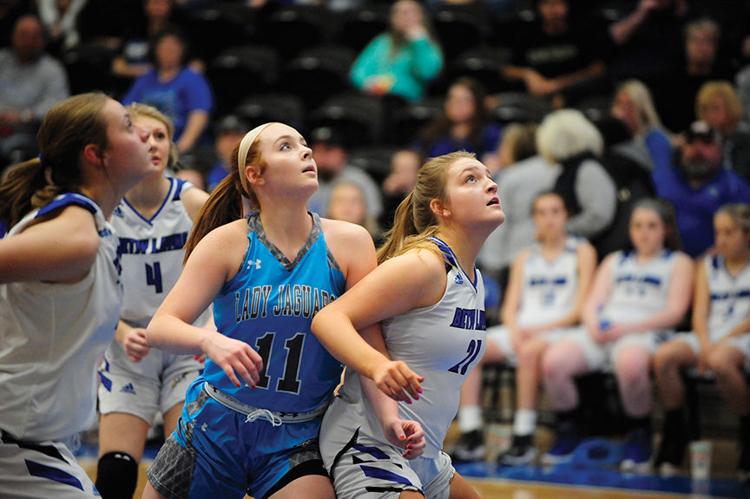 BETSY LAYNE — Kennedy Harvel scored 13 points and teammates Kamryn Shannon and Katie Moore added 12 points apiece as Floyd Central beat host Betsy Layne 65-36 in a 58th District girls' basketball game at Junior Newsome Arena on Friday night.
With the win, Floyd Central improved to 10-5 overall and 3-0 in the 58th District.
Betsy Layne dropped to 6-16 overall and 1-2 in the district with the loss.
Floyd Central shot 44.2 percent (23 of 52) from the field. The Lady Jaguars were eight of 21 (38.1 percent) from three-point range.
Floyd Central shot 73.3 percent (11 of 15) from the free-throw line.
Productive Floyd Central gradually separated itself from Betsy Layne in the 58th District hoops matchup. After swapping leads with Betsy Layne early, Floyd Central led 33-14 at halftime.
Floyd Central led 50-24 at the conclusion of the third quarter and finished strong.
Grace Martin netted seven points for the Lady Jaguars while Brook Stumbo and Jada Johnson added six points apiece.
Kylie Tackett, Natalie Holle and Kennedy Blevins rounded out Floyd Central's individual scoring, finishing with three points apiece.
Johnson led Floyd Central inside, pulling down nine rebounds.
Madi Meade paced Betsy Layne with 12 points. Meade was the only Betsy Layne player to reach double figures in scoring. The additional scorers for Betsy Layne were Allie Jarvis (six points), Katie Kidd (six points), Lauryn Watkins (five points), Kim Akers (four points) and Sydney Newsome (three points).
Betsy Layne was seven of 11 from the free-throw line in the loss.