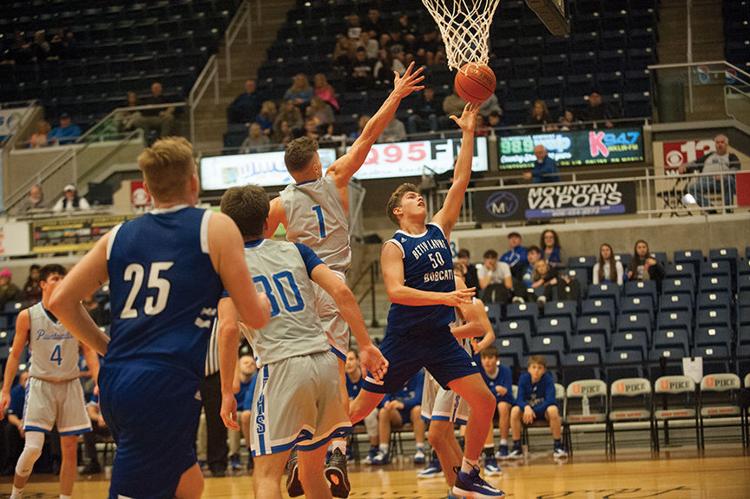 Betsy Layne just couldn't keep the same pace as Paintsville in the second half Wednesday night in the 15th Region All "A" Classic at the Appalachian Wireless Arena.
The Tigers pulled out a big 64-46 win to advance to the 15th Region All "A" Classic semifinals against Phelps Saturday night at 6:00 p.m. Phelps advanced to the semifinals by knocking off Jenkins 89-58 in the first game Wednesday night.
Paintsville's Colby Fugate had a huge game to lead the Tigers. Fugate finished the night with a game-high 33 points and seven rebounds.
The Tigers jumped out to a 12-10 lead after the first quarter of play. The game stayed close at halftime as Paintsville took a 26-24 lead into the halftime break.
The second half was all Paintsville as the Tigers outscored the Bobcats 38-22.
Braxton Tharp also reached double figure scoring for the Tigers with 12 points. Nick Keeton followed with nine points, eight rebounds and a block. Jaxon Watts scored five, while Connor Fugate and Ryan Gibson each scored two points. Baron Ratliff chipped in with one point.
Paintsville outscored Betsy Layne 34-24 in the paint.
The Tigers only turned the ball over four times in the game and forced Betsy Layne turned the ball over nine times.
Paintsville shot 48 percent from the field (27 for 56), while Betsy Layne only shot 36 percent from the floor (15 for 41).
The Tigers out rebounded the Bobcats 33-27.
Chase Mims led the way for Betsy Layne with a team-high 22 points. Brady Robinson followed with 10 points. Lukas Manns added nine points and 12 rebounds. Jacob Rainey scored three and Andrew Kidd added two points.
Paintsville (7-8) is scheduled to take on Phelps Saturday in the 15th Region All "A" Classic at the Appalachian Wireless Arena.
Betsy Layne (9-7) is scheduled to visit Phelps at 7:30 p.m. next Tuesday.
Paintsville    12    14    13    25    — 64
Betsy Layne    10    14    7    15    — 46
Paintsville — Colby Fugate 33, Braxton Tharp 12, Nick Keeton 9, Jaxon Watts 5, Ryan Gibson 2, Connor Fugate 2, Baron Ratliff 1.
Betsy Layne — Chase Mims 22, Brady Robinson 10, Lukas Manns 9, Jacob Rainey 3, Andrew Kidd 2.