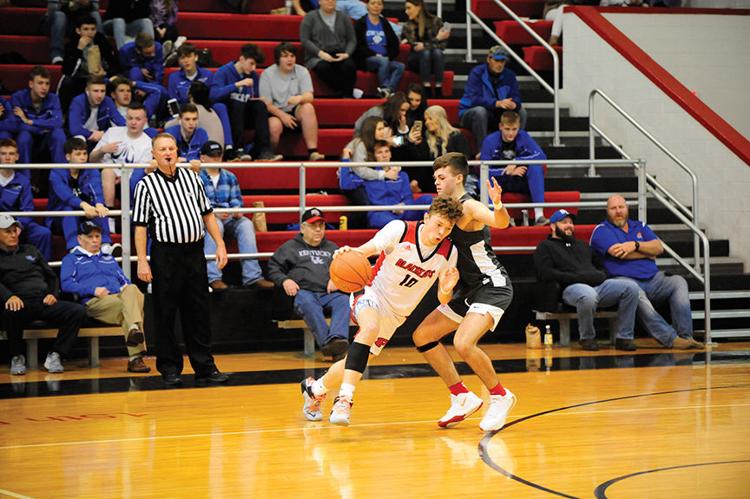 PRESTONSBURG — Making a great first impression in the 2019-20 boys' high school basketball season, Prestonsburg knocked off visiting Knott Central 72-67 in an opener at the Fieldhouse on Tuesday night.
Gunner Williams scored a game-high 26 points to lead host Prestonsburg to the win. Williams was 8-of-10 from inside the arc.
Prestonsburg featured four scorers in double figures. Following Williams in scoring for the Blackcats, Graham Burchett netted 13 points while Grant Justice and Adam Slone added 10 points apiece.
Prestonsburg head coach Brent Rose was quick to compliment his team.
"Our team played well," said Rose. "It was a hard-fought battle that had the intensity of postseason as opposed to opening night.  I am happy for our guys.  They work hard every day and are really playing for each other."
Prestonsburg packed a lead out of each quarter. Setting the tone early, Prestonsburg outscored perennial 14th Region championship contender Knott Central 23-14 in the opening quarter.
The Blackcats led 34-31 at halftime and outscored Knott Central 18-17 in the third period.
Flirting with double figures for the Blackcats, Clayton Smith finished with nine points.
Ryan Rose and Will Gullett rounded out Prestonsburg's individual scoring, chipping in two points apiece.
Burchett paced Prestonsburg inside, pulling down eight rebounds.
Prestonsburg is scheduled to face Letcher Central in the Buffalo Wild Wings Shootout at Pike Central on Saturday.