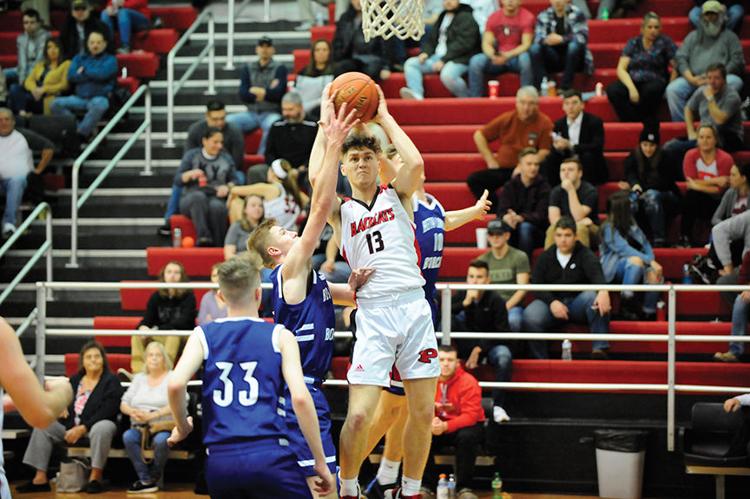 Winning on the road, Betsy Layne held on to edge host Prestonsburg 64-63 in a 58th District boys' basketball game at the Fieldhouse on Friday night.
With the win, Betsy Layne improved to 9-3 overall and 1-1 in the 58th District.
Prestonsburg dropped to 6-5 overall and 1-0 in the district with the loss.
The Blackcats suffered the district loss after carrying a lead out of each of the first three quarters. Prestonsburg opened the district game on an 8-0 run. The Blackcats led 18-13 at the conclusion of the opening quarter.
Remaining ahead midway through the district matchup, Prestonsburg led 27-25 at halftime. The Blackcats, fresh off a trip to Florida for a holiday tournament, led 40-39 at the end of the third quarter.
But Betsy Layne finished strong, outscoring Prestonsburg 25-23 in the final quarter to claim the win.
Jordan Frazier led Betsy Layne to the win, scoring a team-high 20 points for the Bobcats. Chase Mims added 14 points and Brady Robinson contributed 13 points as three Betsy Layne players reached double figures in the scoring column.
Betsy Layne finished 13 of 22 from the free-throw line while connecting on five three-point field goals.
Jake Rainey netted eight points, Shawn Howell posted six points and Andrew Kidd contributed three points as the Bobcats pulled out the hard-fought win.
"This was an extremely hard-fought game by both teams," Betsy Layne coach Brad Short commented, following his team's victory. "Coach Rose should be proud of the effort from his team. I thought that there was a whole lot of things both offensively and defensively we didn't do well, but our effort was there and the ball bounced our way at the end of the game. That's all I can ask for."
Prestonsburg shot 44.9 percent (22 of 49) from the field. The Blackcats finished one of eight from three-point range.
Prestonsburg shot 62.1 percent (18 of 29) from the free-throw line.
Gunner Williams led Prestonsburg with a game-high 22 points. Williams was eight of 10 from the free-throw line.
Prestonsburg featured four scorers in double figures. Graham Burchett scored 14 points for the Blackcats while Ryan Rose netted 11 points and Adam Slone added 10 points.
Will Gullet, Clayton Smith and Grant Justice rounded out the Blackcats' individual scoring, chipping in two points apiece.