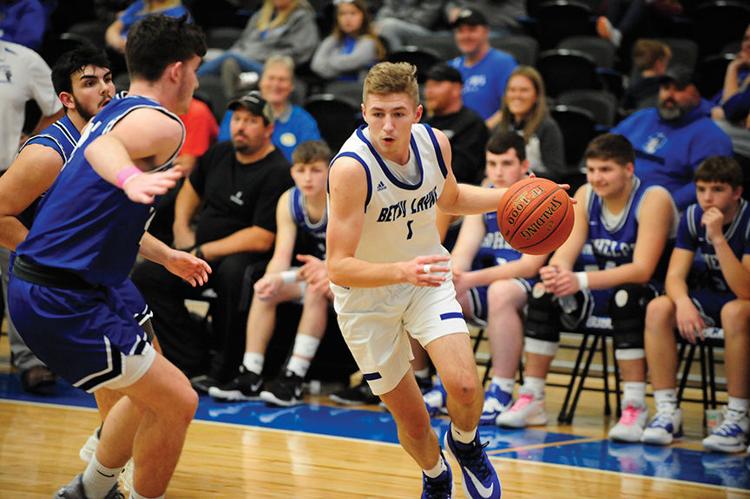 BETSY LAYNE — Visiting Phelps dealt Betsy Layne its second straight loss on Monday night, beating the Bobcats 52-44.
With the loss, Betsy Layne dropped to 3-2.
Phelps evened its record to 3-3 with the win.
The Bobcats and Hornets battled back and forth through the early-season matchup. Each 15th Region boys' basketball team owned multiple leads.
Following a low-scoring initial period, Betsy Layne and Phelps were deadlocked 6-6 at the conclusion of the opening quarter. Host Betsy Layne clung to a 22-21 at halftime but faltered after the break. Phelps fought its way back to lead 35-33 at the end of the third quarter. Finishing strong, Phelps outscored Betsy Layne 17-11 in the final period.
Phelps won despite shooting only 34.5 percent (20 of 58) from the field. The Hornets were just three of 16 (18.8 percent) from three-point range.
Phelps shot 33.3 percent (nine of 27) from the free throw line but persevered to claim the win.
Dominick Francis led Phelps, scoring 14 points for the Hornets. Francis connected on two of the Hornets' three three-point field goals.
Jason Casey followed Francis in the Phelps scoring column and recorded a double-double, netting 10 points and pulling down 10 rebounds.
Narrowly missing double figures for the Hornets, Landon Dotson and Cameron Johnson netted nine points apiece in the victory.
Trey Francis was held to six points but pulled down 11 rebounds for the Hornets.
Seth Mayhorn (three points) and Jaylen Wells (one point) combined to round out the Hornets' individual scoring.
Jordan Frazier scored a game-high 21 points to lead the Bobcats. Frazier was the only Betsy Layne player to reach double figures in the scoring column.
Shawn Howell scored seven points, Chase Mims chipped in six points and Brady Robinson contributed five points for the Bobcats.
Lukas Manns and Andrew Kidd rounded out the Betsy Layne individual scoring, adding three points and two points, respectively.
Betsy Layne was unable to notch a win in a 58th District boys' basketball opener as host Lawrence County prevailed 87-73 on its home floor Friday night.
Lawrence County dealt Betsy Layne its first loss in the 2019-20 boys' high school basketball season.
With the loss, Betsy Layne dropped to 3-1 overall while opening 0-1 in the 58th District.
Lawrence County improved to 3-2 overall and opened 1-0 in the district with the win.
The Bulldogs, under the direction of first-year head coach Chandler Thompson, used a balanced offensive attack to claim the district win. Five different Bulldogs reached double figures in the scoring column.
Tyler Maynard led Lawrence County with a game-high 27 points. Following Maynard in the Lawrence County scoring column, Chase Sartin and Alex Ratliff netted 15 points apiece. Fresh off a stellar season on the gridiron as a quarterback, Baden Gillispie chipped in 12 points while Cody Maynard added 10 points in the Bulldogs' victory.
Completing Lawrence County's individual scoring, Trenton Adkins, Jacob Savage, Will Lafferty and Kaden Gillispie contributed two points apiece.
Betsy Layne suffered the setback despite shooting 52.4 percent (22 of 42) from the field. The Brad Short-coached Bobcats shot 79.4 percent (27 of 34) from the free-throw line.
Jordan Frazier paced Betsy Layne with a team-high 20 points. Three Bobcats reached double figures in the scoring column as Brady Robinson netted 18 points and Chase Mims posted 13 points. Mims logged a double-double, pulling down a game-high 12 rebounds.
Lukas Manns added nine points, Jacob Rainey six points, Shawn Howell five points and Andrew Kidd two points for Betsy Layne in the setback.