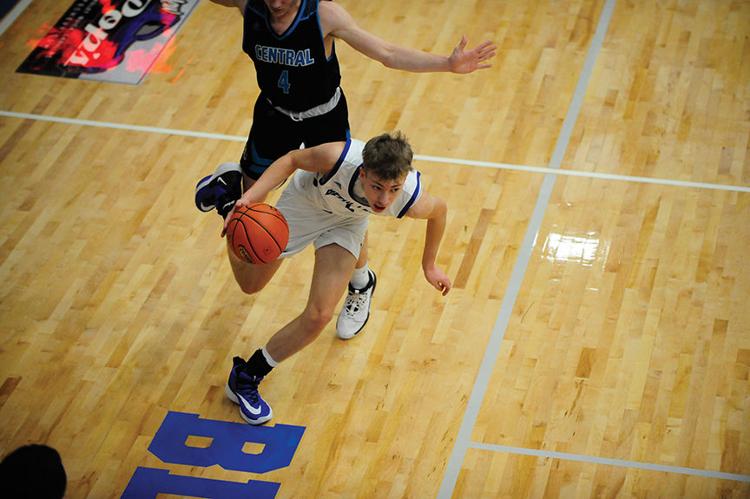 BETSY LAYNE — Delivering one of its best performances thus far in the 2019-20 boys' high school basketball season, Betsy Layne rolled past visiting 58th District rival Floyd Central 83-53 at Junior Newsome Arena on Friday night.
With the win, Betsy Layne improved to 10-7 overall and 2-1 in the 58th District.
Floyd Central dropped to 4-13 overall and 0-3 in the district with the loss.
Betsy Layne shot 58.9 percent (33 of 56) from the field in the winning effort. The Bobcats were eight of 16 (50 percent) from three-point range.
Inside, Betsy Layne outrebounded Floyd Central 31-27.
Betsy Layne features four scorers in double figures.
Brady Robinson scored a game-high 25 points to lead Betsy Layne to the district win. Robinson was eight of eight from inside the arc.
Andrew Kidd followed Robinson, scoring 15 points for the Bobcats.
Recording a double-double for Betsy Layne, Chase Mims scored 14 points and pulled down 10 rebounds.
Joining Robinson, Kidd and Mims in double figures for the Bobcats, Jordan Frazier posted 11 points. Frazier is back on the court after being sidelined recently.
Betsy Layne moved ahead early, outscoring Floyd Central 20-12 in the opening quarter. The Bobcats led 39-22 at halftime and remained in control throughout the second half.
"When we play hard good things happen," Betsy Layne coach Brad Short commented, following his team's convincing victory. "We played with a ton of energy defensively and I think that helped spark our offense."
Jacob Rainey (six points), Connor Hopkins (four points), Landon Howell (four points), Lukas Manns (three points) and Byron Tackett (one point) accounted for the rest of Betsy Layne's scoring in the 30-point win.
Floyd Central shot 33.3 percent (18 of 54) from the field. The Jaguars were four of 19 (21.1 percent) from three-point range.
Floyd Central shot 72.2 percent (13 of 18) from the free-throw line.
Blake Slone scored a team-high 17 points to lead the Jaguars. Slone was three of eight from three-point range.
Joining Slone in double figures in scoring for the Jaguars, Hayden Hall added 10 points.
The additional scorers for Floyd Central were Dalton Younce (seven points), Brandon Little (six points), Ronnie Sammons (four points), Marcus Thacker (three points), Eric Burke (two points), Nathan Watkins (two points) and Tanner Hall (two points).