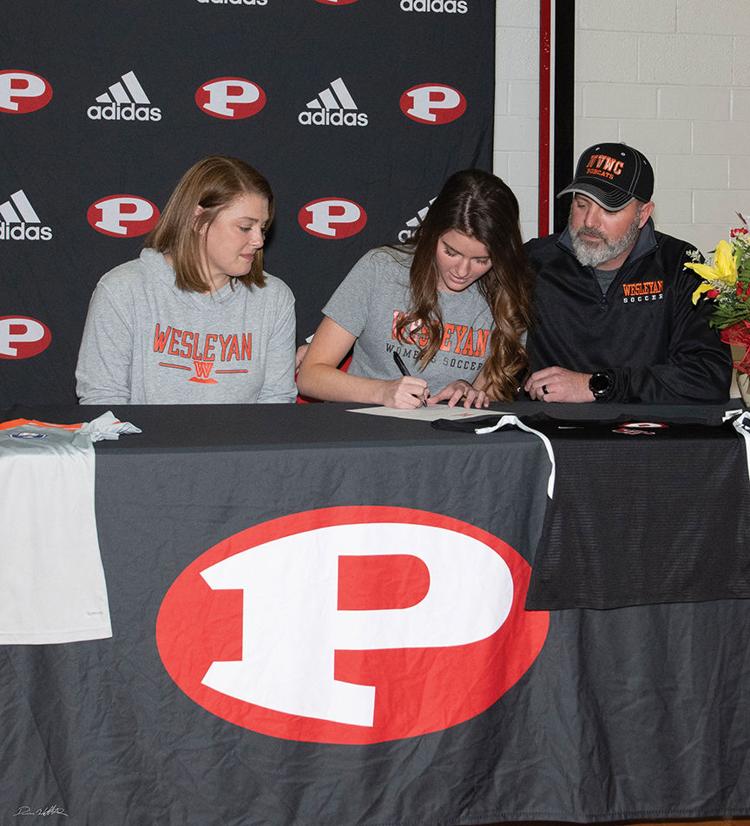 PRESTONSBURG — Beth Burchett made her college choice official on Friday, Dec. 6, signing with the West Virginia Wesleyan College women's soccer program.
Burchett holds multiple Prestonsburg High School and 15th Region girls' soccer records.
"Beth graduates as the all-time leading goal scorer in school history and 15th Region history," confided Prestonsburg Coach Paul Burchett. "She finishes her career fourth on the KHSAA career scoring list. As a two-time region player of the year, she has been one of the most dynamic offensive players this region has seen. As talented as she is, she is just as coachable. She is willing to do anything she is asked. Like Makayla (Ousley), who is headed to the University of the Cumberlands, she is an even better kid off the field. Both will graduate this Spring with 4.0 GPAs. She has been a good leader and has helped set a tone for our program that I expect to carry over for years to come. I am super proud of what she has accomplished and look forward to her next four years at West Virginia Wesleyan."
During her senior season, Beth Burchett scored 38 goals and dished out 13 assists in 20 games.
"I am looking forward to having Beth here at West Virginia Wesleyan College," said West Virginia Wesleyan College Coach Rich Owens. "We are graduating some influential forwards.  Beth has the athletic, technical and finishing ability to come in and be an impactful player in the offensive third and filling some voids lost due to graduation. She has had a tremendous high school and club soccer career that will help her to continue to grow and develop in our system at the college level. I am excited and looking forward to seeing what Beth can and will accomplish over the next four years here in the orange and black starting this August."
West Virginia Wesleyan competes in the Mountain East Conference.