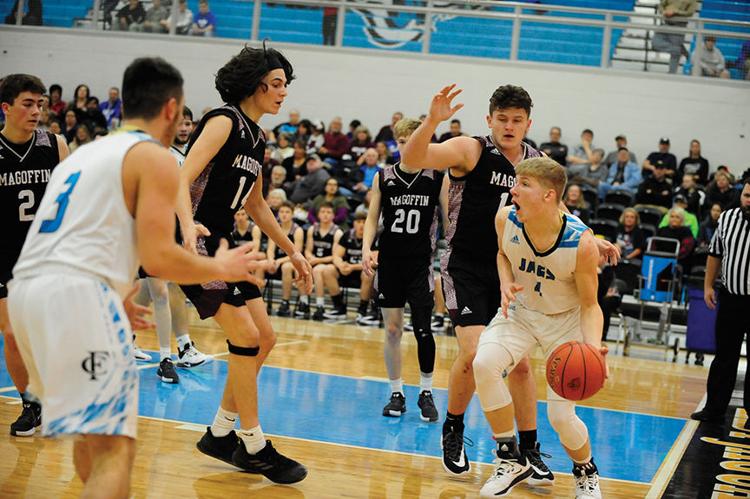 EASTERN — Floyd Central fell short in first-year head coach Alan Joe Moore's debut on the bench as visiting Magoffin County won 67-56 in a boys' high school basketball season opener on Monday night.
Magoffin County led at the conclusion of each quarter. Starting strong, Magoffin County outscored Floyd Central 12-7 in the first period. Magoffin County led 22-19 at halftime and stretched its lead shortly after the intermission period. The Hornets dominated throughout the third quarter, outscoring the Jaguars 26-8.
Floyd Central fared well late, outscoring Magoffin County 29-19 in the final quarter to set the final score.  
Isaiah Salyer led Magoffin County with a game-high 21 points. Salyer was 12-of-19 from the free throw line.
Aden Barnett accompanied Salyer in double figures for the Hornets, scoring 16 points.
Mason Lovely added eight points for the Hornets in the victory. Following Lovely, Grayson Whitaker and Randy Bailey netted seven points apiece.
Lucas Litteral and Patrick Damron rounded out the Magoffin County individual scoring, chipping in five points and three points, respectively.
Hayden Hall led a balanced Floyd Central scoring effort, tossing in 12 points. Marcus Thacker added 11 points and Dalton Boyd pushed in 10 points as Floyd Central featured three scorers in double figures.
Brody Buck (seven points), Brandon Little (four points), Eric Burke (four points), Braden Moore (three points), Dalton Younce (two points), Blake Slone (two points) and Bryce Thacker (one point) combined to account for the rest of the Jaguars' scoring.
Struggling beyond the arc, Floyd Central finished 2-of-17 from 3-point range.
Floyd Central was hosting 16th Region member Morgan County on Tuesday night. Results from the Floyd Central-Morgan County boys' basketball game were unavailable at press time.