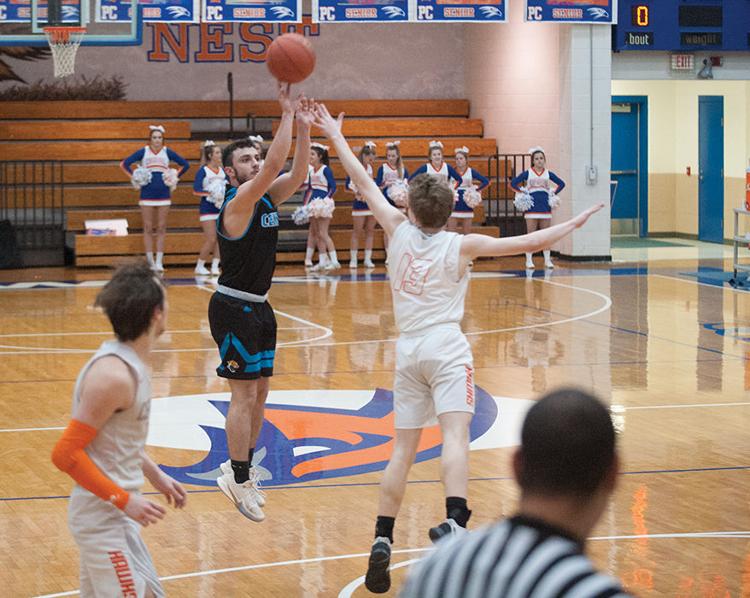 Pike Central hit the court running Wednesday night as the Hawks picked up a 65-50 win over Floyd Central.
The Hawks jumped out to a 7-0 lead to open the game.
Floyd Central's Tanner Hall knocked down back-to-back threes to cut the lead to 10-6 with 2:46 left in the first.
Pike Central's Logan Layne answered with basket at the 2:20 mark to push the lead to 12-6.
The Hawks held a 19-12 lead at the end of the first quarter.
Layne led the Hawks with a game-high 20 points. Jacob Young followed with 16 and Logan Wood also reached double figure scoring with 10. Noah Iricks added six points, while Anthony Palotta and Justin Adkins each scored five. Gavin Crum chipped in with three for the Hawks.
Young came up with a steal and a layup to push the Hawks' lead to double digits (25-14) with 6:00 left in the first half. Adkins knocked down a three with 4:37 left to push Pike Central's lead to 31-18.
Floyd Central's Blake Slone knocked down a three with 3:47 left. Brody Buck followed with an offensive rebound and putback for the score to cut the lead to 35-23.
Palotta knocked down a three in the last seconds of the first half to give Pike Central a 38-26 halftime lead.
Floyd Central's Erick Burk knocked down a three with 6:01 left in the third to cut the lead to 40-31. Slone followed with a three at the 2:25 mark to cut the lead to 42-36.
Slone led the way for the Jaguars with a team-high 16 points. Ronnie Sammons followed with eight and Burk chipped in with seven. Buck and Bryce Thacker each scored six points for the Jaguars. Marcus Thacker added five and Sheston Johnson chipped in with two.
Pike Central held a 46-38 lead entering the fourth quarter of play.
The Hawks took control in the fourth and put the game out of reach.
Wood scored back-to-back fast break layups to push the Hawks' lead to 56-42. Layne scored and was fouled; he converted the free throw to push the lead to 61-44. The Hawks cruised after that.
Pike Central (6-15) is scheduled to take on Buckhorn in the Scott Bank Classic Saturday at 6:30 p.m.
Floyd Central (4-14) is scheduled to visit 58th District rival Lawrence County at 7:30 p.m. Friday night.