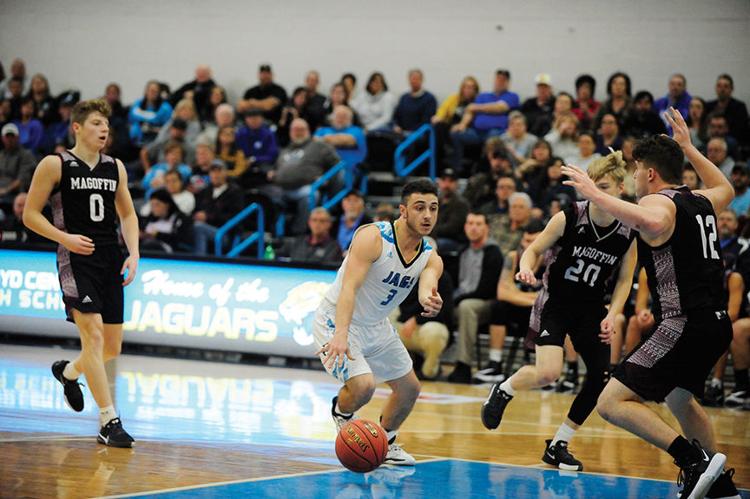 HAZARD — Visiting Floyd Central was limited offensively as Hazard pulled away to win 80-55 in the DJ Begley City/County Classic on Friday.
With the loss, Floyd Central dropped to 1-2.
Hazard moved to 2-0 with the win.
Preseason 14th Region favorite Hazard shot 52.8 percent (28 of 53) from the field. The Bulldogs were four of 11 (36.4 percent) from three-point range.
Hazard shot 74.1 percent (20 of 27) from the free-throw line.
Wade Pelphrey, the top player in the 14th Region, paced Hazard with a game-high 24 points.
Four Hazard players reached double figures in scoring as Jarrett Napier, Rydge Beverly and Logan Hall added 10 points apiece.
Reece Fletcher narrowly missed reaching double figures in scoring, netting nine points for the Bulldogs.
Jacob Johnson (seven points), Noah Neace (four points), Tyson Turner (four points) and Chris Jones (two points) rounded out the Bulldogs' individual scoring.
Floyd Central shot 37.9 percent (22 of 58) from the field. The Jaguars were 8-of-23 (34.8 percent) from 3-point range.
Floyd Central shot 50 percent (three of six) from the free throw line.
Blake Slone led Floyd Central with a team-high 20 points. Slone was four of nine from three-point range for the Jaguars.
Marcus Thacker added 12 points and Brandon Little 10 points as three Floyd Central scorers reached double figures. Little recorded a double-double for the Jaguars, pulling down 12 rebounds.
Brody Buck (four points), Hayden Hall (four points), Ronnie Sammons (three points) and Dalton Boyd (three points) accounted for the remainder of the Jaguars' scoring.