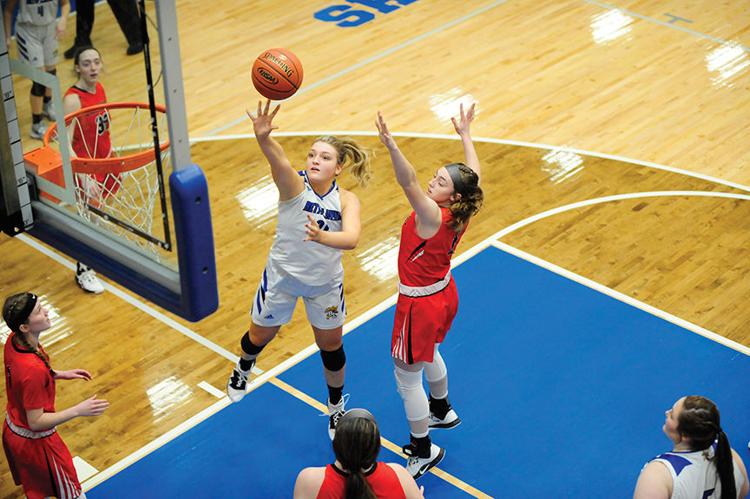 Betsy Layne faced a deficit at the conclusion of each quarter but pushed the visiting team as Lawrence County held on to win 65-54 in a 58th District girls' basketball game at Junior Newsome Arena on Friday night.
With the loss, Betsy Layne dropped to 8-18 overall and 1-5 in the 58th District.
Lawrence County improved to 14-12 overall and 4-2 in the district with the win.
Visiting Lawrence County shot 40.7 percent (22 of 54) from the field. The Lady Bulldogs were five of 17 (29.4 percent) from three-point range.
Lawrence County shot 76.2 percent (16 of 21) from the free-throw line.
Kensley Feltner and Alexis Ratliff led Lawrence County to the district win, scoring 19 points apiece for the Lady Bulldogs. Combined, Feltner and Ratliff went nine of 11 from the free-throw line.
Joining Feltner and Ratliff in double figures for the Lady Bulldogs, Brooke Neal netted 12 points.
Kaison Ward contributed seven points for Lawrence County while Tyra Hammond and Kyleah Ward posted four points apiece.
Playing out of a reserve role, Kim Akers led Betsy Layne with a team-high 17 points. Akers provided a lift for the Lady Bobcats during multiple quarters of the 58th District matchup.
Accompanying Akers in double figures for the Lady Bobcats, Katie Kidd contributed 14 points and Madi Meade added 13 points.
Lauryn Watkins and Allie Jarvis rounded out Betsy Layne's individual scoring, chipping in eight points and three points, respectively.