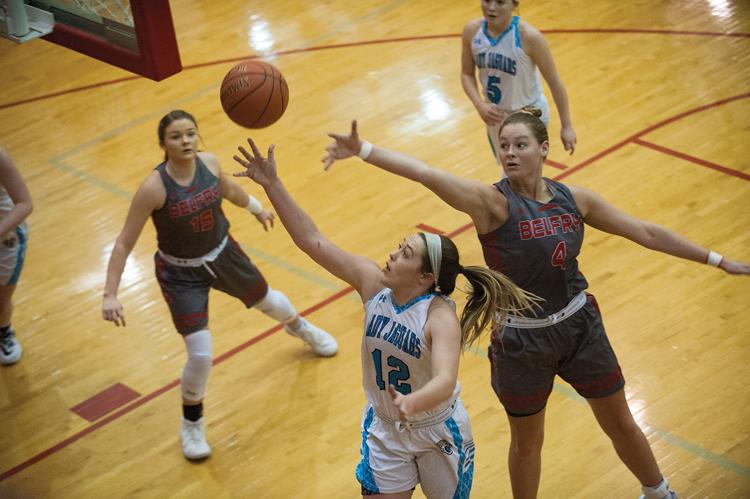 Floyd Central ran into Katie Ball on the wrong night.
The Belfry talent had herself a night.
Ball scored 45 points, grabbed 25 rebounds and just missed a triple-double with nine assists.
Ball came out hot. She scored 11 first quarter points as Belfry and Floyd Central were tied at 15-15 after the first.
The Lady Pirates held a 35-33 halftime lead over the Lady Jaguars.
Belfry took over in the third quarter, though. Ball opened the third with a basket. Cushi Fletcher came up with a steal and an assist to Linzee Phillips to give Belfry a 39-33 lead. Ball knocked down a three with 3:27 left in the third to push the Lady Pirate lead to 45-35.
Floyd Central's Katie Moore scored with 1:55 to cut the lead to 47-39. Brook Stumbo added a basket to cut the lead to 49-41 with 1:07 left in the third.
Belfry held a 47-41 lead entering the final quarter of play.
Jada Johnson opened the fourth quarter with a basket for the Lady Jaguars to cut the lead to six.
After that, it was all Belfry. Kyrea Thornsbury scored and was fouled with 6:52 left. She connected on the free throw to give the Lady Pirates a 54-43 lead. Ball grabbed an offensive rebound and scored with 5:30 to play to give the Lady Pirates a 61-45 lead.
Besides Ball's 45 points and 25 rebounds, Thornsbury scored nine points for Belfry. Fletcher added four. Kyra Justice and Taylor Lane each scored three. McKenna Sullivan and Phillips each added two points.
Belfry shot 47 percent from the field on the night. The Lady Pirates also pulled down 45 rebounds.
Moore led the way for the Lady Jaguars with a team-high 20 points. Johnson followed with 10 points. Stumbo added seven points and Grace Martin scored six. Kamryn Shannon scored five points and Kennedy Harvel added three.
Belfry (6-7) advances to take on Pike Central in the Class 2A Classic sectional tournament finals Friday night at Belfry.
Floyd Central is scheduled to host Johnson Central at home tonight at 7:00 p.m.
Belfry    15    20    14    19    — 68
Floyd Central    15    18    8    10    — 51
Belfry — Katie Ball 45, Kyrea Thornsbury 9, Cushi Fletcher 4, Kyra Justice 3, Taylor Lane 3, McKenna Sullivan 2, Linzee Phillips 2.
Floyd Central — Katie Moore 20, Jada Johnson 10, Brook Stumbo 7, Grace Martin 6, Kamryn Shannon 5, Kennedy Harvel 3.