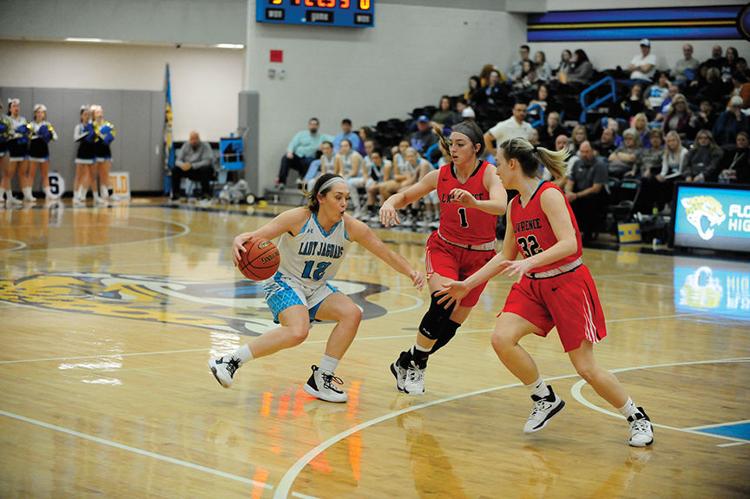 Junior Katie Moore poured in 32 points and grabbed 16 rebounds to lead Floyd Central over visiting Lawrence County 61-57 in a 58th District girls' basketball game on Friday night.
With the win, Floyd Central improved to 8-5 overall and 2-0 in the 58th District.
Lawrence County dropped to 9-9 overall and 2-1 in the district with the loss.
Moore, who recorded game-highs in both points and rebounds, shot 50 percent (13-of-26) from the field.
Floyd Central overcame a slow start to claim the district victory. Lawrence County opened the game on a 9-0 run and led 13-8 at the end of the first quarter.
However, Moore and her teammates fared much better after the opening frame. Floyd Central and Lawrence County were tied 26-26 at halftime and the determined host team finished strong to pull out the hard-fought win.
Floyd Central shot 44.6 percent (25 of 56) from the field. The Lady Jaguars finished one of seven from three-point range.
Back-to-back 58th District champion Floyd Central shot 58.8 percent (10 of 17) from the free-throw line.
Thriving around the goal, Floyd Central outrebounded Lawrence County 44-38.
Kennedy Harvel scored 11 points for the Lady Jaguars while Grace Martin added a near double-double of 10 points and nine rebounds.
Six players accounted for all of Floyd Central's scoring in the district matchup. Kamryn Shannon contributed four points while Jada Johnson and Natalie Holle posted two points apiece. Shannon also hauled in nine rebounds for the Lady Jaguars.
Lawrence County shot only 30.8 percent (20 of 65) from the field in the losing effort. The Lady Bulldogs were six of 29 (20.7 percent) from three-point range.
Lawrence County shot 64.7 percent (11-of-17) from the free-throw line.  
Kensley Feltner was 11 of 25 from the field on her way to leading Lawrence County with a team-high 31 points.
Alexis Ratliff was the only other Lawrence County player to reach double figures in the scoring column, adding 16 points.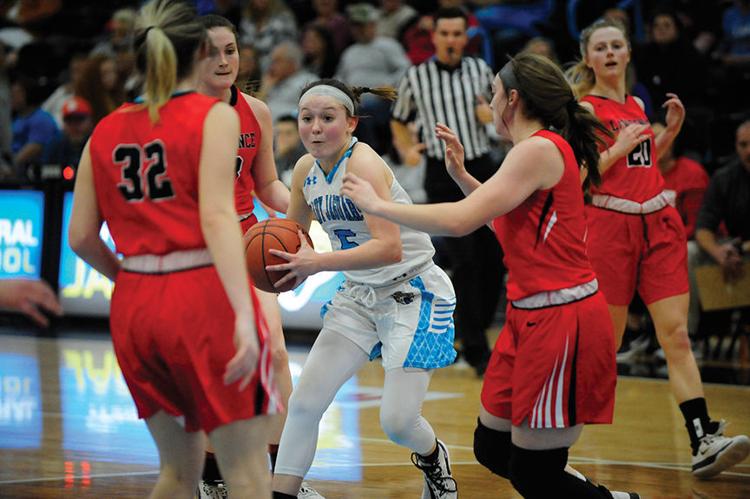 Brooke Neal (six points), Kyleah Ward (two points) and Kaison Ward (two points) rounded out Lawrence County's individual scoring. In addition to scoring, Ward pulled down 11 rebounds for the Lady Bulldogs.