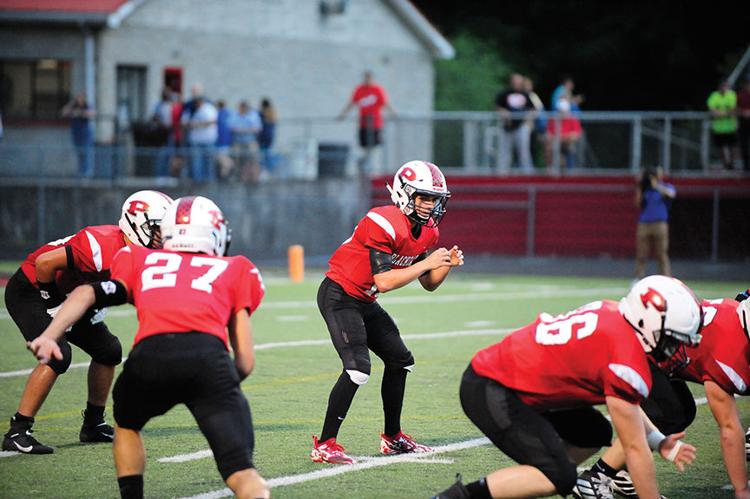 Emerging as a leader, junior quarterback Brayden Slone led Prestonsburg throughout the 2019 high school football season. Slone paced Prestonsburg in passing and ranked as the Blackcats' second-leading rusher.
Prestonsburg won two games for the second straight season. The Blackcats concluded the 2019 season 2-8. Prestonsburg notched wins over Powell County and East Ridge. The Blackcats dropped games to Pike County Central, Lawrence County, Hazard, Floyd Central, Shelby Valley, West Carter, Bath County and Martin County.
Brandon Brewer wrapped up his second season as the Blackcats' head coach in late-October.
Through 10 games in the 2019 season, opponents outscored Prestonsburg 341-153. However, Prestonsburg showed some improvement on the gridiron.
Through the air for Prestonsburg, Slone completed 37-of-97 passes for 467 yards and three touchdowns. The Prestonsburg quarterback threw eight interceptions.
Ranking second in rushing for the Blackcats, Slone took 70 carries for 351 yards and seven touchdowns.
Sophomore Carter Akers led the Blackcats in rushing. Akers rushed 79 times for 356 yards and two touchdowns.
As a team, Prestonsburg rushed 253 times for 1,111 yards and 16 touchdowns in 10 games.
Owen Greene emerged as Prestonsburg's leading receiver. Greene reeled in 15 receptions for 200 yards.
Tight end Adam Blair hauled in two touchdown pass receptions for the Blackcats.
Contributing to Prestonsburg's aerial attack, John Rose and Eric Armstrong registered one touchdown pass reception apiece.
Defensively, Nathan McGuire led Prestonsburg with a team-high 61 tackles. Sam Kelly contributed 56 tackles while Akers added 55 tackles for the Blackcats.
Prestonsburg is due to return an experienced group to the gridiron in 2020.