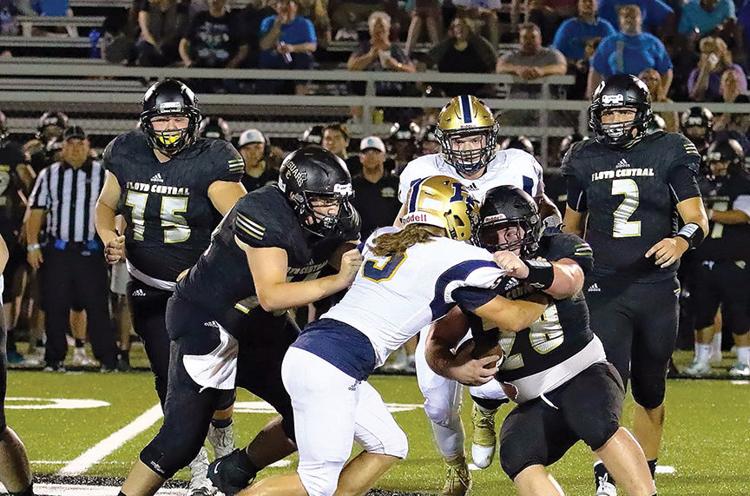 Pike Central at Floyd Central
Who: Pike Central (3-1) at Floyd Central (2-3)
Kickoff: Friday, 7:30 p.m.
Location: Jaguar Stadium, Eastern.
Coaches: Pike Central, Eric Ratliff. Floyd Central, Shawn Hager.
Notes: Pike Central is coming off of a 40-35 win over Letcher Central, while Floyd Central is coming off of a 40-13 win over Prestonsburg.
Both schools will open district play against each other.
The playoff system will be different this season. The first two rounds of the playoffs, teams will play district opponents and then an RPI system will be in place after the first two rounds.
This game will be important for seedings. Both want to get a home field playoff game.
Pike Central quarterback Tyler Hunt had a game last week. Hunt was 12 for 16 passing for 232 yards and four TDs. On the ground, he rushed for a team-high 175 yards and two TDs. He even came up with a big interception for the Hawks.
Hunt found Noah Iricks for the game-winning score.
On the season, Hunt is 25 for 39 passing for 437 yards and eight TDs with one interception. He leads the Hawk rushing attack with 399 yards and four TDs on 52 carries.
Matt Anderson follows with 316 yards and two TDs on 50 carries. Iricks has rushed for 171 yards and four TDs on 22 carries.
Keegan Bentley leads the Pike Central wide receivers. Bentley has 18 catches for 321 yards and seven TDs. Iricks follows with five catches for 61 yards and a TD.
Nate Roberts leads the Pike Central defense with 46 total tackles and a sack. Adrien Anthony follows with 37 total tackles. Tanner Hunt has 34 total tackles and two sacks.
Tyler Hunt, Issac Hunt and Bentley all have an interception for the Hawks this season.
The Jaguars are a running team.
Starting quarterback Caleb Hager has only played three games this season. Brant Potter has played in all five games. Potter is five for nine passing with 72 yards.
Dalton Boyd leads the team in rushing with 385 yards and four TDs on 78 carries. Potter follows with 245 yards and two TDs on 26 carries.
Chad Bates leads the way for Floyd Central with 35 total tackles. Noah Marcum follows with 32 total tackles. Gavin Martin has 31 total tackles.
Brendan Evans leads the Jaguars with two interceptions, while Max Martin and Marcus Thacker each have an interception.
Who 2 Watch: For Pike Central watch Keegan Bentley. For Floyd Central, Dalton Boyd.
Bentley has emerged as one of the top wide receivers in the mountains and his chemistry with Tyler Hunt has helped the Pike Central offense.
Bentley has good size and terrific hands.
If Bentley has a good game, look for the Hawks to have a shot to win their first district game.
Boyd has emerged as the Jaguars' top running back this season.
Boyd is averaging 77 yards per game.
For the Jaguars to be successful, Boyd will need to have a big game.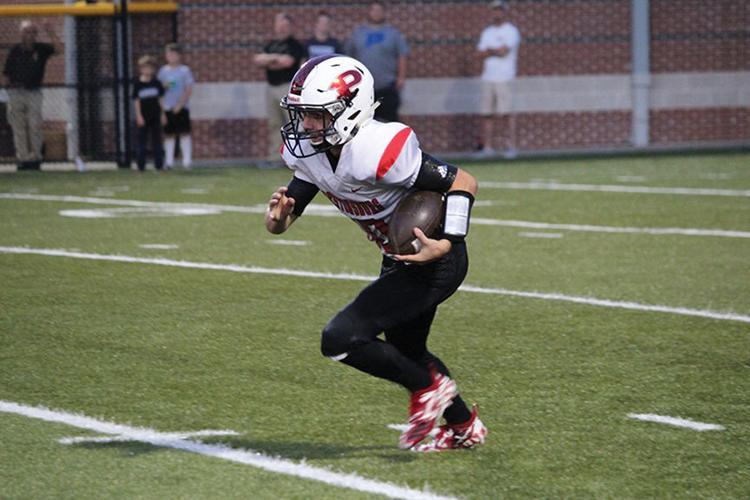 East Ridge at Prestonsburg
Who: East Ridge (0-4) at Prestonsburg (1-4)
Kickoff: Friday, 7:30 p.m.
Location: Josh Francis Field/Blackcat Stadium, Prestonsburg.
Coaches: East Ridge, Ben Runyon. Prestonsburg, Brandon Brewer.
Notes: East Ridge is coming off of a 48-0 loss to Grundy, while Prestonsburg is coming off of a 40-13 loss to Floyd Central.
East Ridge knew it was going to be a season to grow.
The Warriors are improving each week.
CJ Branham plays with a lot of heart for the Warriors. The senior is one of the leaders for East Ridge. Branham leads the Warriors in rushing with 260 yards and four TDs on 34 carries. Casey Bartley follows with 175 rushing yards on 20 carries. Steven Cofiell has 90 yards and a TD on 20 carries.
Quarterback Trey Blackburn is seven for 29 passing for 140 yards and a TD with one interception.
Tight end Cameron Hess leads the Warrior receivers with five catches for 120 yards and a TD.
Jeremy Taylor leads the East Ridge defense with 39 total tackles. Hess follows with 31 total tackles. Chandler Ramey has 28 total tackles.
Quarterback Brayden Slone leads the way for the Blackcat offense. Slone is 23 for 50 passing for 293 yards and two TDs with four interceptions. He's also rushed for 122 yards and three TDs on 28 carries.
Carter Akers leads the way for the running game with 185 yards and a TD on 41 carries. John Rose has rushed for 122 yards and a TD as well. Samuel Kelly, Kaleb Jarvis and Eric Armstrong have all rushed for TDs.
Owen Greene leads the receivers with eight catches for 115 yards.
Nathan McGuire leads the Blackcat defense with 28 total tackles. Austin Doney and Akers follow with 27 total tackles each.
Who 2 Watch: For East Ridge, CJ Branham. For Prestonsburg, Brayden Slone.
Branham is a true leader.
Even though East Ridge is struggling, he won't give up on his team. He'll keep playing until the last whistle.
Branham plays with heart and runs the ball hard.
If he has a big game and the rest of the Warriors rally around him and Hess, the Warriors might pick up a big district win.
Slone is key for the Blackcat offense.
He will have to have a big game for the Blackcats if they want to open district play with a big win.
Slone sets the tone and if he gets into a groove, he could lead Prestonsburg to a big win.
Who: Betsy Layne (2-3) at Phelps (2-2)
Kickoff: Friday, 7:30 p.m.
Location: Gaino Stiltner Field, Marty Casey Stadium, Phelps.
Coaches: Betsy Layne, Scotty McCoy. Phelps, Andrew West.
Notes: Betsy Layne is coming off of a tough 28-22 loss to Knott Central, while Phelps is coming off of a 50-12 loss to Shelby Valley.
This will be a big district game for both teams and be for seeding in Class A District 6.
Betsy Layne has improved a lot from last season to this season.
Quarterback Chase Mims leads the way for the Bobcats. Mims likes to throw the ball. He is 52 for 95 passing for 810 yards and seven TDs with five interceptions.
Austin Tackett leads the rushing attack with 540 yards and five TDs on 66 carries. Mims follows with 228 yards and four TDs on 47 carries. Chase Hamilton has rushed for 203 yards and a TD on 37 carries.
Hamilton leads the receivers with 16 catches for 265 yards and three TDs. Dalton Hall has 14 catches for 255 yards and three TDs. Nicholas Howell has nine catches for 252 yards and four TDs. Brady Robinson has four catches for 68 yards and a score.
Curtis Robinette leads the defense with 45 total tackles. Marcus Hall has 42 total tackles and a team-high four sacks. Paul Hall has 38 total tackles. Hamilton has 32 total tackles and two and 1/2 sacks.
Jaxson Burchett has the Bobcats' two interceptions on the season.
Phelps didn't having the showing it wanted to against Shelby Valley last week.
Dominick Francis ran the ball tough, but the Hornets were overmatched.
Phelps will try to get back on track after dropping its last two games.
Phelps gained 144 total yards last week against Shelby Valley. The Hornets rushed for 131 yards and threw for 13.
The Hornets didn't have stats posted for the Shelby Valley game.
In two games, Francis rushed for 258 yards to lead the Hornets.
The Hornets will have to give Francis some help if they want to knock off Betsy Layne.
Who 2 Watch: For Betsy Layne, Chase Mims. For Phelps, Dominick Francis.
Mims likes to throw the ball around.
He throws to several receivers.
Betsy Layne can put up points quickly.
The Bobcats have a fun offense to watch.
If Mims can settle in and have a big game, he could lead his team to a big road win.
Phelps' running back Dominick Francis is a big strong running back with good speed.
Francis was a bright spot for Phelps last week against Shelby Valley.
He can gain tough yardage.
If he has a successful night running the ball, look for Phelps to get back on the winning track.