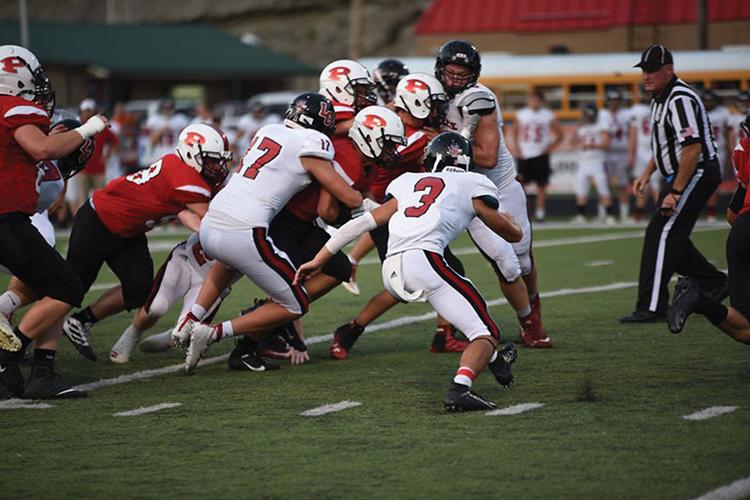 Who: Hazard (0-1) at Prestonsburg (0-2)
Kickoff: Friday, 7:30 p.m.
Location: Josh Francis Field/Blackcat Stadium, Prestonsburg.
Coaches: Hazard, Mark Dixon. Prestonsburg, Brandon Brewer.
Notes: Looking to break into the win column, Prestonsburg will have the tough task of hosting Hazard at Josh Francis Field/Blackcat Stadium on Friday.
Hazard will carry an 0-1 record into the high school football matchup. Harlan County edged host Hazard 22-20 on Friday, Aug. 30.
Quarterback Garrett Miller led Hazard in its season opener, completing nine of 14 passes for 190 yards and two touchdowns.
Mason Collins led Hazard in receiving, reeling in four receptions for 94 yards and one touchdown.
Trajon Campbell, who led Hazard in rushing, added a 45-yard scoring catch for the Bulldogs.
Campbell excelled on the ground, rushing 14 times for 71 yards,
Reece Fletcher, a longtime leader for the Bulldogs, rushed seven times for 33 yards and one touchdown.
Fletcher paced Hazard defensively in Week 2, recording a game-high 20 tackles. He ranks as one of the state's top high school football defensive players.  
Hazard dominated a matchup at home versus Prestonsburg in 2018, bashing the Blackcats 44-12.
Prestonsburg has opened the season with back-to-back losses. Through two games, opponents have outscored the Blackcats 95-19. The Blackcats have dropped games to Pike County Central and Lawrence County.
Prestonsburg has been held to 241 yards of total offense in two games. The Blackcats are averaging 112.5 rushing yards per game.
John Rose leads Prestonsburg in rushing and receiving. Through two games, Rose has rushed eight times for 77 yards and one touchdown.
As part of a balanced rushing attack, Carter Akers, Sam Kelly and quarterback Brayden Slone have rushed for positive yardage as well.
Rose has hauled in three receptions for 23 yards.
Akers is leading Prestonsburg on the defensive side. The productive Akers has posted a team-high 14 tackles in two games.
Kickoff for the Prestonsburg-Hazard football game is set for 7:30 p.m.
Who 2 Watch: For Prestonsburg, senior running back/wide receiver/defensive back John Rose.
Due for a breakout game, Rose currently ranks as Prestonsburg's leading rusher and receiver while also contributing regularly on the defensive side. Rose is averaging nearly 10 yards per carry for the Blackcats.
For Hazard, watch junior quarterback/linebacker Garrett Miller.
Miller was impressive in his debut at quarterback for the Bulldogs, he averaged 21 yards per pass completion during the matchup against Harlan County in Week 2. Miller finished interception-free in the Bulldogs' season opener.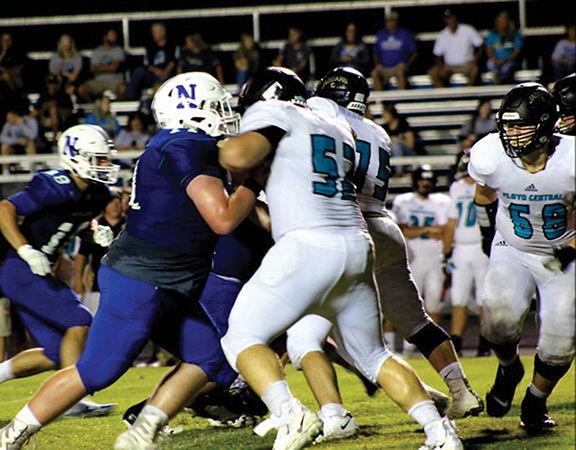 Knott Central at Floyd Central
Who: Knott Central (0-2) at Floyd Central (0-2)
Kickoff: Friday, 7:30 p.m.
Location: Jaguar Field, Eastern.
Coaches: Knott Central, Larry Maggard. Floyd Central, Shawn Hager.
Notes: Floyd Central is set to host border rival Knott Central in Week 3 of the 2019 high school football season on Friday. The matchup will serve as a home opener for the Jaguars.
Knott Central is 0-2 following back-to-back losses to Magoffin County and Pineville. Two games into the 2019 high school football season, opponents have outscored the Patriots 90-36.
Several first-year starters are on the field for the Patriots. Sophomore quarterback/linebacker Will Weinberg is helping to lead Knott County Central.
Following realignment, Knott Central is preparing to compete in Class 2A, District 7. Knott Central concluded the 2018 season 2-8.
Floyd Central is 0-2 after starting the season with back-to-back losses to Clay County and North Laurel. The first two opponents in the 2019 season combined to outscore Floyd Central 72-26. However, Floyd Central showed improvement during its game versus Clay County on Friday, Aug. 30.
Junior quarterback Caleb Hager leads Floyd Central offensively. Hager has rushed 16 times for 164 yards and three touchdowns.
Ranking second in rushing behind Hager, senior running back Dalton Boyd has rushed 35 times for 142 yards and one touchdown for the Jaguars.
Defensively for Floyd Central, Chad Bates (16 tackles), Noah Marcum (15 tackles), Gavin Martin (13 tackles), Brendan Evans (12 tackles) and Bryce Thacker (11 tackles) rank as the team's top-five tacklers.
Floyd Central and Knott Central are set to meet on the gridiron for the first time.
Kickoff for the Floyd Central-Knott Central football game is set for 7:30 p.m.
Who 2 Watch: For Floyd Central, senior running back/defensive back Dalton Boyd.
A workhorse in the Floyd Central backfield, Boyd is averaging 17.5 carries per game. He'll need to produce for Floyd Central to fend off visiting Knott Central and work its way into the win column for the first time in the 2019 season.
For Knott County Central, sophomore quarterback/linebacker Will Weinberg.
During the preseason, Knott Central was projected to push Breathitt County for the top sot in Class 2A, District 7. Weinberg will need to deliver for the Patriots to claim their first win in Floyd County on Friday.
Betsy Layne at East Ridge
Who: Betsy Layne (1-1) at East Ridge (0-1)
Kickoff: Friday, 7:30 p.m.
Location: Warrior Stadium, Lick Creek.
Coaches: Betsy Layne, Scotty McCoy. East Ridge, Ben Runyon.
Notes: Betsy Layne picked up a big 46-30 win over Morgan County, while East Ridge fell to Phelps 47-6 in the 35th Annual Pike County Bowl.
Betsy Layne had a huge offensive performance against Morgan County. The Bobcats had 599 total yards of offense.
Sophomore quarterback Chase Mims led the way for Betsy Layne. Mims was 11 for 18 passing for 200 yards and two TDs with one interception. Mims added 69 yards rushing a TD on eight carries.
Austin Tackett led the way for Betsy Layne's running attack. Tackett rushed for 247 yards and three TDs. Nicholas Howell followed with 81 yards and a TD on three carries.
Howell had a big game as the Bobcats' top receiver on the night. Howell had five catches for 126 yards and two TDs.
Chase Hamilton added four catches for 51 yards. Tackett and Paul Hall each added catches as well.
On defense, Jackson Burchett and Chase Hamilton led the way for Betsy Layne as they both had 12 total tackles on the night. Paul Hall and Marcus Hall each added 10 tackles for the Bobcats.
East Ridge struggled against Phelps in the Pike County Bowl.
The Warriors couldn't get anything going.
CJ Branham refused to let East Ridge get shutout, though as he scored the Warriors' only TD of the night.
It was Phelps' third straight win over the Warriors in the Pike County Bowl.
Who 2 Watch: For Betsy Layne, Austin Tackett and for East Ridge CJ Branham.
Tackett had a big game running the ball for the Bobcats.
If he can have another big performance like he did against Morgan County, it will help open up the pass game for Mims once again.
Branham is a versatile player for the Warriors.
Since East Ridge's offense struggled last week, look for Branham to get more touches for East Ridge.
He can make things happen on offense.
If East Ridge wants to have success on offense, Branham needs to get more touches.