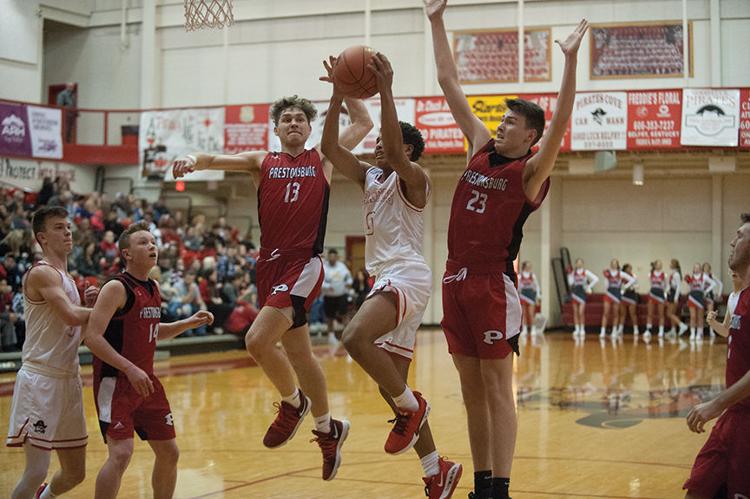 BELFRY — Belfry snapped a six-game losing streak Tuesday night with an 80-66 win over Prestonsburg.
Belfry jumped out to an early lead, but Prestonsburg cut the lead to five (23-18) early in the second quarter. The Pirates responded with a 14-3 lead to blow the game open and take a big 37-21 lead.
Freshman Sal Dean led the way for the Pirates. Dean scored a team-high 20 points on eight for 15 shooting. Dean also pulled down nine rebounds for the Pirates. Austin Hager added 15 points for the Pirates as he knocked down four of his eight three-point attempts. Brett Coleman scored eight points and pulled down seven rebounds. Jaxson Thompson also scored eight points and knocked down two of his three three-point attempts. Thompson also hauled in five rebounds. Ben McNamee and Caleb Spears scored six points apiece. Isaac Dixon added five points. Isaiah Hackney and Tyler Chaffin each scored four points. Chaffin also hauled down six rebounds. Steven Banks and Dylan Goff chipped in with two points apiece for the Pirates.
Belfry shot 44.9 percent for the game (31 for 69), while Prestonsburg shot 40.8 percent (20 for 49).
Belfry out rebounded Prestonsburg 44-27
Gunnar Williams scored a game-high 27 points to lead the Blackcats. Ryan Rose followed with 13 points. Will Gullett added seven points and eight rebounds for Prestonsburg. Adam Slone followed with six points. Jacob Martin and Wes Salisbury each scored three points. Jon Little, Kasey Meade and Kaleb Jarvis scored two points apiece for Prestonsburg. Ethan Jarvis chipped in with one point.
Belfry (7-8) is scheduled to host Shelby Valley at 7:30 p.m. Friday night.
Prestonsburg 6-10) is scheduled to visit 58th District rival Betsy Layne at 7:30 p.m. Friday night.