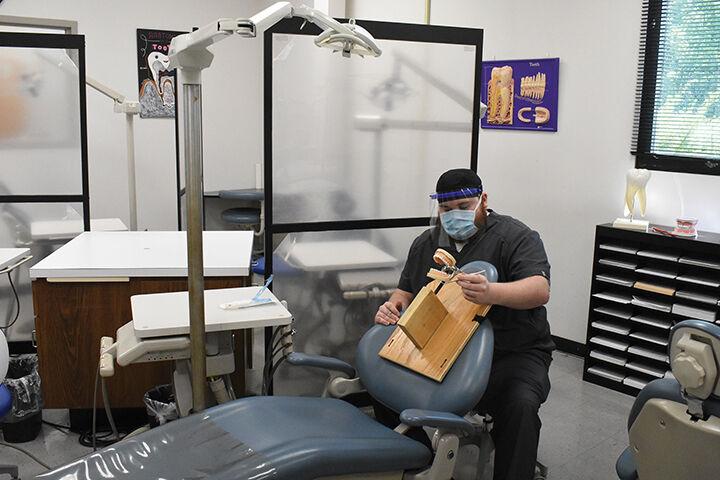 With classes right around the corner, or for some, already underway, Big Sandy Community and Technical College officials discuss the benefits to its dental programs and how the college is working to help the area.
On  Aug. 10, Program Coordinator at Big Sandy Community and Technical College Jill Keaton, who is in charge in charge of coordinating the dental assisting program, the dental hygiene program and the community dental health coordinator program discussed the college's dental programs and how they are helping educate students in one of the hotbeds for oral cancer in the nation. Keaton also talked about the how the college has had to change due to the COVID-19 pandemic and how BSCTC hopes to expand its footprint to continue educating not only its students, but its community.
The program, according to Keaton, began many decades ago under the University of Kentucky and would rotate amongst the community colleges' which were under UK's umbrella. However, in 1995, the decision was made to keep the program permanently at BSCTC, due to the great need in the area.
Kentucky has the third highest rate of oral cancer in the nation, Keaton said. BSCTC having the only dental hygiene and dental assisting program east of Lexington that gives the college a wide range of individuals in need of education and assistance.
"We're hopeful that we can get education and information to people about oral cancer and the risks that are associated with that, so we can make a big impact," Keaton said.
Keaton said attending BSCTC provides an opportunity for people who may have family commitments and may not be able to leave the area. She added that the college has and will continue making improvements so that those individuals who need "close to home education" can continue to do so.
"We have graduated students every year," Keaton said. "We have a two year program and graduates earn an AAS degree in dental hygiene and with that, they're able to work in a dental office under the supervision of a dentist.
"They also get to treat patients for a variety of dental health conditions."
Some students, according to Keaton, are unable to make a full-time commitment so they complete their general education classes so that once those are completed, they can fully focus on the dental hygiene program. The program follows a selective admission criteria, which typically sees the college admit 16 students every year.
Garett Wotring, who has been in the dental assisting program fro two semesters and is preparing to hygiene program said his experience with BSCTC has been great.
"Everyone has provided more than enough information to help me succeed and all the staff here is just absolutely wonderful," Wotring said. "Their goal is to help us succeed and they care a lot about us, which is sad that you don't see in a lot of other colleges and programs, at least ones that I have been to.
"So, it's absolutely wonderful here and their priority is our safety and making sure we're knowing what we're doing and everything," he added.
The students, Keaton said get the full hands-on experience as their work is supervised by a dentist as well as a dental hygienist, as the college employees full-time professionals.
"It's a high-demand profession that individuals can remain in for the rest of their life," Keaton said. "They can choose to work as much or as little as they want and at the same time, be able to really contribute to their family."
However, Keaton said the work the programs and the college have put in and will continue putting in, would not be possible without the support of area dentists and partnerships.
"We are really so fortunate to have the support of area dentists," Keaton said. "We also have the support of an advisory board, which includes dentists, hygienists and dental assistants. So we meet every semester to talk about the program and they make recommendations. They work as really great source to providing information about what's going on in the dental community and how we can meet those needs."
Keaton said the college also has a strong working relationship with the American Dental Association. BSCTC has partnered with the ADA in order to offer its Community Dental Health Coordinator program, which she said is the only CDHC program in the state.
"That's a online 17 credit hour course," Keaton said. "It's available to students who are currently enrolled int he dental assisting program or have graduated from the program. We train those individuals to be case managers and our hope is that in the future, we don't offer extractions or fillings in our clinic. But, we see patients who need that work done and our hope is that we can have those CDHC students work to refer those patients to find resources."
According to Keaton, the college wants individuals in the public to also know about the services its provides for the area.
"We have a full service dental hygiene clinic here on the Prestonsburg campus," Keaton said. "That allows students to actually see patients. So if someone needs to have a dental exam, cleanings, dental X-rays and so on. They can have that done here at a very reduced cost."
Individuals who wish schedule an appointment or find out more about BSCTC's full service dental hygiene clinic can call the school from 8 a.m. until 4:30 p.m., Monday through Friday. The college sees patients during the fall (August through December) and Spring (January through April) semesters.
The current COVID-19 pandemic has changed the world in which we are currently living, something of which BSCTC is not immune to. Thus, Keaton said, the program had to make some changes to ensure that both faculty and students were in a safe environment.
"We are following the CDC guidelines that are specific to dental settings and so with that, we have changed so that within our dental clinic, we've modified that to include barriers between chairs," Keaton said. "We've also changed our vacuuming system, so now we're an iso-vac system.
"We're pre-screening patients and doing temperature checks, not only for our the patients, but for us as well," she added.
According to Keaton, the clinic has removed all chairs from its waiting area and is only allowing one person to accompany individuals, something she said is only for individuals who may need assistance, such as a minor.
"We're dramatically reducing the numbers within our clinics and just trying to do our part to make sure everyone is safe and healthy," Keaton said.
The college, although only accepting 16 students currently, is hoping to expand its dental program's footprint, as according to her, plans our underway to create the East Kentucky Oral Health Training Center. The college's goal, she said, is to be able to provide training for the entire dental team.
"From the front office staff, all the way to the dentists that is supervising," Keaton said. "Our goal is to expand dental education within the region and assist people safely."
Keaton said that if an individual is working at the front desk, but really wants to be able to learn the skills of dental assisting, there will be opportunity to move up internally.
"We want to be able to provide that training, so that they can get that better job," Keaton said. "we're also partnering with the University of Kentucky and we're hosting a free continuing education course for dental hygienists and dentists that pertains to oral cancer."
According to Keaton, that free online CE course will be on BSCTC's Facebook page this Friday, Aug. 14 from 10 a.m. until noon.
"We want to be in a position to where we are serving the community," Keaton said. "As we're educating people to work in this area."
Individuals who would like more information regarding the dental programs offered at BSCTC can call, (606) 886-3863, or they can visit the college's website.