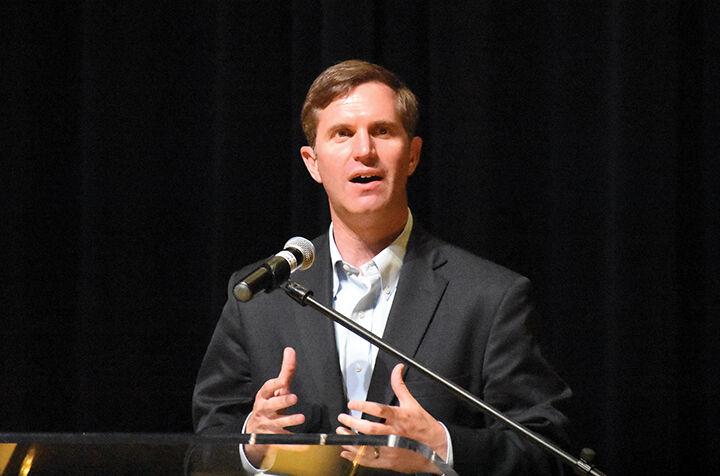 Gov. Andy Beshear paid a visit to Floyd County on May 24 with a dual purpose — to celebrate a recent economic boost to the county, but to also announce the pending completion of a project that has been in the works for decades.
During the visit to Floyd Central High School, Beshear joined in celebrating the opening of the Southeast State Correctional Complex in Wheelwright but also announced that the state had not only allocated more than $34 million for the completion of the Minnie to Harold Connector (Ky. 680) but also joined in celebrating the news that the bid for the project had been accepted and construction is expected to start this summer.
Beshear said the project will not only open a formerly isolated area of the county up to better economic development but also provide a better connection for Eastern Kentucky. The roadway, Beshear said, will cut the drive time between Hazard and Pikeville by about 45 minutes and provide a direct route between Ky. 80 at Minnie to U.S. 23 at Harold.
The road project, for which two sections are already finished, began in 1991.
"We are ready for work to begin to improve the quality of life and increase opportunities in Eastern Kentucky," said Gov. Beshear, who presented a ceremonial check for the project in the amount of Bizzack Construction Co.'s low bid of $34,108,260.80. "The people of Floyd County, and surrounding communities, have been waiting a long time for completion of the Minnie to Harold connector, and I am proud to say the end finally is in sight.
"I am honored to be here today to celebrate the recent achievements and bright future of Floyd County," Beshear said. "Kentucky's economy is set for liftoff and this county is a part of that momentum. We have created hundreds of new jobs in Wheelwright and are continuing to attract more jobs so every resident has the opportunities they need to take care of their families and reach their goals."
State Rep. Ashley Tackett Laferty said the announcement represented a "momentous day" for Floyd County and its neighbors.
The prison project and the road project, she said, have languished for so long.
"Today I'm so very proud to stand here and recognize the real progress that been made while also thanking so many who worked so especially hard to make this day a reality," Laferty said.
The people of this area, she said, are "starving for good quality job opportunities," and the prison has provided those opportunities, while the Minnie to Harold Connector will help provide even more.
"After sitting vacant for more than 10 years, the doors to the Southeast State Correctional Complex in Wheelwright are officially open. I am happy to recognize that, today, our facility not only plays a large role in easing overcrowded prisons across Kentucky, but has created about 250 state-grade job opportunities locally," said Rep. Tackett Laferty. "I want to sincerely thank Gov. Beshear for his commitment to reopening this facility which is now making an important impact in Eastern Kentucky and across our state. It is truly a momentous day for Floyd County and our neighbors throughout Eastern Kentucky."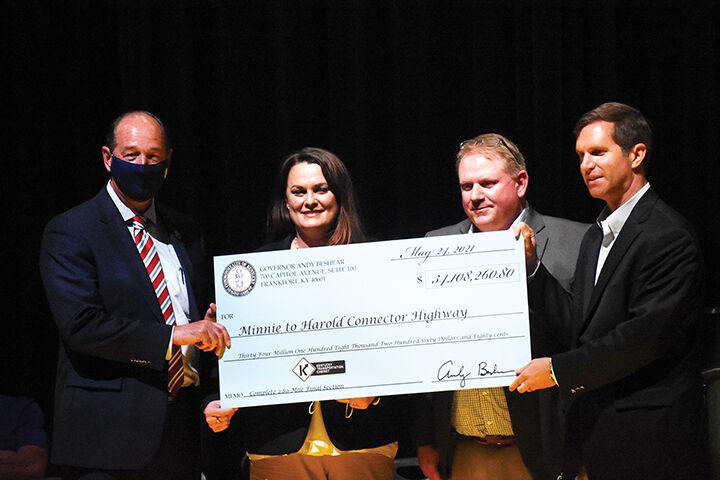 Beshear also announced a $44,000 pot of funding to be used by the Floyd County Fiscal Court for the Melvin Park.
Rocky Adkins, senior advisor to Beshear, also spoke at the event, pledging that every effort is being made to ensure Eastern Kentucky's issues remain on the front burner going forward.
"It's our turn," Adkins said. "Our folks here have earned it."