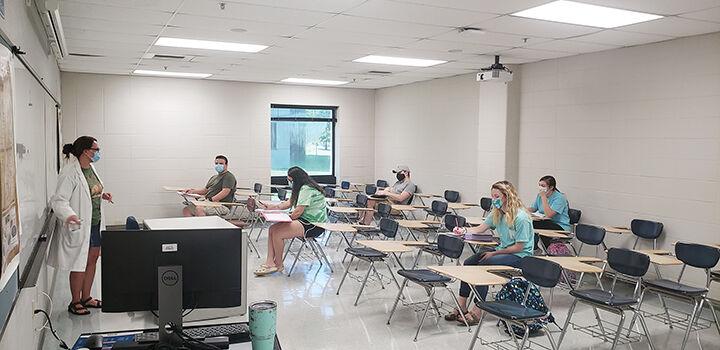 With fall right around the corner, schools throughout Eastern Kentucky and the nation are planning for campuses to open back up and although students and staff may experience a different upcoming school year.
Big Sandy Community and Technical College is taking steps to ensure a safe environment will be there waiting on them to arrive.
On Monday, July 27, Big Sandy Community and Technical College President and CEO Sherry Zylka as well as the college's Healthy at Work Officer Myra Elliott discussed what this upcoming school year is expected to look like, as staff and students prepare for school life during the COVID-19 pandemic.
The college is going to be able to provide a variety of options for attending class, according to Elliott. Those options will include the students having the choice to attend classes in person, online or a mixture of the two, Elliott said.
"We're doing a multitude of different timeframes," Elliott said. "Such as eight weeks, 12 weeks and we are doing full semester as well.
"But we are putting some things in place to help support and engage students," she added.
Big Sandy hopes to do that because of the more online capability the college is going to be able to provide. One example of that, Elliott said, is a program called Circle In, which is place in which the college can virtually group students together.
"They can have their tutor, they can have study sessions, share notes and those types of things, just to give them that support and to help them feel like they're in a real life classroom environment," Elliott said.
The college's goal is to be flexible for both employees and students. Big Sandy employees will have virtual office hours, but there will also be some individuals that will still conduct face-to-face meetings, within a safe environment, according to Elliott.
"We also want to try and support our faculty, as well as our students," Elliott said. "This summer we started doing bootcamps for our staff to help try and get them transitioned from just face-to-face, but that hybrid and online style.
"Here at BSCTC, we're experienced in dealing with online education and have been for quite awhile, but we're really trying to up the game," she added.
The campus is doing a pre-screening process, which Elliott said was a series of questions, for students and faculty that they answer before coming on campus. There will also be a self-temperature check before coming to campus.
"We are requiring masks while on campus," Elliott said. "We're setting up all of our classrooms, which we're almost complete with. But we're putting up barriers in places."
The campus water fountains will be blocked off this upcoming semester, according to Zylka, but both she and Elliott ensured that the college will provide bottled water in classrooms as a result of having to block fountain areas.
Come August, the college's stairwell areas will only be one directional, which she said means there will be an entrance door into buildings as well as an exit in an attempt to keep the flow of foot traffic going one way. Elliott said the campus cafeteria will be closed during the school year as well.
"We're doing a lot of signage, which will be displayed around campus," Elliott said. "We just want to reiterate all the safety measures for everyone. Things like reminding people about good hand washing, disinfecting and things like that."
According to Elliott, there is a healthy at work team, which meets every week. She said that is conducted at both a system level and on the campus level.
"We talk about the changes weekly and try to keep as up-to-date as we can on all the requirements," Elliott said. "We keep reevaluating things as we try to maintain as much safety as we possibly can."
Elliott said that the college is working directly with every health department and is also having all employees keep a contact tracing log, so in the case that a case develops from within the college, the administration can then forward that to the health department and work with them.
"In that circumstance we would close down that area where that individual was," Elliott said. "So we'll isolate and do that for 24 hours. We'll block that off so that we can keep our employees safe as well and then once the 24 hour passes, we go in and disinfect those areas before they are opened back up."
The college, according to Elliott, keeps a weekly log for schedules for everyone. That she said, enables administration to know exactly where everybody is and when they are there, That helps the college adequately clean once individuals have left.
According to Elliott, the college brought back staff in stages to ensure that if anything was to arise, it would be able to handle the issues at a small scale. It also allows staff and the administration to learn from one another, as the initial groups will be able to help the incoming group as they themselves become more comfortable with the processes. In the chance that a student contract the virus and become ill, Elliott said that student will be provided an option to step away from the classroom but still be able to finish the respective course.
Currently, according to Zylka, the college can have up to 50 percent capacity within the building and added that every step college is taking is in compliance with Gov. Andy Beshear's office, the CDC, the Council for Post Secondary Education and the local health departments.
"And so, not everyone is coming back," Zylka said. "And we're not mandating people to come back. It's more that those that want to, they'll will have that option and those who aren't as comfortable will also have an option. We just want to provide an opportunity for students and staff to feel comfortable coming back to campus."