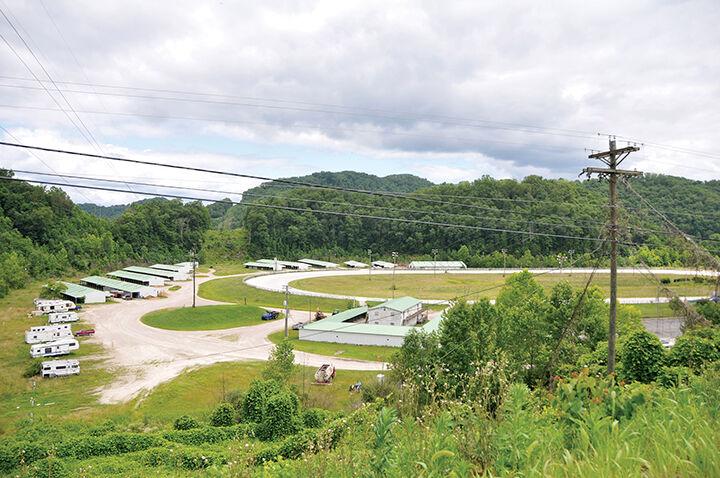 Last week, the Floyd County Fiscal Court and the city of Prestonsburg began a joint process which could pave the way for a former race track to have new life as an industrial site as officials hope to keep Eastern Kentucky's workforce home.
During its regular meeting on March 16, the Floyd County Fiscal Court voted to enter into an option agreement with the City of Prestonsburg in order to entertain purchasing the Thunder Ridge property, which was purchased from the county's possession in 2017. According to Floyd County Judge-Executive Robbie Williams, the agreement with Prestonsburg is to explore the possibility of purchasing the former race track and turning it into an industrial site to attract potential businesses to the Floyd County and Prestonsburg area.
The court was joined by Economic Development Director for Big Sandy Rural Electric Co-op Rodney Hicks and Big Sandy RECC President and General Manager Aaron Davis who attended the meeting in order to express their encouragement regarding the possibility, as well as allude to the possibility of relocating their offices to the site, if the plan and purchase come to fruition.
According to Hicks, he's been in the business for about 37 years and he regularly travels throughout 87 counties within the state trying to help create business. In addition, he traveled all across the nation with the Cabinet of Economic Development.
"We've got over 200 industrial parks and business parks around the state that we work with on a regular basis in order to draw business in to those," Hicks said. "In the last five years, we've had almost $6 billion worth of new investment, 13,000 jobs created through our 87 counties in our territory, but the problem has been in Eastern Kentucky."
According to Hicks, the problem that he's seen in Eastern Kentucky and specifically this area, is lack of "product to sell." Hicks said that another issue is lack of adequate and qualified workforce around the nation and much of the state. Hicks said Eastern Kentucky has "one of the best workforces in the world" right here in its own backyard.
"We need a park to promote, that has all the infrastructure," Hicks said. "So if there is a possibility for the Thunder Ridge property into an industrial business park, personally it would really help us try and market to bring more businesses here."
In Eastern Kentucky especially, Hicks said, Thunder Ridge is one of the "best" pieces of property for development due to its infrastructure which is in place. He added that the site isn't perfect and that it would still take some work, but if the court doesn't ever get started, Hicks said he didn't know how they would get there.
According to Williams, if the county was to break ground on a new site today, he wouldn't expect that site to have the same level of infrastructure as Thunder Ridge for another "five years."
"Judge, that's why I wanted to and express our encouragement because the property is very rare," Hicks said. "To find a piece of property that has that infrastructure is going to be almost nonexistent."
As far as Big Sandy RECC, as well as all the co-ops involved, Hicks said that the company and cabinet wants to help the court in anyway it possibly can. However, according to him, the cabinet is "somewhat hamstrung" in everything it does for the county in regard to bringing businesses to Floyd County, due to the fact that the court doesn't have a site under its control. That would change, he said, if the court and City of Prestonsburg obtain the property through AML funding.
"I feel like we're on the clock here," Williams said. "We don't have 10 years. That workforce is going to be gone and we need to be tapping into these unemployed coal miners so we can get these guys in positions as quickly as we can.
"And I certainly believe that Thunder Ridge is our answer to do that," he added.
Williams said there is a number of folks throughout the county that don't feel "as good" about possibly obtaining Thunder Ridge because of the fact that in the past, Floyd County was on the bond for the former race track. According to Williams, at the time, the county was on the hook for around a $1 million bond.
"There's a little bit of a rub there, but you know, some people look at and see a liability," Williams said. "When I look at it, I see opportunity. I've tried to get out here and start businesses and to attract businesses, but we don't have anywhere to put them."
Williams said the county needs to get a site in place in order to not continue to be behind the eight ball in attracting businesses to Floyd County. However, he added that it has to be done in a manner that doesn't put the county at risk.
Prestonsburg Mayor Les Stapleton said the City of Prestonsburg has lost businesses in the past due to not having enough property for the business to relocate here. That problem, he said wouldn't be the case if the purchase of Thunder Ridge is successful as it encompasses more than 50 acres of flat land. This issue, Stapleton said, has to be "acted on, while we can."
Stapleton said he has been attempting to obtain the Thunder Ridge property for years as he shared Williams and Hicks' sentiments regarding how great an industrial site it could potentially be. He also added the fact that the property is four-lane road accessible something which many, if not all, businesses take into consideration.
"This would be the third time that I've tried to pick up this property and we can cannot afford, with the climate of our current economy, to put tax dollars into that project," Stapleton said. "But, there's a lot of money out there for economic development and I've been told by a number of people within the economic development world that Thunder Ridge is a prime location."
Stapleton said that the city and the county needed to look at something that would help provide long-term and adequate jobs, while also being able to stay here in Eastern Kentucky to raise their respective families.
One possible business which would be interested in possibly relocating to the site, it it comes to fruition is Big Sandy RECC, according to Davis. Hicks said that RECC was formed in 1940 for the benefit of electric distribution to people in rural areas that it serves, as well as being a cornerstone to the area and community.
"One of those things is economic development and that's why we're here," Davis said. "That's the encouragement we want  to portray here today. We want to do everything that we can as far as Big Sandy RECC goes, to help promote that and to help get jobs in here that we definitely need."
On the other side of that, Davis said that he wanted to inform the court about what the company has been discussing for the last couple of years. According to Davis, Big Sandy RECC's offices are located in Painstville, its operation center and headquarters, which is separated.
"My vision and my goal for Big Sandy RECC, and it has been for the past couple of years, is that I would like to see us (its offices) back together again," Davis said. "We currently are in AEP's territory, we're an electric cooperative and we want to be in our own service territory."
Most importantly, Davis said, the company wants to be centrally located for its membership. According to Davis, him and his staff, for the past couple of years, have looked and thought about, "Where is the best place for Big Sandy RECC to be?" for the benefit of its membership.
"There's no better place than Thunder Ridge and that property," Davis said. "It's centrally located with Johnson and Floyd County and we're 10 miles from Martin County. There's not a better place."
Davis said that if the Thunder Ridge site was to come to pass, then Big Sandy RECC would be "very interested" in the possibility of relocating to the site, so much so that according to him, RECC's board was "very enthusiastic and very supportive" when he said he approached regarding the idea. However, Davis said that if another business or manufacturer wanted to relocate to the Thunder Ridge property and needed the whole property, Big Sandy RECC would then pull out of contention in order to support the economic benefit development.
"That's our first priority, is to see economic development here and to this area grow," Davis said. "However, if it were to work out and we did have the opportunity for us to have some economic development there and for us to have a home there, then we would be very interested."
After Davis concluded, Williams made a motion that the court enter into an option agreement with the City of Prestonsburg in order to possibly purchase the Thunder Ridge property at a price of approximately $3 million, a motion the court unanimously approved. A second motion was made by Williams, this one was for approval to apply for AML funding in order to purchase the property. According to Williams, if the grant application does not go through, then he added that the Thunder Ridge property will not purchased.
"I would never want to do anything to put the county back on the hook for any liability or have to spend county money," Williams said