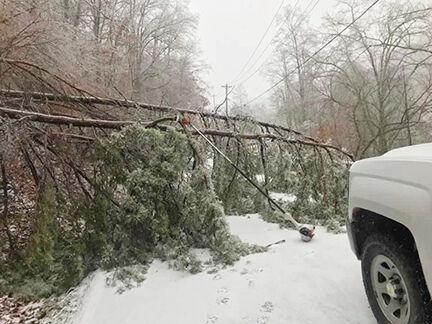 Over the last few days Floyd County, like many parts of the region, has been experiencing increasingly low temperatures and cases of freezing rain, which officials said is expected to continue into the coming days, so residents should use extreme caution if traveling.
Floyd County Judge-Executive Robbie Williams said that, for the most part, Floyd has been very fortunate in that the county hasn't experienced many of the issues that northern counties have. Williams added that due to the weather that has occurred over the last few days, the county has been making preparations and working to resolve issues.
"We had tree removal crews lined up, we have contractors lined up and we have designated areas in the event that we continue to see bad weather to report," Williams said. "Everything has worked out well to this point, but we're going continue to monitor things and people need to remain cautious."
Williams said that the court has been coordinating closely with its road crews, magistrates and staff  which he said was something that was missed in the past.
"We just want to make sure these people are taking care of," Williams said. "To do that, we got to try and keep these roads clear as soon as possible and in the event that we have a medical emergencies and people may need to get for various reasons."
Williams said it appears like the majority of issues have occurred in the northern part of the county for the last week, due to the ice it's been receiving.
According to Williams, the county has been coordinating with City of Prestonsburg and Mayor Les Stapleton. Although the two have not been able to meet in-person, Williams said he and Stapleton have remained in contact, to ensure the county and the city don't overlap.
According to Stapleton, the city has been working at a rapid pace to try and keep its roadways safe for travelers, as well as providing as much up-to-date information as possible via its social channels.
If anyone is traveling during this weather, Stapleton said, they need to be aware of any areas such as bridges or overpasses or any area with air underneath it. Drivers, he said, should be very careful and use extreme caution.
Then there's cut throughs, where he said the wind is focused and goes through, as well as higher elevations. Stapleton added that anyone traveling those should use extreme caution also.
"Those are places you got to be really careful of because they'll freeze over quicker," Stapleton said.
Stapleton said that road crews have been proactive in salting roadways and will continue to do so as they will be running during the morning and evening.
According to the Kentucky Transportation  Cabinet Dist. 12 Facebook page, last night Floyd County saw a number of issues due to the storm which rolled in. According to the post, several areas, including Ky. 1086 Sizemore Mountain and Ky. 3384 Town Branch, had experienced fallen trees. The KYTC post said that due to the power outages, communication has been difficult through last night on Monday.
Chances are, the post said, that any individual that doesn't live on U.S. 23, Ky. 80, U.S 119 or U.S. 460, should expect to run into problems areas.
As of early morning on Tuesday, there were nearly 5,000 customers of Kentucky Power and Big Sandy RECC were left without power by the storm.
According to Floyd County Sheriff John Hunt, due to the weather and outages, deputies are now operating for 24-hour periods and will be patrolling areas without power in order to transport any individuals who may need a ride. Hunt said that if any individual needs to be checked on, to please contact the FCSO dispatch.
Stapleton said that due to he ongoing weather and the nearly 5,000 residents within the county who are currently going without power, Prestonsburg Mayor Les Stapleton has said that a warming station will be open at the Floyd County Emergency and Rescue Squad building. The FCERS building is located at 132 Cliff Road.
According to Williams, the county is working to gather information regarding possible warming station locations for residents. Williams said that county workers are going around the county to determine whether or not certain locations will be able to be used and he added that more information will be released as workers continue gathering information. Williams said for Floyd County residents who are able to keep an eye out for more information being announced, via the court's Facebook page.