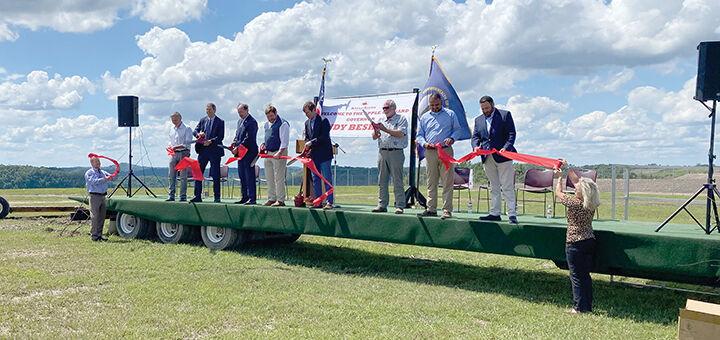 According to special assistant to Gov. Andy Beshear, Rocky Adkins, local businessman Jim Booth is a "visionary." Now the long-time coal operator is now turning his focus to a life after coal — Apples.
On Tuesday, Booth and his partners unveiled "AppleAtcha" Agritech KY LLC, in Martin County, with the hopes of turning Eastern Kentucky into the "Apple Capital" of the nation.
Beshear was the keynote speaker for the event and Adkins also addressed said.
Booth said the project came about as he was considering what could be done with all the abandoned strip mines in Martin County. After some research and talking with experts, the idea of turning the land into apple orchards was born.
"We've been working on this project for a long time, and it has come together and come together fast," Booth said.
Booth has even partnered with former Cleveland Browns quarterback Bernie Kosar, who is on the project development team for AppleAtcha.
What is typically done once strip mining has ceased, is the land is used for mowing hay. However, the AppleAtcha team has worked tirelessly prepping the land with rock and tree removal to get the land suitable for planting trees.
"Right now we have 60 prime agricultural acres right behind us, and on that land, there will be 120,000 apple trees," said Booth.
As coal continues its steady decline, Booth and his team hope to encourage people of the region to become apple growers.
AppleAtcha even plans to buy the apples produced on the land.
Project Manager for AppleAtcha, Ryan Wilson, is also Booth's son-in-law and oversees the day-to-day operations.
"We met with experts from Michigan and did soil samples to see what our soil was missing, then we came up with a fertilizing plan so we have four different variations of fertilizer that we're applying to the soil so our apples will grow," Wilson said.
Beshear praised the project, and the work of Booth for turning to AgriTech for a new economy.
"You know, it would be really easy for the Booth's, and everybody involved to just come out here and grow these apples and lead the way. But guess what? they're bringing the entire rest of the community in," Beshear said.
This project will give the community the chance to be growers themselves and run their own orchard.
"They're giving everybody a shot, that can meet their specifications to grow their own apples," said Beshear.
Tuesday marked the fourth economic development jobs announcement in Eastern Kentucky in the past 10 days alone, Beshear said.