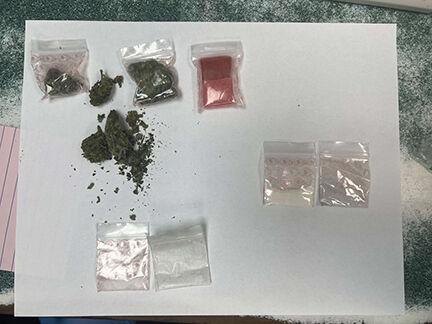 Floyd County Jailer Steve Little said he and his staff are continuning the turnaround at the Floyd County Jail.
On March 13, Little announced the seizure of a large quantity of drugs which were left by an unknown suspect to be smuggled into the jail by inmates.
 "Since I got here, I've tried to make it one of our priorities to try to stop the influx of drugs that come into the facility. Little continued, "Yesterday, we were able to get a tip from an anonymous source that there might be a large quantity of drugs that was going to be dropped off near the jail. "
Little said the tipster couldn't pinpoint the exact location. However, he made several suggestions of where the drugs might be hidden.
"The source couldn't tell us exactly where, but they did suggest some spots the drugs could be at," said Little.
Little has his guards do perimeter checks around the facility on the hour, which he says has already paid dividends.
"Last night, Lt. Tyler Musick was near the Annex parking lot next door to the jail, and he noticed a Frito-Lay bag that was folded over and taped," Little said.
Inside, Musick discovered a large quantity of a crystal-like substance, believed to be Methamphetamine and two tablets, believed to be Suboxone.
According to Little, the anonymous source also tipped guards off to a possible drop-off at the rear entrance to the jail.
 "Our tip earlier suggested there were going to be some illegal substances left near the sally port in the cigarette disposal," Little said. "Inside the disposal we discovered a green, plant-like substance, believed to be marijuana, two baggies of a crystal-like substance, believed to be methamphetamine, a small baggie of white powder, believed to be heroin. We also found a grayish-colored powder that's believed to be fentanyl, so they were going to try to get quite a few drugs inside this jail."
Little said those attempting to drop off drugs at the jail know that inmates must be transported to court, and it's at that time inmates have an opportunity to smuggle drugs in.
"When we unload them, sometimes we have to unload them outside the sally port, because we have another vehicle in it," Little said. "The inmate knows to check, and they try to bring it in with them."
Little said improvements to the jail are ongoing as all offices have been painted and disinfected, most electrical and lighting problems have been addressed and the facility is now sanitized daily.