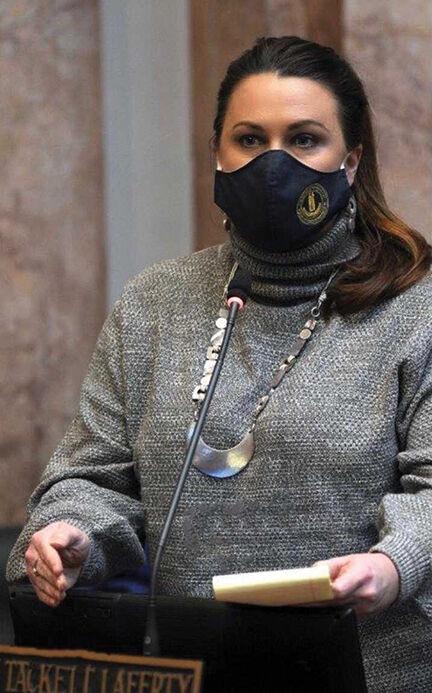 The Kentucky General Assembly's 2021 session got underway on Jan. 5 and, like the rest of her colleagues in Frankfort, 95th Dist. state Rep. Ashley Tackett Laferty is navigating a session in which she's focused on local goals in a session dominated by big issues, such as COVID-19 and the need to set a state budget.
On Jan. 12, Laferty told the Floyd Chronicle and Times that a number of items directly impacting Floyd County are high on her list.
Laferty said she's tried working hard to attract more high-quality jobs to the area and added that she will continue to do so. According to her, She said she was thrilled with the recent visit from AppHarvest, an Appalachian indoor farming business, which accepted her invitation to come to Floyd County and explore the area as a potential site for commercial greenhouses.
"We hope to welcome AppHarvest back soon and we're continuing our recruitment there, but either way, we won't be giving up on bringing jobs in," Laferty said. "My husband is a baseball coach, so I'm well aware that you often have to take a few strikeouts, while you're waiting on a home run."
Outside of "jobs, jobs and more jobs," Laferty said, infrastructure will continue to remain one of her highest priorities for Eastern Kentucky. Some of those, according to her, include continuing to work for high-quality internet here in the mountains, much needed water projects and transportation projects, such as the completion of the Ky. 680 connector between Minnie and Harold.
"Taxpayers have already paid $70 million to construct this roadway, which is within three miles of completion," Laferty said. "Thankfully, it's listed on our current road plan to be constructed in 2022."
Laferty said that she's happy of the work done to get the road closure sign located at Minnie removed and detour opens through Little Mud. However, she added that a push still needs to be made to finish the roadway.
"Roadways such as this and the expansion of the Mountain Parkway through Floyd County will help attract quality jobs to our area and it will help drive economic development through Eastern Kentucky," Laferty said.
Laferty said she has also been working with Floyd County Judge-Executive Robbie Williams and the fiscal court on creating a a handicap- accessible park for Floyd County and its residents.
"Hopefully, this will be the first of a string of parks that we're able to try and bring to our region," Laferty said. "We've looked at some great locations at Betsy Layne and Martin, but it appears that this park is going to find its home on Mud Creek."
Unlike other districts in Floyd, Dist. 4, which includes Mud Creek, has never had a public park for its families to enjoy, according to Laferty. Having been raised on Mud Creek, she said that she is very happy to see the park making its way to her home area.
Laferty said she had a meeting with the commissioner of Kentucky's Parks to discuss the future of Floyd's Jenny Wiley State Resort Park and its marina. Laferty said she recently filed a bill which would create a commission organizing events to celebrate 100 years of state parks in Kentucky. The bill, she said, passed out of the House of Representatives last session, but didn't make it to the Senate, prior to the COVID-19 shutdown.
"Our state resort park and its outdoor amphitheater are underutilized in attracting folks from across Kentucky, to see the beauty of area, as well as supporting local businesses," Laferty said. "My goal with this bill is to just get them here, and hopefully our beautiful park and our local amenities will keep bringing visitors back in the future."
Laferty said that she has already filed legislation aimed towards protecting injured workers and Eastern Kentucky's coal miners who suffer from black lung. According to her, she has already filed legislation designed to help teachers, state workers and volunteer firefighters. One bill, she said, eliminates the requirement that those performing evaluations for black lung disease being B-readers. Another, Laferty said, deals with coal miners having more time to reopen their respective black lung claims, if necessary.
"I'm very supportive of our coal miners as the granddaughter of one myself," Tackett Laferty said.
Laferty said she has also filed a bill related to forwarding volunteer firefighters a tax credit for their service the community, because unlike most places, here in Eastern Kentucky and Floyd County, most of its firefighters serve on a volunteer basis.
Laferty said she is also focused on a bill which seeks to increase the taxable pension income exclusion for teachers and state workers from approximately $31,000 to $41,000. Laferty said she has also filed a bill to restore a lifetime award of benefits to injuries workers who have suffered injuries while on the job, instead of restricting them to an arbitrary term of benefits. Currently, Laferty said, she is drafting legislation which would be directed to help improve "what sounds to be an ailing" ground ambulance service situation across Eastern Kentucky.
"That bill is aimed at decreasing emergency response times for patients," Tackett Laferty said.
Finally, Laferty said that she is also currently drafting legislation to advocate for the reopening of in-person unemployment services, especially at locations such as the Prestonsburg and Pikeville offices.