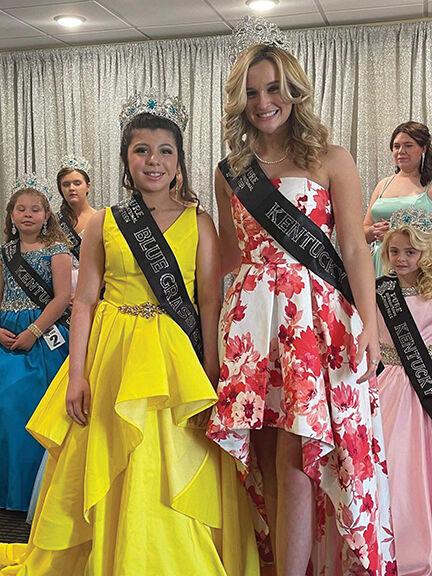 Recently, a Langley girl was crowned Pure International Pageants 2021 Pre-Teen Bluegrass State, a title which she hopes will allow her to make a positive impact the community.
Jasmine Castro-Skeans, a fourth grade student at Duff-Allen Central Elementary, saidthis year marked her fourth year competing for Pure International Pageants, but, her first year in the Pre-Teen category. When she competed at the state pageant, she had to compete in three categories; a personal interview, runway wear and formal wear, where she was crowned Pure International Pageants 2021 Pre-Teen Bluegrass State.
Jasmine is the daughter of Samantha Skeans and Edgar Castro-Ramirez and the granddaughter of Mecca (Webb) Prater of Lexington and Sammy Ray Skeans of Prestonsburg. She is the great-granddaughter of Mr. and Mrs. Claude J. Webb of Langley and Mrs. Ruby O. Skeans and the Late Johnny Skeans of Martin, while also having to two older brothers, Alex and Andy, who both attend Floyd County Central High School.
"I love being with friends and family," Jasmine said.
Jasmine started in Pure International Pageants around four years ago in the Little Miss division. In 2019, she said, she went to nationals and placed third runner-up in the Little Miss division. However, last year, her mother, Samantha, said that she took time off.
"But, as we watched her friends compete live online, she started crying and made it clear to me that she would be going back in 2021.
According to its website, Pure International Pageants is is a Christian organization founded on Biblical principles that focuses on helping our contestants to love themselves and discover their self worth while building their faith in Christ, enhancing and restoring the family unit, and expanding opportunities to improve communities around the world through its #BeTheImpact initiative. Pure International Pageants, the website said, strive to promote the values of good self-esteem and self-confidence in young ladies and women of all ages. Contestants are encouraged to use the tools and opportunities offered to them through our organization to pursue and achieve their goals and dreams.
However, Pure is more than the crown, according to Jasmine, as it's about the friendships you make with people, not only from here in the USA, but around the world. These friends become family, she said, and it's really awesome to get to go and spend time with them.
"They want everyone to love one another. Each queen is to do so many appearances and volunteer services throughout their reign, whether it be at state, national or international level," Jasmine said. "I enjoy getting to know the other contestants and Queens. Making new friends with them."
For Jasmine's #BeTheImpact project she chose to do a fundraiser called "Crowned Paws Fundraiser for Floyd County Animal Shelter" to collect animal food, cleaning supplies, and any other necessities that the animal shelter may have. It runs from April 8 until May 1.
According to Jasmine and Samantha, anyone who wishes to donate to the fundraiser can contact Samantha via Facebook or email, pzladysamanthaskeans@yahoo.com, to arrange pick up of items, or if the want to make a monetary donation they can do so via PayPal or Facebook pay.
Jasmine's family said that they couldn't be more proud of everything she has accomplished, but they know that she still has so much left to do.
"Jasmine has a light that shines so bright in her. Most anything she does, she gives 120 percent. She is very talented, but she is also very kind hearted. Her daddy and I are both very extremely proud of her," Samantha said.
According to Edgar, Jasmine is his princess and although he doesn't always get to go along to be with her for a lot of what she does, he's extremely proud of her big heart, which he added helps her "accomplish anything."
Jasmine's brother Alex, said that although she "is probably the most extremely annoying person" he knows, he did add that not many people get to be crowned Pre-Teen Bluegrass State one weekend, and the next weekend travel to Nashville with your dance team and become National Champions.
"So, I am a very proud big brother," Alex said.
According to Andy, Jasmine is always there to cheer him on when he plays football, so it's easy to support her and helping her with her fundraisers.
In July, Jasmine will compete for the Pure International Pageants-National Pre-Teen Title, which will take place in Columbus, Ohio. According to Jasmine, she's really excited to be representing Pure and is looking forward going out and doing appearances, while also looking forward to a "Wacky Tacky" show which Pure does at the National pageant.
"I'm looking forward to that also. Mrs. Pat Miller (who is the CEO and International Director for PURE) and the entire Miller family are really great people. They always welcome everyone, and treat everyone as if they are family. You really don't have that with other systems. I really look forward to earning every stone in my crown this year. That's something Mrs. Pat expresses, 'Yes, you are crowned, but you're crowned to serve and you must earn the stones that are in the crown.'"
According to Samantha, Jasmine and her family are currently looking for people who would be interested in sponsoring Jasmine, and anyone interested can reach out via her Facebook page or email, pzladysamanthaskeans@yahoo.com.