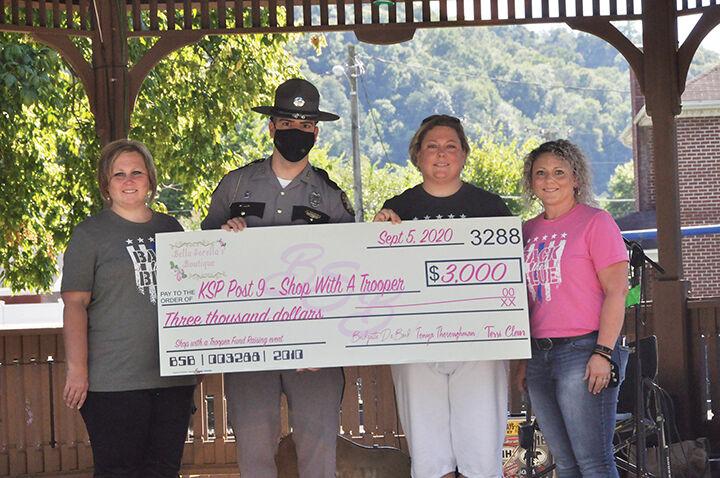 PIKEVILLE — Dozens of people gathered in Pikeville City Park on Sept. 5 for the "Pike County Backs the Blue" rally, an event meant to show support for law enforcement.
The rally was held in support of local and state law enforcement and in opposition of anti-law enforcement sentiments that, organizers said, are being expressed throughout the country during the ongoing protests against police brutality. Protests calling for police reforms have continued since late May after the killing of Minneapolis man George Floyd and Louisville woman Breonna Taylor by police officers during two separate incidents.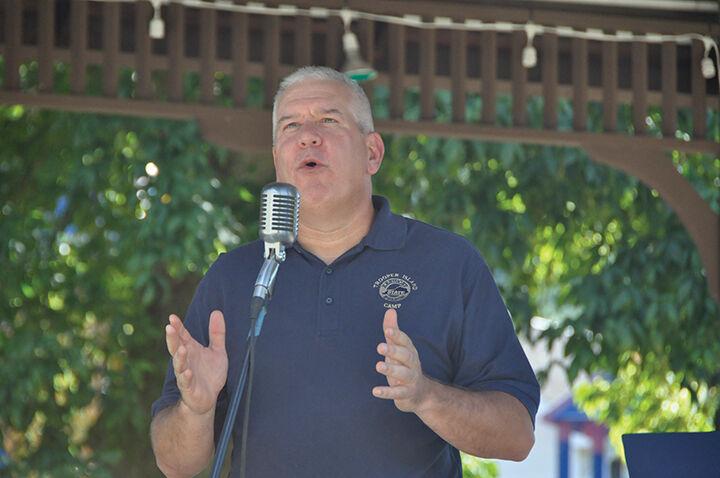 "We just want to show that the community supports our law enforcement," said Roger Ford, a local businessman and member of Pikeville's Fraternal Order of Police who helped organize the event. "We understand that they have a very dangerous job, and in the current environment, we see a lot of things on the news and read in the newspaper about, I guess, a lot of anti-law enforcement sentiment across the country. We just want to show that Eastern Kentucky and Pike County doesn't share that opinion. We back the blue 100 percent."
The rally featured guest appearances by several state and local legislators, including Dist. 92 state Rep. John Blanton, Pike County Commonwealth's Attorney Hon. Bill Slone, Coal Run City Mayor Andrew Scott, Prestonsburg City Mayor Les Stapleton and Pikeville City commissioners Allison Powers and Steve Hartsock, among others. Slone also read a speech given to him by Pike County Judge-Executive Ray Jones because Jones could not attend the rally due to a prior commitment.
The Veterans of Foreign Wars Post #3769 in Pikeville set up a tent at the event. Logan Hall performed before the rally, and representatives from local Bella Sorella's Boutique sang the National Anthem, as well as "God Bless the U.S.A." Those with the boutique also presented a donation check worth $3,000 to the Kentucky State Police for its annual "Shop with a Trooper" event.
Slone and Blanton, among others, delivered speeches during the rally, while giving their perspective as retired Kentucky State Troopers.
Blanton condemned the nationwide protests, saying that they "paint a false narrative about our law enforcement in this country."
"Facts no longer matter," Blanton said. "Truth no longer matters. What matters is the narrative that's being placed out there."
He also condemned a Detroit judge's recent decision to grant a temporary restraining order on the use of tear gas, batons, shields or rubber bullets against protesters. The order, according to the Detroit News, was announced on Sept. 4 and will last for 14 days.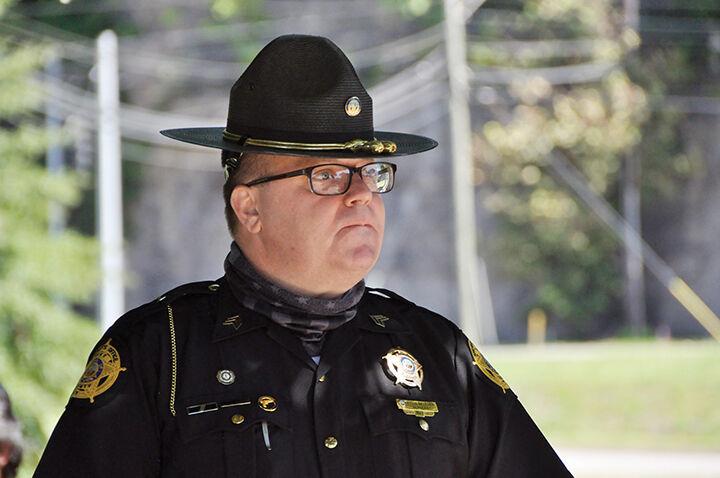 Blanton added that he does not believe that the protests have been peaceful, and he said he believes that the protesters are "hiding behind the Constitution" to "loot, burn and steal."
"They (Detroit police officers) can no longer use less than lethal force against these protesters. They may as well have put a target on the backs of every one of our law enforcement people," Blanton said. "It's interesting to me how these people say they're protesting, but they're burning, they're looting and they're stealing … If I remember correctly, my reading of the Constitution, and I have read it, that they're hiding behind, it says that they have the right to peaceably assemble. What I've seen has not been peaceful, folks."
He said that police officers "put their lives on the line" to protect and serve, sometimes for minimum wage, and he said that he would focus on increasing police funding if elected again this November. Blanton (R) is running against Democratic candidate Ancel Smith for the Dist. 92 state House seat.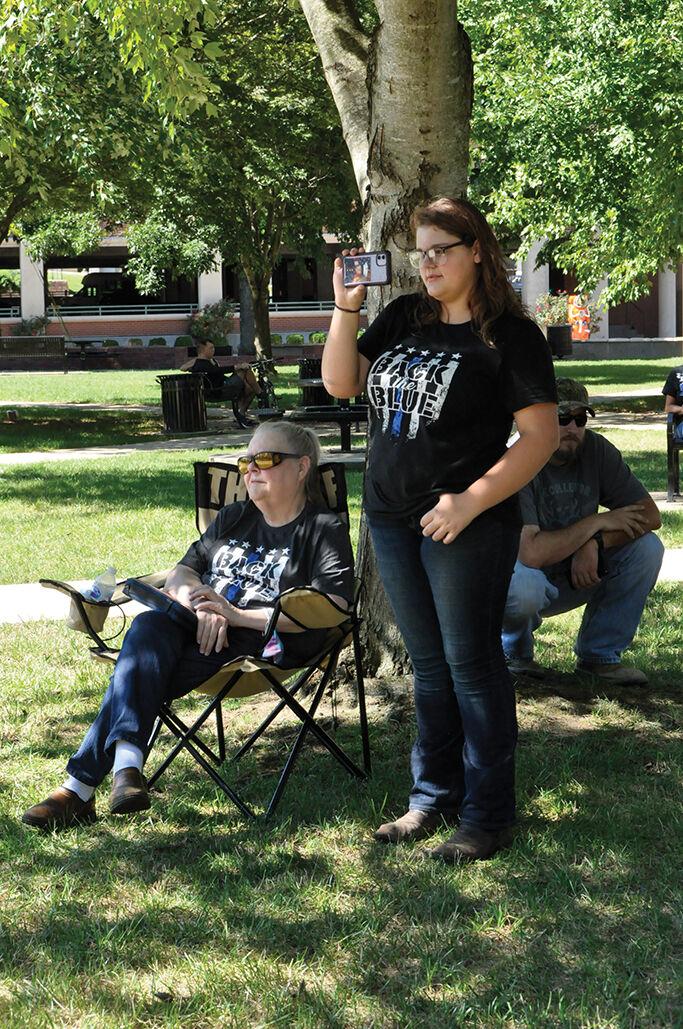 "Men and women who serve in our law enforcement do it because they love their jobs, and I'm telling you, if you've never been one, then you're probably never going to understand why they do it," Blanton said. "As a matter of fact, Kentucky ranks near the bottom in funding for law enforcement. Well, I'll tell you what, there's a slogan being thrown around today called 'Defund the police.' We don't need to defund the police; we need to increase funding for the police."
Slone said that it was an "honor and privilege" to serve as Pike County Commonwealth's Attorney.
"No doubt, my favorite part of my job, hands down, is getting to work with all the great law enforcement officers," Slone said.
He said that during orientation for new grand jury members, which takes place about every three months, he tells them that crime is worse than they would expect in Pike County and that they should "take comfort knowing that Pike County has great law enforcement officers."
"We're here to support the blue, the grey, the black, the brown, any of our law enforcement officers," Slone said. "We know what the Kentucky State Police is. We know what Pikeville Police Department is, most people do. We also have great departments in Coal Run, Elkhorn City. The Sheriff's Department is outstanding. We have great law enforcement in our community, and I really appreciate you all coming out to support them."