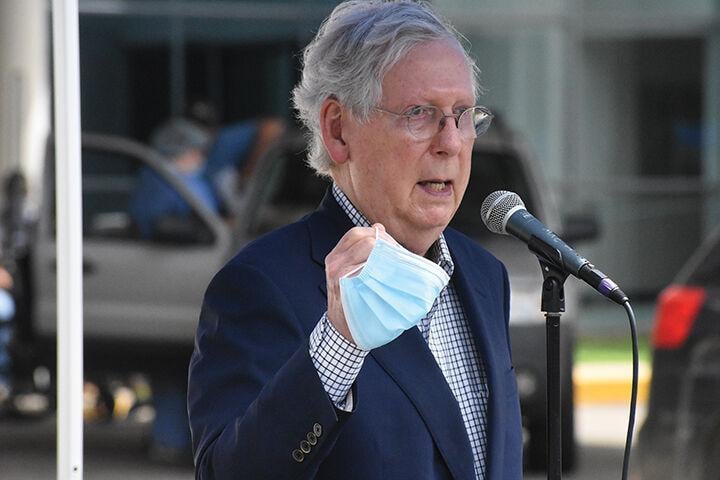 During several stops throughout Eastern Kentucky on Thursday, Sen. Majority leader Mitch McConnell made a stop in Prestonsburg to thank healthcare workers as well as discuss several other topics relating to our stater and country.
On Aug. 27, Sen. Majority Leader Mitch McConnell made a stop at Highlands Regional ARH, among several other stops throughout Eastern Kentucky, in order to thank ARH and its employees for their work in battling the ongoing COVID-19 pandemic. McConnell was joined by several local and state leaders including: President and ARH CEO Joe Grossman, Highlands Regional CEO Tim Hatfield, State Treasurer Allison Ball, Floyd County Judge-Executive Robbie Williams and Prestonsburg Mayor Les Stapleton, as he not only thanked the hospital and its employees, but also discussed a number of topics.
According to Grossman, one of McConnell's purposes for visiting the hospital was to thank all of the hard-working individuals working in healthcare facilities, such as ARH, who have sacrificed to ensure their respective communities have received the care it needs, but deserves during this pandemic.
Early on when the pandemic first began, Grossman said, he received a phone call from McConnell, in which the senator asked three questions: How the communities are doing? How are the hospitals and their employees holding up? And finally, according to Grossman, McConnell asked how he could help.
"We talked about somethings, and that was early on when the CARES Act was first being discussed," Grossman said. "I have to give them credit, the CARES Act was a big benefit, not only for our organization but for healthcare in general."
Grossman said that the phone call in which McConnell stated "I'm listening and I want to help," was very important. According to Grossman, McConnell has went to bat for the hospitals throughout the Commonwealth on several different occasions but he's most appreciative for the Senator's support and help during such a turbulent time for healthcare.
McConnell said it was an honor visit Floyd County and Highlands Regional ARH in order to thank the hospital and its staff for their hard work within the community.Approximately $16 million went into Highlands Regional ARH from the CARES Act, according to McConnell. He added that Big Sandy Community and Technical College acquired nearly $2 million through CARES Act funding and that Floyd County also received approximately $285k for local housing. There was nearly $200k that went to the city of Prestonsburg to purchase cleaning supplies for small businesses, McConnell said.
McConnell said that, at the beginning of the year, the Senate started off the year with an impeachment trial, which he said was "about the most partisan thing you can imagine," and as soon as that ended, the COVID-19 pandemic hit.
"We, like all of you, frankly weren't sure what to do," McConnell said. "And if the healthcare pandemic was not enough of a challenge, imagine we were also told by experts, like Dr. (Anthony) Fauci and Dr. (Debrah) Birx that we needed to shut down the economy down and go home."
That is something, McConnell said, that obviously didn't apply to hospitals but much of the country. In this unknown territory, the Senate, according to McConnell, had to decide what to do and how it was going to get done quickly.
"I was proud of the fact that the senate actually overcame all the partisan passions, which were on full display during the impeachment trial. The CARES Act, which benefitted this hospital and other hospitals across the nation in a major way," McConnell said. "Beginning in my office, as the majority leader of the Senate, we built out a bill, which with a couple of companion pieces, ended up adding to about $3 trillion to the national debt."
That approximately $3 trillion, which was added to the national debt, gave the U.S a national debt the size of its economy, according to McConnell, for the first time since World War II. McConnell said the Senate wouldn't have done that if this had not have been an emergency of "gargantuan proportions."
With the CARES Act, on the healthcare side, McConnell said the Senate was trying to deal with the emergency created by the expectation that hospitals would have a massive load of COVID-19 patients. McConnell said that government discovered areas were hit differently and that outbreaks weren't the same everywhere.
"We had hotspots and the various governors around the country, including our own, made a decision to shutdown elective surgery," McConnell said. "I'm not criticizing that decision because, the anticipation was that we would be overloaded with COVID patients."
As it turned out, according to McConnell, here in Eastern Kentucky, the first wave was not that heavy and so ARH hospitals were ending up in a situation where elective surgery was not an option. That created two problems, he said. The first was creating more "red ink" for the hospital to go through and the second, was delayed healthcare for those who had non-COVID related healthcare needs that went unmet during that period."
Due to that, McConnell said that the Senate knew that hospitals, such as ARH, needed a significant amount of money all over the country. Thus, $175 billion was given to hospitals across the U.S, which he said was a significant part of the bill.
With the economic emergency created by the decision to shutdown the economy, McConnell said there was a ton of other issues which arose. One of which, unemployment insurance, which according to McConnell, is a state program that needed to be "plussed up" at the federal level. Something he added that probably gotten "plussed up" beyond what officials should have, because benefits were so good that for many people, it was easier to stay home than go back to work.
"There was a lot of adverse impact to the shutdown, so we're not doing that anymore," McConnell said. "We've been there, done that and we're not doing that anymore."
He added that other problems resulting from the shutdown included suicide numbers, overdoses as well as child and spousal abuse statistics are among a number of the issues McConnell said.
"That part has expired and I'll tell you what I recommend beyond this," McConnell said. "Businesses shutdown all over the nation, so we setup the popular PPE loan program for small businesses and I'm sure there are people here in Floyd County who took advantage of it."
According to McConnell, approximately 50,000 small businesses in the state accessed more than $5 billion in those loans. That infusion into our economy, McConnell said was an attempt to help those businesses affected stay afloat.
"So, where are we? I said after we added $3 trillion to the national debt we ought to pause for a few months to figure out how all this is working," McConnell said. "To see what mistakes we've made, to see what kind of growth we get in the economy, when we begin to open back up, and to take another look at it.
"We did that beginning in July and regretfully, I have to tell you we are at a stalemate," he added.
Regarding the common question, "what should the government do?" McConnell said his feeling was that the country needs another rescue package, but not one the size of what the government has done previously. According to McConnell, the House of Representatives came in a month after what was done in March and April proposing another $3 trillion, on top of the $3 trillion previously.
"My view was that it was kind of a wishlist of items, many of them unrelated to the COVID-19 fight," McConnell said. "For example, it included a tax cut, believe it or not, for high-income people in New York and California...really? That is not about COVID-19."
What he did, McConnell said, was recommend an alternative of $1 trillion which would be oriented and targeted towards items that are COVID-19 related. That $1 trillion will be focused on the stabilization of unemployment insurance, replenishing the PPE loan program and another round for healthcare providers. Also included would be a check to low-income individuals, like the CARES Act, who have been hit the hardest during the pandemic.
"Regretfully, I have to report to you that we're at a stalemate, at the moment, in trying to get another package," McConnell said. "Why do I think we're at a stalemate? We're very close to the election and the partisan passions are rising again. It's made it extremely difficult to get one last package, so I can't tell you today with certainty whether we're going to get another package in the near future."
Either way, McConnell said the COVID-19 virus is not involved in the American election, it doesn't care who wins and the virus is not going to go away until its been defeated, something he added won't be accomplished until a vaccine has been produced.
Regarding an update on the vaccine, McConnell said that the nation is in "one heck" of a hurry to get one or more vaccines. Money is being poured into testing and treatment not only by the nation, but also many large pharmaceutical companies are even using their own money. The earliest prediction that McConnell has heard is sometime later this year, he said, with the latest being early next year. Even that, would be dramatically faster than producing vaccines is typically done in, according to McConnell.
"I can assure you that no amount of money is being sparred to try and get this out there for people, as rapidly as possible," McConnell said. "That's where we are as of today, and again I'm here to thank all of you, but I do want to mention one thing that is unrelated that I think should make all of you feel pretty good.
"We just recently got a $55 million bill grant out of the Department of Transportation, to continue widening the Mountain Parkway," he added.
McConnell said the Parkway is extremely important to the area and added that he, along with Congressman Hal Rodgers, is happy to be a part of the project.