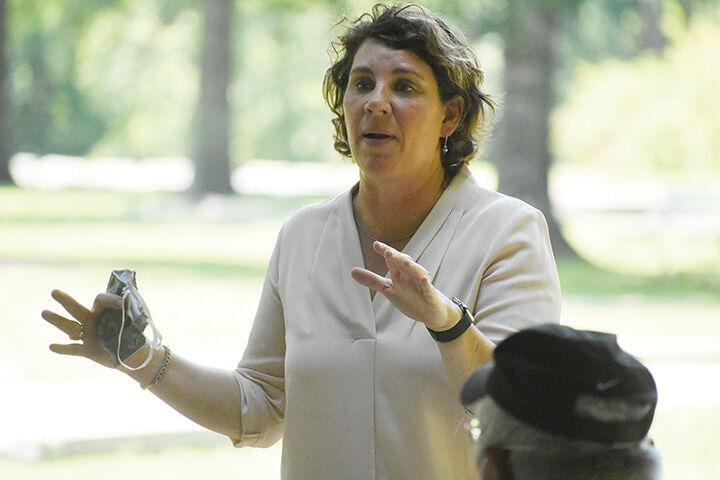 With the general election right around the corner, U.S. Senate candidate Amy McGrath paid Prestonsburg a visit as she discussed why 36 years has been too long for incumbent Sen. Mitch McConnell and how she would "rebuild Kentucky."
On Tuesday, Sept. 8, Amy McGrath visited the Dewey Lake Dam as she spoke to a crowd of individuals at one of the shelters regarding the upcoming general election. McGrath who is vying for McConnell's seat in the senate this November discussed why she believes the commonwealth needs new leadership, while also discussing her plan to help rebuild Kentucky.
"Not once as a kid did I dream that I would be standing up giving a political speech," McGrath said. "I was a tomboy who grew up in Northern Kentucky. All I cared about was sports, until I saw this History Channel documentary that had these really cool military jets flying on to the backs of aircraft carriers.
"I basically said, 'That is cool,' I was 12 years old at the time, 'I'm going to do that,'" she added.
It was then that she began researching politics and government, where McGrath said she learned very quickly the lack there of regarding women doing "this particular job." That, according to her, was something she never quite understood.
Due to the exclusion law preventing women, at the time, from being a part of combat positions, McGrath said she became an advocate in order to fight for change. According to McGrath, she wrote a number of federal and state leaders, one of whom was McConnell who she said did not reply, asking for the law to be changed so that she serve her country.
Finally in 1992, Congress rescinded the law, which McGrath said changed her life. Right after she graduated from high school, McGrath said she then to the U.S Naval academy where she swore to defend the United States of America.
"From that moment on I wore the uniform," McGrath said. "And all the doors were opened to me just at the time that I was leaving Kentucky and going to serve the country.
"For the next 24 years it was absolutely my honor to wear that uniform," she added.
The best part of getting to serve her country, according to McGrath, was getting the opportunity to serve with individuals from "all walks of life."
"We all served this country," McGrath said. "We all put the mission first, above ourselves and above our political party. Not once in my 24 years of service did I ever look to the marine to my right or the soldier to my left and say, 'Are you a Democrat or a Republican?' I would ask 'What's the mission?'"
It's that kind of attitude that McGrath said she wants to see and has "failed" to see in recent years. According to her, nobody epitomizes everything that is wrong with the country's "so-called leaders" as much as McConnell, who she is looking to replace in the upcoming general election.
"Thirty six years has been long enough," McGrath said. "We are more partisan than ever. We have more inequality than ever. We have more congressional dysfunction than ever and it has all happened on his (McConnell's) watch."
According to McGrath, Kentucky and America can do better and it's her mission to make sure that happens.
"We have a senator from our state, who we have the highest cancer rates in the country, the highest rates of diabetes, highest rates of heart disease, some of the highest rates of child poverty, some of the lowest wages in the country," McGrath said. "Our signature industries of Kentucky have been on the decline for decades, with no plan for the future."
McGrath said McConnell has no plan, according to McGrath. Now, McGrath said we're dealing with the greatest threat to our democracy and our country, in terms of lives and the economy with the ongoing COVID-19 pandemic.
"This is the first international crisis in 100 years in which no one in the world is looking to the United States for leadership," McGrath said.
Even before the virus hit the U.S, McGrath said, McConnell tried for over a decade to cut the funding for the CDC and the other agencies of government in which are so important today. She added that McConnell has failed to protect the country, while also failing to invest in public health.
"And then when the Coronavirus actually came to our shores, remember this, he had the highest levels of clarification of any members of congress, even higher than the intelligence committee," McGrath said. "When was the first time he said the word coronavirus to us?"
It wasn't until the stock market crashed, according to McGrath.
"He knew about it and did nothing," McGrath said. "And then, he failed to tell the president to get ready. And then when the president wasn't doing anything and was politicizing it saying that it was going to go away, Mitch McConnell did nothing."
Big corporations and the wealthiest 1 percent are the ones who have benefitted most, since COVID-19, according to McGrath, all due to McConnell she said. When the country needed aid, she said, all McConnell created was a $500 billion "slush fund" for special interests and big corporations.
When it came to helping state and local governments, McGrath said that McConnell's best advice was to "go bankrupt" which according to her, means messing with people's jobs. She added that it was "unacceptable" to inform state and local governments that, when McConnell bailed out "big businesses."
"Here we are, six to seven months into this thing and does anybody here think that our leadership in this country has a plan to tackle the Coronavirus?" McGrath asked. "I mean seriously, we still have problems in Eastern Kentucky.
"There are hospitals here that don't have enough swabs," she added.
McGrath said she spoke to the heads of hospitals asking how they were handing the virus, and she said that they informed her that they were unable to test everyone due to lack of swabs.
"We are six months into this thing and we don't have swabs," McGrath said. "We have a senate majority leader and a senator who cares more about unlimited liability protection for big corporations, but he don't care about swabs to get this thing under control?"
According to McGrath, at the height of WWII, the country was losing approximately 250 Americans a day, now, due to COVID-19, she said we are losing approximately 1,000 a day.
"We're experiencing in this country a 9-11 every four days," McGrath said. "And where is Mitch McConnell right now? He's still on vacation."
McGrath continued that McConnell's handling of the COVID-19 pandemic is just the latest example of "his complete failure" as a senator for the country and Kentucky.
Regarding what she can do differently, McGrath said she recently launched a "Rebuild Kentucky" plan which according to her is made up of five major points, that can be found on McGrath's website, which include:
• Immediately address the economic pain caused by this pandemic and McConnell's inaction so that Kentucky families can keep a roof overhead and food on the table.
• Make sure every Kentuckian has access to affordable health care and prescription drugs, regardless of employment status or income level.
• Ensure good-paying jobs are available across a variety of sectors around the commonwealth.
• Combat intergenerational poverty, address racial and economic inequities, and provide adequate educational opportunities so that our young people have the fair shot they deserve.
• Fix the corruption McConnell has created and benefited from and reform Washington so that our federal government actually works for everyday Kentuckians and not special interests and big corporations.
"We're are not going back," McGrath said. "And we have to have leaders that get that and if we do not have leaders who get that ... we will be left behind."
To find out more about McGrath and her campaign individuals can visit her website, www.amymcgrath.com.