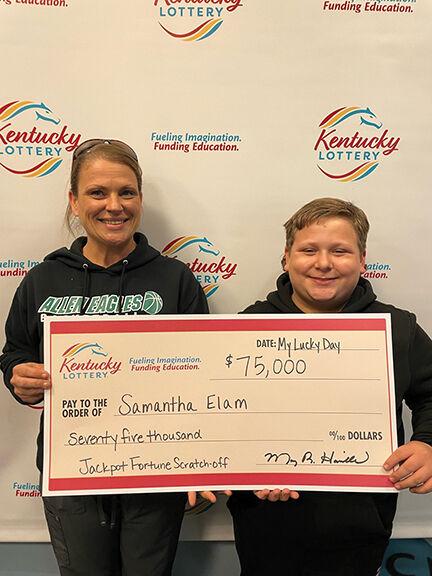 Samantha Elam of Prestonsburg won $75,000 on a Kentucky Lottery Scratch-off after winning $1,000 earlier that morning.
Samantha, according to a statement from the Kentucky Lottery, purchased a Scratch-off at Fast Lane Tobacco on Glynview Plaza the morning of November 11th and was so excited to win $1,000. She decided to go to the bank and use the money to pay her car insurance and buy groceries. She had some money left over so she decided to stop at the same store and buy a Jackpot Fortune Limited Edition Scratch-off.
"I thought I won $75," Samantha said. She tried to cash the ticket and the clerk scanned it and told her she couldn't cash it at the store. That's when she realized she had actually won the game's top prize of $75,000.
"I woke up my husband and was crying hysterically. I said, 'I won $75,000, I won $75,000!'" Samantha said. "He didn't believe me at first. I had already woken him up earlier when I won the $1,000."
Samantha then drove straight to Lottery headquarters with her son to claim her prize. She plans to pay off their cars and says she'll be ready for the holidays now.
Fast Lane Tobacco will receive a $750 bonus for selling the winning ticket.