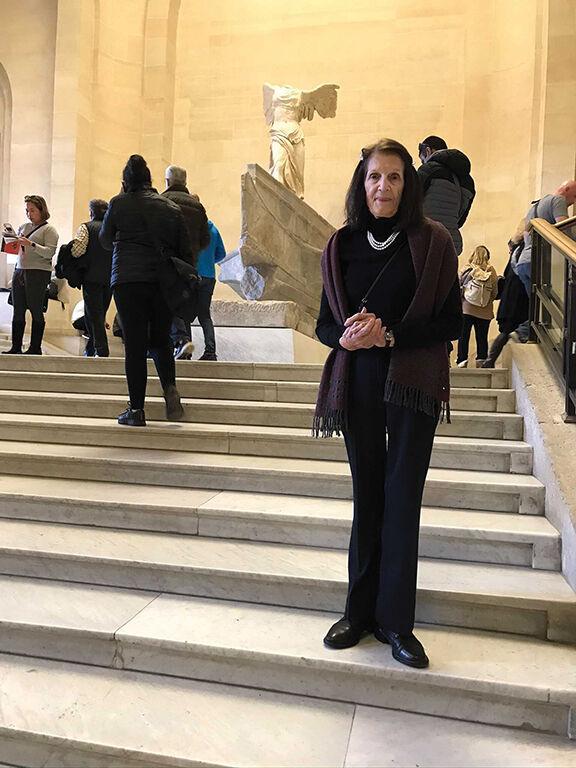 Recently, a local artist and teacher passed away shortly after retiring from a career during which she inspired many people. However, simply referring to Duna Frances Verich-Combs as anything other than a trailblazer wouldn't do her legacy justice.
According to her daughter Angela Combs, who is the oldest of five children, Verich-Combs was born in Laona, Wisconsin and is the daughter of the late Peter Verich (born in Nikšić, Montenegro) and Annetta Mariani Verich (born in Sassoferrato, Italy). Varich-Combs grew up on Silver Lake, where she enjoyed taking part in activities such as swimming, sailing, canoeing, ice skating and skiing.
Angela said that Verich-Combs loved outdoor activities, especially ones associated with her childhood home. Angela said that her mother continued to visit Silver Lake throughout her years. An avid lover of snow skiing, Verich-Combs was constantly going on annual school ski trips, including in February when she went with the Piarist School, where she was teaching Art and Art History until recently.
Having always having a great passion for art and creating it, Verich-Combs attended the College of Saint Teresa in Winona, Minnesota, where she wanted to study art. However, the college didn't have am art program, according to Angela, so, Verich-Combs transferred to the Buckeye state to pursue her passion. Verich-Combs went on to transfer to Miami University in Oxford, Ohio, where she graduated and then accepted a teaching position at Eastern Kentucky University.
While teaching at EKU, Angela said that Verich-Combs met many amazing individuals, one of whom was the cousin of Verich-Comb's future husband Townsel Allen Combs, who introduced the two.
Prior to meeting her future husband, Verich-Combs had been proposed to several times, all of which she turned down. However, Townsel, a native of Floyd County, was unlike any other man she had met, as she put it, "he was always a gentleman."
Verich-Combs left her teaching position at EKU and with her new husband, retreated back to his native Floyd County, where the two raised five children in Maytown (Langley) area, on the Combs Family homestead. After several years, the family moved to the Harold area, after Townsel had built them a home.
According to Angela, as the children got older, her mother returned to the classroom. Verich-Combs taught at a number of scholastic levels throughout the area including elementary and grade schools such as Garret, Wayland, McDowell. Colleges such as Big Sandy Community and Technical College, Alice Loyd and then Pikeville College. Verich-Combs also taught at the Mountain Christian Academy and most recently Piarist High School, where her final exam was given on Dec. 10.
Angela recalled a time in which her and her mother were attending one of Verich-Comb's doctor's appointments and while at the front desk, one of the workers call out to them. The worker, Angela said, went on to talk about how "Mrs. Combs" had taught them and been such an impact. According to Angela, she would experience her mother's past students share fond memories from time-to-time, which would bring her a lot of joy just from seeing the number of lives her mother touched.
Although teaching was a great passion of her's, Verich-Combs loved creating and showcasing her own art work, something of which Angela said she did throughout her time teaching.
Her love for art was so much that, once the family moved to their home in Harold, the old one in Maytown was turned into The Art Gallery. The old home turned gallery showcases not only pieces from Verich-Combs but other talented artists in the area, and outside it as well. According to Angela, Verich-Combs loved hosting tea parties, something she incorporated into her art openings. Verich-Combs had planned exhibits for this past year, but due to the pandemic, a wrench was thrown into her plans.
Angela said her mother was lover of art, history and culture, something she maintained until her last days. Verich-Combs was very receptive of her Italian heritage, according to Angela, and would visit Italy often to take in the culture and visit her mother's old home.
Being a fan of culture, Verich-Combs loved the opera, Angela said. Her mother, according to her, would travel to Louisville and Cincinnati for live performances. During the COVID-19 pandemic and the shutdown which resulted, Angela said, her mother was buoyed by the Metropolitan Opera's Nightly live streams, where she was transported to the grand stories told by the most beautiful voices in the world.
"She loved being carried away by a good story and her favorites were Eugene Onegin, Andrea Chenier, Manon, and The Pearl Fishers and La Traviata," Angela said. "In addition to listening to opera, she was a huge fan of Dale McKinney of WMDJ to listen to the song 'I'm Drinking from my Saucer, 'cause My Cup has Overflowed.' She loved that song and it felt like it summed up how she felt about life."
Verich-Combs was a founding member, with her dear friend, Jocelyn Dickson, of the Lexington Investment Club, a group of savvy and intelligent women who pooled their resources to learn about stocks and investing, they had a close camaraderie. According to Angela, Dickson and Verich-Combs have long been dear friends and would often love horseback riding together. In Dec., Dickson passed away, but the day prior, the two friends were able to spend time together. Angela said that when she informed her mother of Dickson's passing, Verich-Combs said that she had thought this was one time she was going to beat Jocelyn.
"She said that Jocelyn was always quicker than she was, quicker to get saddled up, quicker to finish the jumping course, and quicker to get back to the barn," Angela said.  "So Jocelyn beat her once again."
Due to her age and health, Angela said, Verich-Combs officially retired from teaching at the beginning of December. According to Angela, on Dec. 10, she gave her final exam to her students at Piarist.
For the past year and a half, according to Angela, Verich-Combs was encouraged to live life to the fullest by the doctors at The Mayo Clinic. Angela said most encouraging of all was Dr. Konstantin Leventakos, someone she called a "brilliant and compassionate" doctor for whom they are deeply grateful. 
"We all hold him in the highest regard," Angela said.
On Dec. 20, Verich-Combs passed away at her home at the age of 90.
Verich-Combs is survived by three sons: Paul Townsel Combs, Langley, KY, Shawn Woodward (Missy) Combs, Nicholasville KY, William Spencer Constantine Demetrius Combs, Harold, KY, two daughters; Angela Combs (Frank) Baseman, Jenkintown, PA, Andrea Malina Combs, Bolivia, NC, twelve grandchildren; Julian Spencer and Rosalie Eleanor Baseman; Jessica Lowe, Michael Paul, Chad Combs; Dylan Spencer and Matthew Alexander Combs; Alexis Lewis, Landon Grant Combs; Austen, Marianna and Corbin Montouri. She is also survived by cherished Sister-in-Law, Mary Rathborne Verich of Laona, WI and well-loved nieces and nephews.
"She touched the lives of all who knew her, and her children can barely envision the world without her," Angela said. "She is our inspiration, our comforter, our guiding force, our North Star.  We would feel ourselves unmoored without her, except that we learned from her how to sail our own ships."