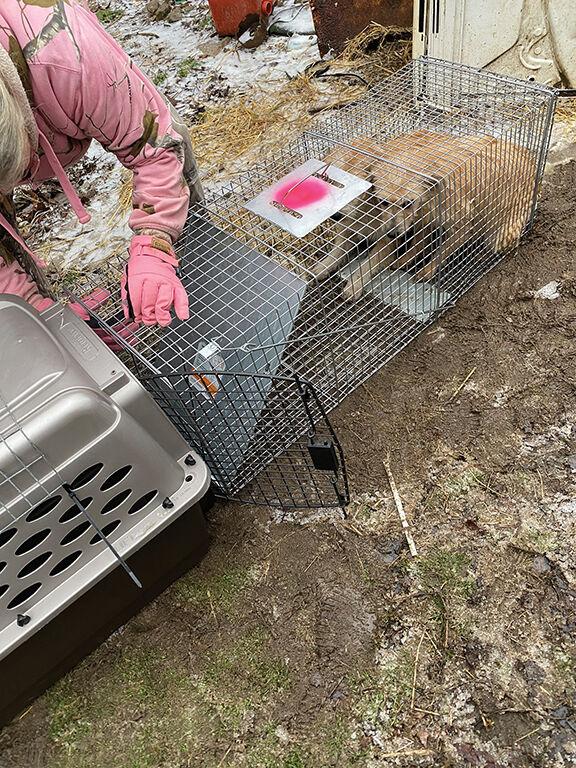 On Feb. 12, Kentucky State Police and numerous animal rescue agencies reported rescuing more than 30 animals from a residence in Floyd County.
According to Floyd County Judge-Executive Robbie Williams, the fiscal court was made aware of the situation around a week or so ago, due to a report called into his office. County personnel visited the residence. During that visit, Williams said, they were met by a female resident who claimed the animals.
"We were told we wouldn't be able to take the animals because they were her pets," Williams said.
At that point, Williams said,  the court contacted County Attorney Keith Bartley to explore what avenues it could take to safely remove the animals, due to their living conditions. Williams said that during that time, the Kentucky State Police were contacted and made aware of the situation.
Williams said that the court was later notified that female county officials made contact with and claimed the animals had later taken several of the animals and left the residence.
"Some of the pictures that people saw on Facebook, that happens everyday here in the county," Williams said. "We have a serious problem with the animal neglect throughout the area and if it's not individuals just not appreciating their pets and not giving them what they need, it's individuals just letting their pets and animals run wild through the area.
"We're trying to fight this battle everyday, but we need participation from the people in the county because it starts with them and their mindsets towards animals," Williams said. "Owning pets and animals isn't a right."
The fiscal court has been working on an animal control committee for some time, Williams said, but due to COVID-19, it has been getting slow off the ground. However, recently plans have been made and the committee is expected to meet on Thursday, Feb 18.
According to Williams, there's several items on which he's asked the committee to focus. One thing, he said is figuring out how the county and its residents can manage the high number of animals.
"When you go out in the county, there's parts where aggressive dogs are just running wild," Williams said.
According to KSP Spokesman Trooper Michael Coleman, Post 9 in Pikeville received a report of the around 20 to 30 animals that had been abandoned. Coleman said that when Tooper Hurrt went out to the area, there were an estimated 10 to 20 dogs and three horses, which he said had appeared to be underweight and were living in muddy conditions.
The trooper was then able to contact some different organizations that were able to help rescue the animals.
One of those contacted was Lisa Trusty-Roberts with the Johnson County Animal Shelter who said that persistence is key in getting law enforcement involved when it comes to animals in danger. Much of the difficulty with enforcing animal well-being measures for law enforcement in this area, she said, is the lack of severity in punishments for those charged with animal cruelty alongside laws that simply aren't strong enough or well defined enough to allow law enforcement the "teeth" they need to enforce them.
"I think that's part of the reason, and a lot of times, that's why we do get the owner surrenders, because a lot of time when it goes to court, a lot of times, it's a slap on the wrist," Trusty-Roberts said. "In the case of this woman, how would law enforcement follow up on that, she's got them stashed everywhere."
Trusty-Roberts stressed that she believes law enforcement's hands are tied by the lack of severity in punishments.
"I will say that every time I've met with KSP, they've been animal lovers and they are just as disgusted as we are, it's just that, by law, their hands are tied with what they can do," Trusty-Roberts said, explaining that the definition of animal cruelty in the Kentucky Revised Statutes is, in her opinion, is too broad and allows too much for interpretation. "I think it's open to interpretation as well, because one officer can go out and say, 'Okay, this is adequate food, water and shelter,' and another one can go out and say, 'Nope, this is not acceptable,' because it's so open to interpretation."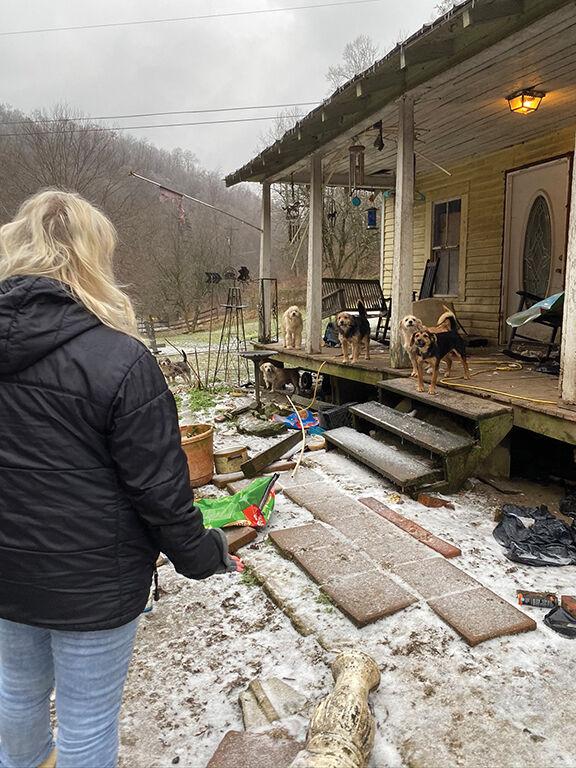 According to Trusty-Roberts, those laws still allow for what are considered neglectful conditions in other parts of the country, such as keeping a dog on a tie-out for its base-level living conditions.
"You can still have animals on tie-outs, which is not good, sometimes it makes dogs very aggressive when they spend their life on a chain like that, and it's neglect, they're a guard dog and it's a danger, if the dog were to get loose, we've been in cases like that where they'd eat you up," Trusty-Roberts said. "I think we just need to have stronger laws to protect the animals. The KRS is the problem, as far as food, water, shelter, and what that definition is."
Beyond this, Trusty-Roberts said that one of the issues with the animals found was mange, and Kentucky's animal cruelty laws do not cover vetting for animals, such as disease prevention and spaying and neutering.
"It's just not acceptable," Trusty-Roberts said, adding that county lines and organization's boundaries don't matter when it comes to situations like this one and when animals are in immediate danger.
"That's what my post basically says, it doesn't matter. This isn't about people or egos or rescues, it doesn't matter. We need to stop it and save lives, because we're wasting time, and they don't have time," Trusty-Roberts said. "When they're out there, like in this weather, they don't have time for us to figure out our differences, they need us to come together."
Trusty-Roberts said that she received a tip that the woman who had been staying at the residence, in accordance to the fiscal court's information, had taken several animals from the residence. She added that they were rescued after being found abandoned.
According to Trusty-Roberts, James Houchins and Kelly Basham of Guardians of Rescue from NY called and offered their assistance that night.  Pitiful Paws Rescue WV and Christina M. Keller with Tame and Wild Things were rescues they brought with them.  Christina currently has the horses. Pitiful Paws has 10-11 dogs and The Johnson County Animal Shelter trapped eleven adult dogs and rescued six pups. They will be adopted locally and go to reputable rescues.
In total, approximately 27 dogs and four horses were rescued from the residence.
Coleman said the woman who had claimed the animals was contacted during the investigation and had voluntarily handed the animals over the animals to the animal shelters involved.
Paintsville Herald Staff Writer Waylon Whitson contributed to this report.