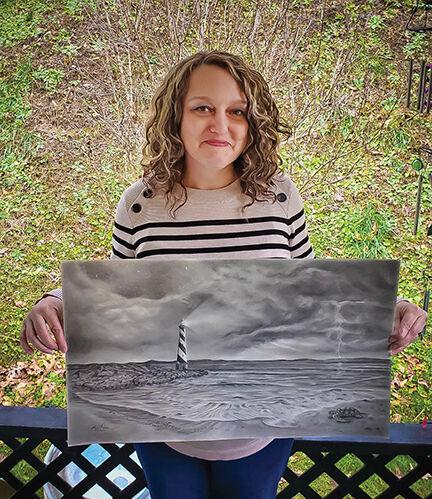 The COVID-19 pandemic has been rough for many individuals, including Floyd resident Lena Auxier, but thanks to a coincidental interaction, she was given the opportunity to lose herself doing something she loves, for a project which she called a "Godsend."
Auxier, an artist who resides in Prestonsburg, said that, like many others, she was dealing with personal issues and in her words, "there was a lot going on at the time." However, after she was contacted about the possibility of creating illustrations for an upcoming Alabama author's book, she believed things were taking a turn for the best.
Back in March, Auxier said, she received an email from an 82-year-old-man in Alabama who had seen her artwork online. Being an artist and doing a lot of commissioned portraits, she said, receiving an email inquiring about her talents was nothing out of the ordinary, but this one seemed different than a typical run-of-the-mill spam email. Having included more information than her usual inquiries, Auxier said, she began to do some research on the Alabama native, only to discover that he was a "legend in the hiking community."
Sunny Eberhart, a retired doctor turned hiker/author, who writes under the name of M.J. Nimblewill Nomad Eberhart, said coming to know Auxier was quite the coincidence. However, he added that, in retrospect, finding her was "without a doubt" occurred through intervention of a higher order.
Late last spring, Eberhart said, he began the process of looking for someone cable of visually "lifting to life" the words of the second edition of his book, "Where Less the Path is Worn." The book detailed his 347-day journey hiking the Appalachian Trail, and Eberhart was hoping to find illustrations to along with certain parts of the book.
"On the internet I searched for 'pencil sketch — landscape.' That yielded an amazing array of results. One, which I glanced at, happened to be a small page by an artist in Kentucky," Eberhart said. "However, and of the myriad of sites viewed, of all those artistic works presented, that of Lena Auxier stood out. Her illustrations were amazingly realistic; just what I was looking for."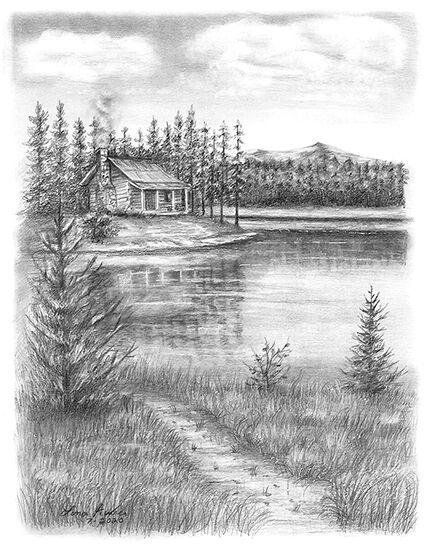 According to Eberhart, over the course of the next few weeks, he sat out to gain Auxier's confidence in order to commission her to create sketches for the book.
"Out of the blue one day, he just sent me an email," Auxier said. "I guess he saw some of my artwork online somewhere, and he said that it was exactly what he was looking for."
According to Auxier, she had never worked on a book before, despite having past opportunities. She said none of those previous offers felt like the "right thing." Auxier added creating art for a book was something about which she always dreamed, even if it was outside of her comfort zone, and that she just needed an opportunity "that felt right." After some exchanges with Eberhart, the opportunity to step outside of her comfort zone and lose herself in artwork was almost too much to pass up on, as she said she loves a good challenge.
"When it comes to my art, I'm always up for a challenge," Auxier said. "It's like I've told people in the past, when you challenge yourself, especially in this field, that's how you learn."
According to Auxier, challenging herself is the reason she said that she fell in love with landscape drawings as they are "very hard to do." She loves drawing people, but having done "so many," Auxier said, she loves to branch out to different things in her illustrations.
"I love to also draw homes, especially one with a good landscape around it," she said. "I just love that type of stuff."
Auxier said that she is a self-taught artist, who specializes in graphite drawings, and has been drawing in some form or fashion for as long as she can remember.
"I've been drawing since I was a child," she said. "Literally every picture I feel like my mom has of me from my childhood, I'm holding pencils, markers, crayons or something related to drawing.
"My mom used to be really good at drawing and so I remember just sitting at the table, just watching her … and it just happened," Auxier added.
Finally feeling as though she had come across the opportunity of a lifetime, as well as after getting to know Eberhart and how genuine he was, Auxier said, she was originally commissioned for 12 drawings. However, according to Eberhart, after all was said and done, Auxier was enlisted to create approximately 25 sketches for the book.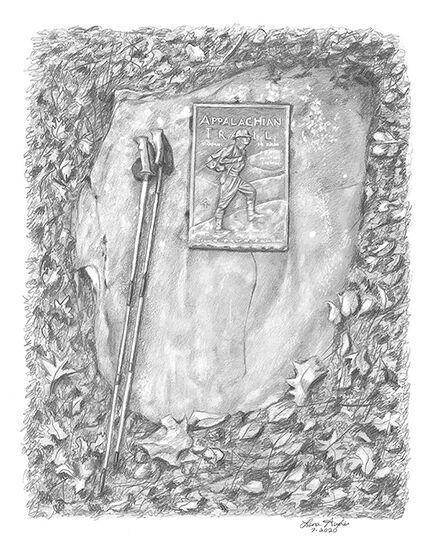 The sketching process consisted of Eberhart emailing Auxier photos from his hike, in hopes that she could recreate their natural beauty for the book. Auxier said that each drawing corresponded with a respective chapter for the book. However, for one of the drawings, Eberhart wasn't able to provide a photograph, leaving Auxier with just an excerpt from the book.
"One drawing he didn't have any pictures to go along with it, but he sent me an excerpt of his book and he writes so well, so detailed, it was just beautiful," Auxier said. "I felt like I was there."
The drawing, according to Auxier, was of an old cabin in the woods and turned out to be her favorite of the project.
Auxier said working on illustrations for Eberhart's book took her from March all the way up until September, but she said working on the project "really grounded" her. Diving into the process, she said, brought a lot of peace to her life.
"It just kind of shut the whole world out for me during those months," she said. "So it was just a big blessing for me. For this man to have the confidence in me, it just meant a lot and most of all, I got a friend out of it."
Auxier said the project gave her the opportunity to do something about which she had only dreamed and, once it was over, she was left with a feeling of "what now?"
"When I finished the last one, I looked at my husband and told him that I was sad," Auxier said. "he asked me why I was sad and all I could tell him was because 'It's over, now what am I going to do with myself?'"
Throughout the process, Auxier said, her husband, Jim, was supportive. She added that he is always telling her just how proud he is of her for following her dreams and pursuing her passion.
"He pushes me a lot," Auxier said. "And it's really funny because he's not artist at all, but every time I finish a drawing he has to be the first person that sees it."
The second edition of "Where Less the Path is Worn" has since been finished and is currently available for purchase on Amazon. According to Eberhart, the book is proving "amazingly popular.".
Auxier said she hopes that, when people read Eberhart's book, her drawings will help them picture themselves there, hopefully feeling the same emotions Eberhart felt along the way.
"I've told different people this, but I honestly feel like Sunny was a Godsend to me," Auxier said. "When I look back on it now, I still feel that way. He's just been wonderful to work with and I couldn't have asked for anyone easier to work with."
Since working on the book, Auxier said she's had more confidence in her art and with that newfound confidence, her New Year's resolution was simple — allowing herself to display her art more.
Currently, Auxier said, she's been doing some side projects, mainly for herself. Most of the time, she keeps busy drawing commission portraits for people. But, after finishing working on the book illustrations, Auxier wanted to begin devoting more time towards art pieces she hopes she can one day show off in a gallery.
"In between, I've just been trying to get some stuff together for hopefully some galleries in the future," Auxier said.
According to Auxier, Eastern Kentucky has so much artistic talent hidden away in its mountains, but like she was previously, many of which are probably afraid to put their work out there. Auxier hopes that her new found confidence, which she credits to Eberhart, will not only help her work gain steam, but also inspire others around the area to showcase their work more as well.
Anyone interested in looking into some of Auxier's artwork, or would be interested in inquiring about having her do a commission portrait, can visit her Facebook page "Artworks by Lena Auxier."