(BPT) - Over the past two years, many have been adopting healthier lifestyles, and cooking home meals is key to that goal. At the same time, home cooks also seek variety, looking for new ideas to make healthier eating taste great — and even celebrate culinary traditions.
If you share these goals, you may be interested in the Healthier Traditions Cookbook™ series — four free, downloadable cookbooks presented by nonprofit Transamerica Institute®. All the recipes are crafted by certified dietitians, offering tips for healthier ingredient swaps that don't sacrifice flavor. Many include vegan, vegetarian and gluten-free options to meet specific dietary needs.
The cookbooks showcase four styles: Quick and Easy, Italian, Soul Food and American Classics, including these featured recipes from each book.
Offering 19 recipes that can be made from common pantry ingredients in 20 minutes or less, this cookbook provides recipes like overnight oats, a smashed chickpea avocado sandwich, a Southwest skillet and banana "nice" cream. The recipes are wholesome and plant-forward, encouraging eating more vegetables, legumes and whole grains.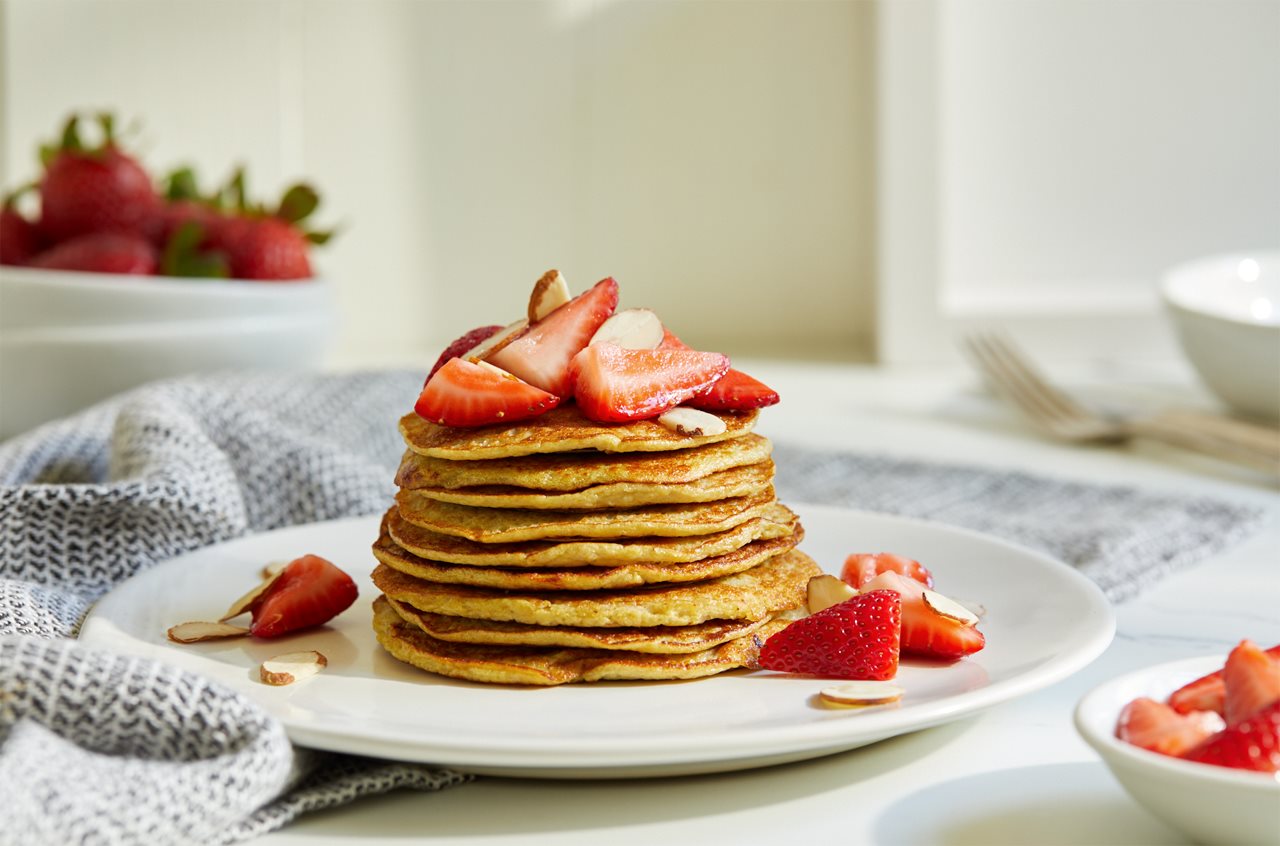 Most pancakes are made of primarily white flour, which contains little nutritional value and leads to a spike in blood sugar. This pancake recipe uses fewer ingredients and is higher in fat and protein, promoting satiety. Furthermore, the mashed banana adds natural sweetness to these pancakes.
Total time: 10 minutes | Serves 1
2 large eggs, lightly beaten
1 tablespoon cocoa powder
1/4 teaspoon vanilla extract
In small bowl, peel and mash banana with fork into pudding-like consistency.
Add eggs and flavorings, if desired. Stir to combine.
Melt 1 teaspoon butter or mild cooking oil in pan over medium heat. When pan is hot, add batter to reach desired size and let cook 1 minute. The edges will look browned while the center will still look loose.
Sprinkle with toppings, if desired.
Gently flip pancakes and cook about 1 more minute, until lightly browned on both sides.
Cook remaining pancakes until all batter is used. Serve warm.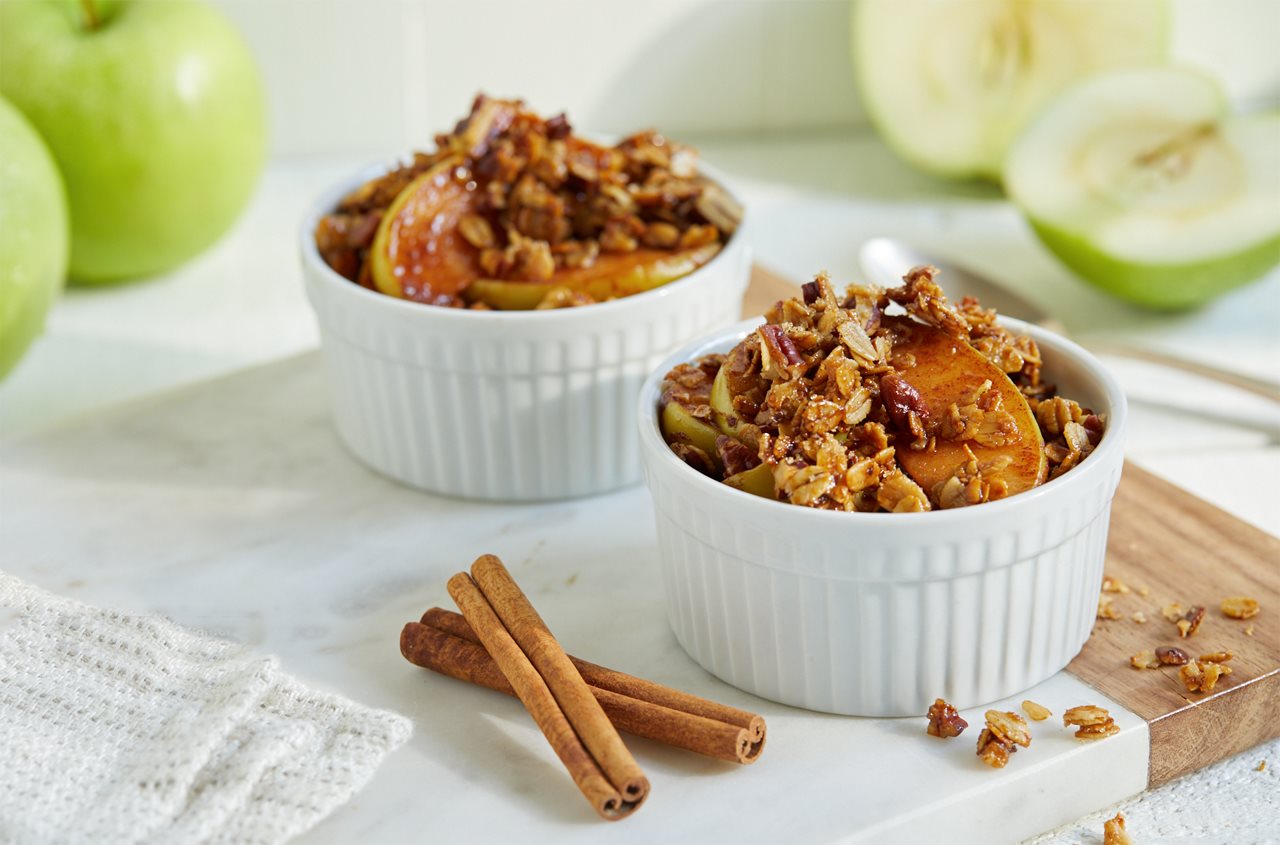 In this fruit-filled recipe, feel free to substitute different fruits that are in season, such as peaches or cherries. You can also substitute another nut, such as walnuts or pistachios, in equal amounts. Also, for a nut-free version, try substituting pumpkin seeds in place of the pecans.
Total time: 17 minutes | Serves 4
2 1/2 tablespoons unsalted butter or coconut oil
2 tablespoons brown sugar
1/8 teaspoon fine sea salt
2 tart apples, such as Granny Smith, Winesap or Pink Lady, sliced into wedges (about 4 cups)
1 tablespoon granulated sugar
1 tablespoon fresh lemon juice
Line plate with parchment paper. Set aside.
Melt 2 tablespoons of butter or oil in pan over medium heat. Stir in pecans, oats, brown sugar and salt. Cook until mixture begins to brown, about 5 minutes.
When topping is done cooking, transfer to parchment-lined plate.
Melt another 1/2 tablespoon butter or oil over medium heat. Sauté apples 5 minutes, until soft. Stir in sugar, lemon juice and cinnamon; simmer 2 minutes. Top with oat mixture and serve warm.
Explore 18 favorite Italian classics like lasagna and Bolognese, with recipes leveraging vegetables as possible substitutes for meat. These dishes are just as flavorful, but higher in nutrients. Many recipes also provide more whole grains and less sugar, while using all whole food ingredients.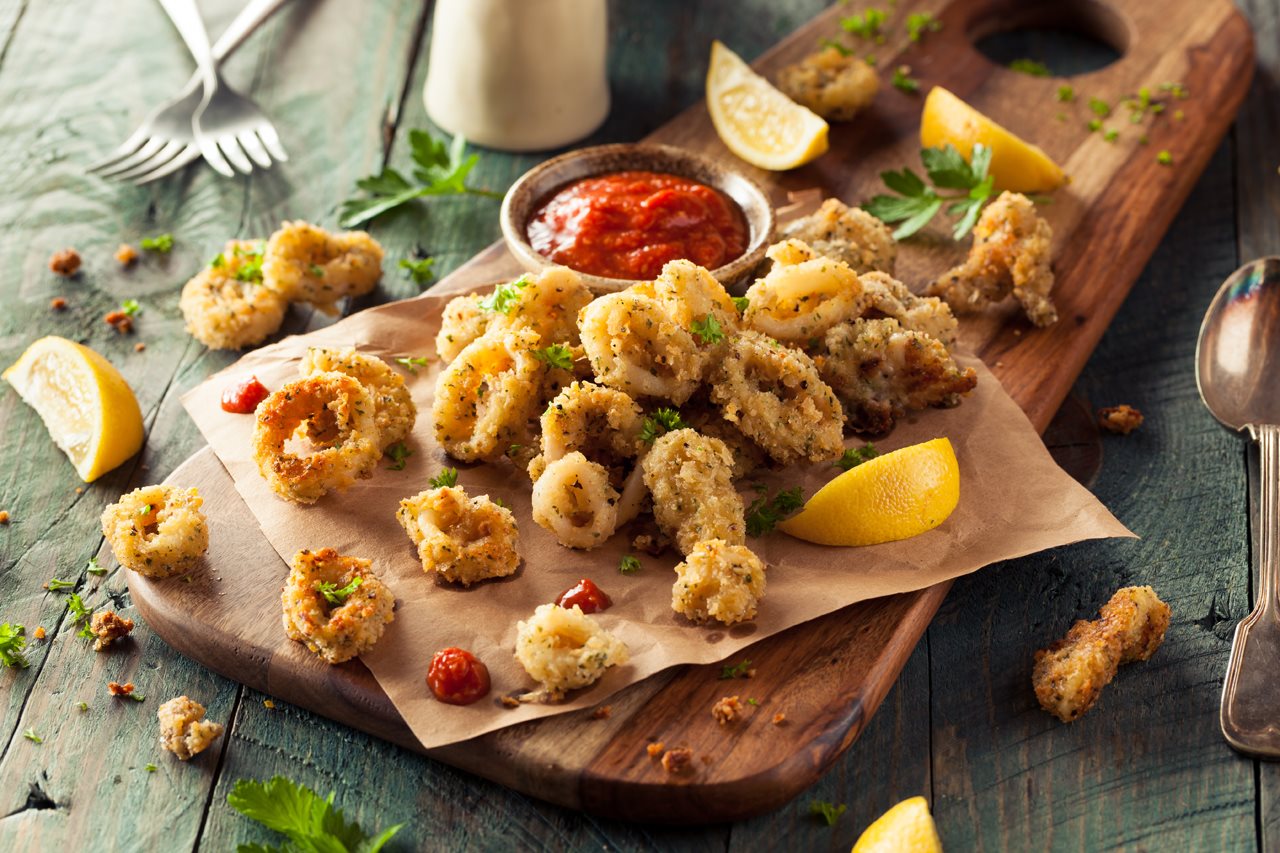 Calamari is the Italian word for squid. Although it has the same name as the classic appetizer, these calamari are baked, not fried. They keep the crispy texture and the same fresh taste as the fried version, but use cornmeal or almond meal for a more nutritious crust.
Total time: 45 minutes | Serves 6
1 pound fresh calamari tubes, cut into 1/2-inch rings, or defrosted frozen calamari rings and tentacles, rinsed and patted dry
2/3 cup cornmeal or almond meal
1/4 teaspoon fine sea salt
1/4 teaspoon black pepper
1 small lemon, cut into 6 wedges
2 cups marinara sauce (see below)
Preheat oven to 425°F. Line baking sheet with parchment paper.
Combine cornmeal or almond meal, baking soda, parsley, salt and pepper in large bowl.
In a few batches, add all calamari pieces to bowl and toss to coat evenly.
Bake about 20 minutes, until golden brown and crisp.
Serve with lemon wedge and cup marinara sauce per serving.
1 tablespoon extra virgin olive oil
1 28-ounce can crushed tomatoes, no salt added
1/4 teaspoon fine sea salt
1/4 teaspoon black pepper
In medium pot, heat oil over medium heat. Add onion and sauté until fragrant, about 2 minutes. Add garlic and sauté 1 minute.
Add tomatoes, basil, salt, pepper and bay leaf. Cover and simmer about 15 minutes.
Season with additional salt and pepper to taste. Discard bay leaf before serving.
Gnocchi are named after either nocca, meaning knuckle, or nocchio, meaning a knot in wood. The earliest version of these dumplings likely arose during the Renaissance, but the potato-filled version was probably developed by the 17th century, after explorers brought potatoes back from the New World.
Total time: 1 1/2 hours | Serves 8
2 large sweet potatoes (about 3 pounds)
2 1/2 cups whole wheat or spelt flour
3/4 teaspoon fine sea salt, divided
2 tablespoons unsalted butter
2 tablespoons extra virgin olive oil
15 sage leaves, thinly sliced
Preheat oven to 400°F. Prick sweet potatoes several times with fork and bake about 50 minutes, until completely soft and fork can be poked all the way through. Remove from oven and let cool.
Remove skins and mash sweet potato flesh (saving skins to make chips, to avoid wasting). Form small mound with hole in the middle and fill with flour and salt. Knead to combine, being careful to not overwork the dough to avoid making it tough. Add more flour as necessary to prevent sticking, but avoid adding too much to keep gnocchi light and tender.
Roll into ball and divide into four small balls. Use fingers to roll out each into a rope, roughly 1 foot long. Use knife to cut each into 1-inch nuggets. Then create classic ridges in each by quickly rolling across the back of a fork.
Boil gnocchi in large pot of boiling water in 3 or 4 batches, giving quick stir after adding them to the pot. Gnocchi will rise to the top when done cooking, 1–2 minutes. Use slotted spoon to transfer to plate or colander to drain and repeat with subsequent batches.
Heat butter in large sauté pan over medium-high heat. Allow butter to melt. When butter is just beginning to turn light golden color, add olive oil and heat about 30 seconds, then brown. Add sage and fry until fragrant, about 1 minute. Add gnocchi and 1/4 teaspoon salt. Cook, tossing to combine, about 3 minutes. Serve immediately.
Developed in collaboration with the Association of Black Women Physicians, this cookbook features 19 Southern recipes including pan-fried catfish, gumbo, black-eyed peas and peach cobbler. The cookbook includes substitutions to make many recipes vegetarian or vegan, replaces deep-frying with pan-frying or baking, and includes interesting historical facts about soul food.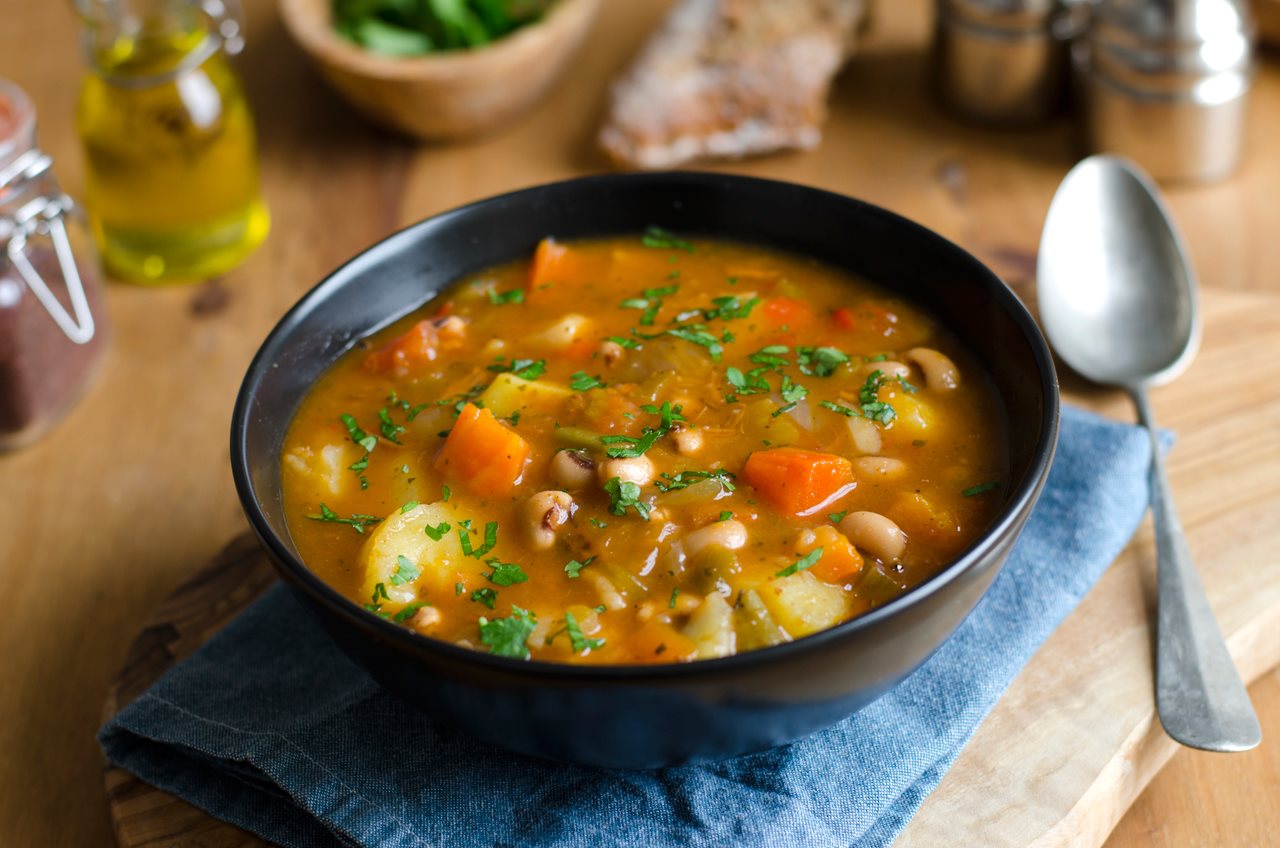 With this recipe, feel free to substitute any hearty greens — such as collard greens, beet greens or turnip greens — based on what you find easily at the grocery store or market, or what you may be growing yourself at home.
Total time: 45 minutes (plus 8 hours if using dried black-eyed peas) | Serves 4
1 medium sweet onion, diced
2 medium garlic cloves, minced
1 tablespoon chili powder
2 teaspoons smoked paprika
1/4 teaspoon black pepper
3 cups cooked black-eyed peas (about 2 cans, drained, or cooked from 1 cup dried peas)
1 15-ounce can low-sodium diced tomatoes
4 cups low-sodium vegetable broth
1 tablespoon apple cider vinegar
1/4 cup fresh parsley, chopped (optional)
Heat olive oil in large soup pot over medium heat. Once hot, add onions, celery and carrots. Cook 5–7 minutes, stirring occasionally, until softened. Add garlic and spices, stir to combine and cook 1 more minute.
Stir in cooked black-eyed peas, diced tomatoes and broth. Bring to boil and then reduce to simmer. Cover and simmer soup about 15–20 minutes.
Add chopped greens and stir to combine. Just before serving, stir in vinegar. Serve hot in bowls and top with parsley, if desired.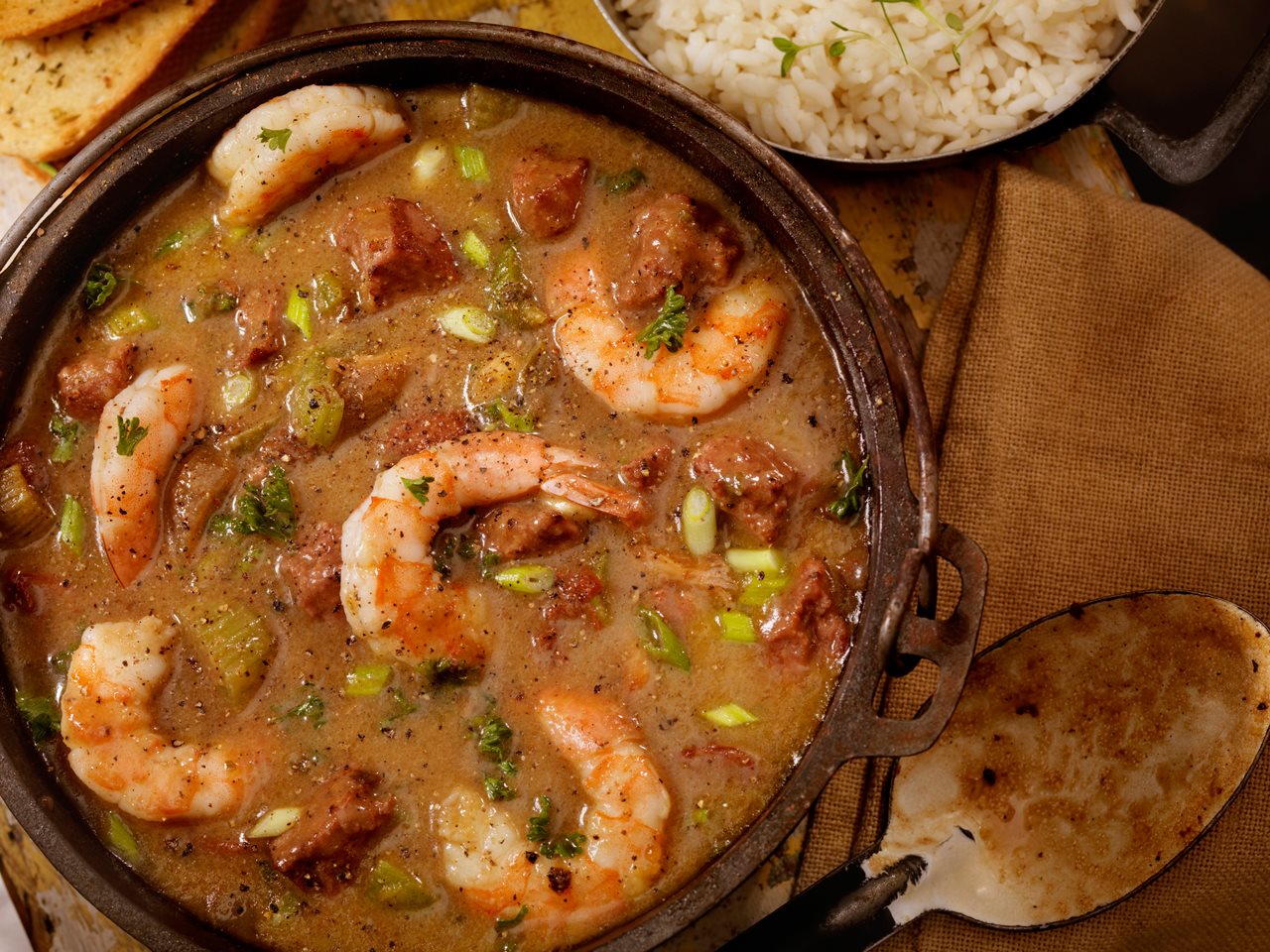 Gumbo represents Louisiana's melting pot of cuisine and culture, especially African, French and Native American. Variations of the dish represent the combination of food traditions passed down across generations, mirroring the blending of many flavors in each bite of gumbo, according to Louisiana's Food Traditions: An Insider's Guide, by Maida Owens. This Healthier Traditions Cookbook recipe honors this history and tradition.
Source: Owens, M. (2000). Louisiana's Food Traditions: An Insider's Guide. Folk Life in Louisiana.
Total time: 1 1/2 hours | Serves 8
3/4 pound boneless, skinless chicken thighs
1/2 teaspoon salt, divided
1 teaspoon black pepper, divided
2 tablespoons peanut or safflower oil (or another high-heat cooking oil), divided
1 green bell pepper, seeded and diced
1/4 cup whole wheat flour
1/4 cup Worcestershire sauce
1/4 teaspoon cayenne (optional)
1 teaspoon smoked paprika
1/2 pound Andouille sausage, cut into 1/4-inch slices
4 cups low-sodium beef broth
1 14-ounce can low-sodium diced tomatoes
3/4 pound medium shrimp, peeled and deveined
1/4 cup fresh parsley, chopped
Season chicken with 1/4 teaspoon salt and 1/2 teaspoon pepper. In large heavy pot, heat 1 tablespoon of oil over medium-high heat. Add chicken and cook until lightly browned on both sides, about 5 minutes per side. Remove chicken from pan and set aside.
In same pot, add remaining 1 tablespoon of oil. Over medium-high heat, cook onion, bell pepper and celery, stirring frequently. Cook about 5–10 minutes, until lightly browned. Sprinkle in flour and continue cooking, stirring constantly, until mixture is browned. Add garlic, Worcestershire sauce, remaining salt and pepper, cayenne and paprika. Cook 1–2 minutes, until fragrant. Add sausage and cook, stirring frequently, until browned, about 5 minutes.
Stir in broth and tomatoes, scraping bottom of pan for any brown bits. Simmer over medium heat about 25 minutes, until soup is thickened.
Add okra and cook until soft, about 5 minutes. Cut cooled chicken thighs and add to pot. Add shrimp and cook until cooked through, about 3–4 minutes. Remove from heat and top with chopped parsley.
From favorite comfort food dishes like macaroni and cheese, New England clam chowder and meatloaf to Philly cheesesteak and shepherd's pie, these 19 recipes incorporate more vegetables and use less oil, sugar and salt. The cookbook also includes tips for making recipes gluten-free or vegetarian.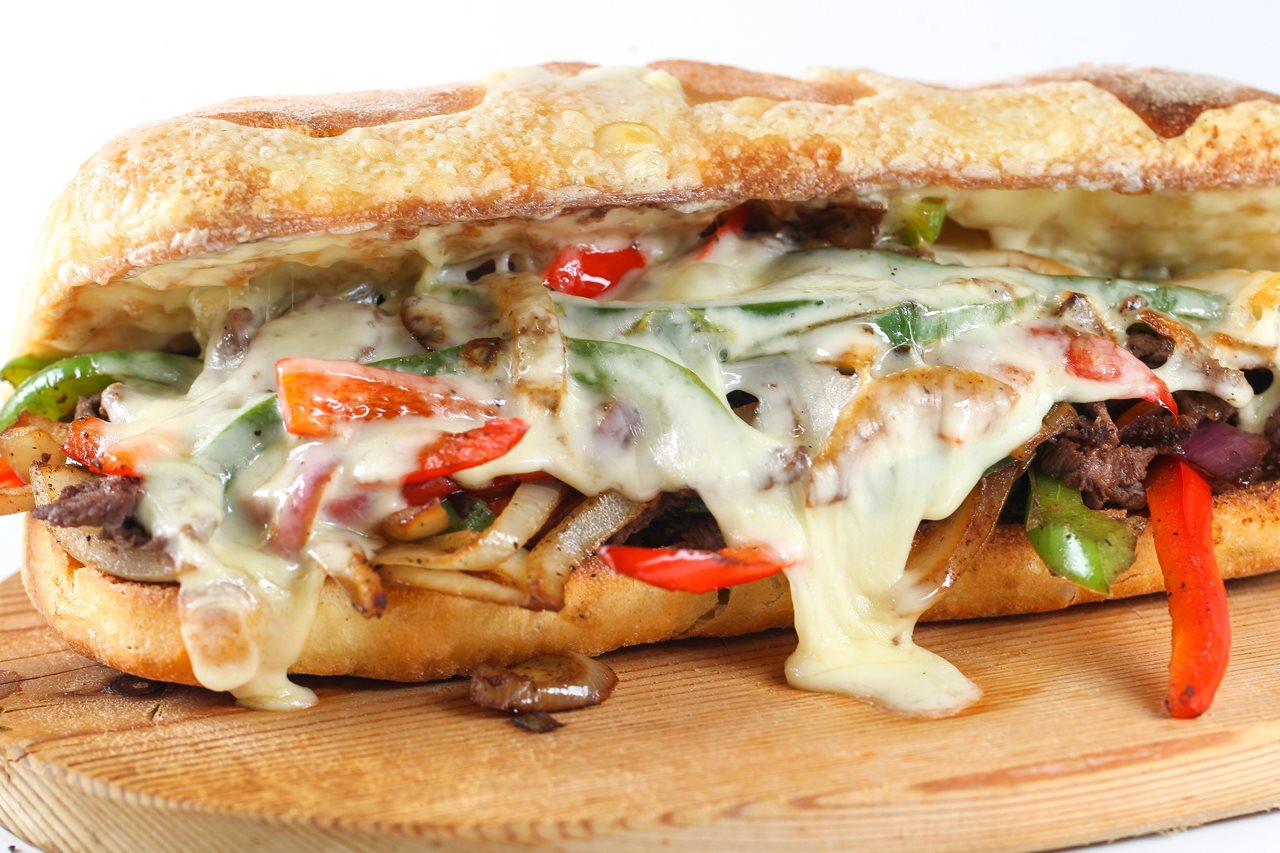 A traditional Philly cheesesteak can pack over 1,000 calories and more than a whole day's worth of sodium. This recipe uses a leaner cut of meat, loads the sandwich with veggies and substitutes traditional cheese or ultra-processed "whiz" with a more wholesome cheese sauce. The result has less fat and sodium, more fiber, and all of the satisfying flavor.
1 12-ounce flank steak, fat trimmed
3/4 teaspoon black pepper, divided
10 ounces mushrooms, sliced
1 bell pepper (green or red), sliced
1 teaspoon Worcestershire sauce
1 tablespoon all-purpose flour
3/4 cup shredded provolone cheese
1/4 cup grated Parmesan cheese
4 whole grain hoagie rolls, cut in half lengthwise and toasted
Slice flank steak into thin slices (slicing across the grain helps make meat more tender). Season meat with 1/4 teaspoon salt and 1/2 teaspoon pepper. Set aside.
Heat olive oil in skillet over medium-high heat. Add onions and cook about 2–3 minutes, stirring constantly, until translucent. Add mushrooms, peppers, garlic and 1/4 teaspoon black pepper and cook until vegetables are soft, about 8 minutes. Add beef and sauté, stirring constantly. Cook 2–4 minutes until beef browns (exact cooking time will depend on thickness of slices). Remove from heat and add Worcestershire sauce.
Add flour to small saucepan over medium heat. Gradually whisk in milk until blended. Bring to simmer, stirring constantly, and cook 2 minutes or until thickened. Remove from heat and add provolone and Parmesan, stirring until sauce is smooth. Assemble sandwiches. Place one-fourth of the meat and vegetable mixture on bottom half of each hoagie roll (if having trouble fitting it all, scoop out part of the center of the roll). Pour one-fourth of the cheese sauce over each sandwich and top with top half of roll.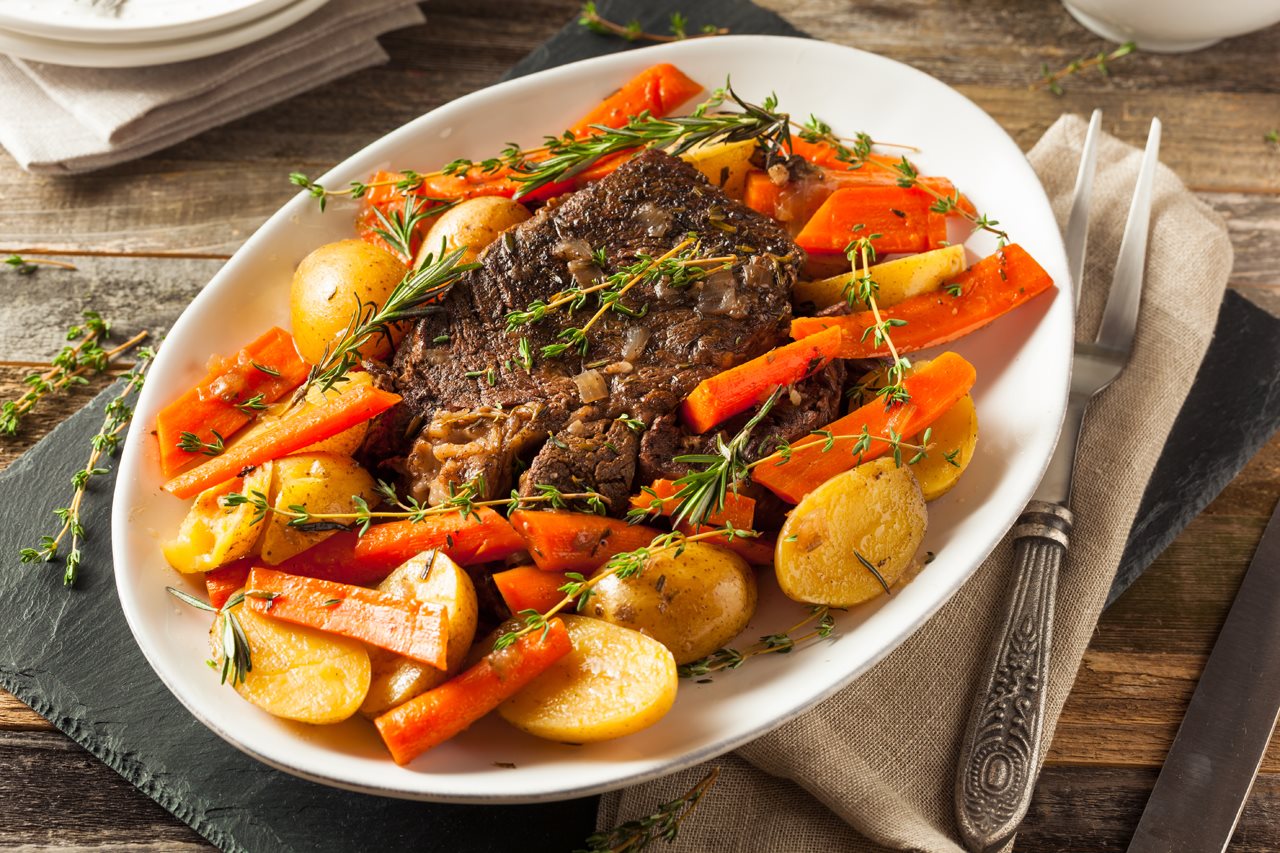 This recipe calls for a leaner cut of beef than a traditional pot roast to reduce saturated fat and calories in each serving. Braising in the slow cooker produces a tender roast. Use the vegetables in this recipe, or add others you enjoy, such as mushrooms, potatoes, or parsnips. Pair the roast and vegetables with a simple salad to complete this healthy, no-fuss meal.
2 leeks, cleaned, white and green parts, chopped
3 cloves garlic, peeled and smashed
3 pounds lean eye of round beef roast
1 tablespoon all-purpose flour
1 cup red wine (or substitute with 3/4 cup extra stock and 2 tablespoons ketchup)
1 14-oz can no-salt-added crushed or diced tomatoes
1/2 cup low-sodium beef stock or broth
2 branches fresh rosemary
Lightly coat dish of slow cooker with olive oil. Spread all vegetables in bottom of slow cooker. Pat beef dry with paper towel, season with salt and pepper, and cover with flour. In large pot, heat olive oil over medium heat. Add roast and cook 4–5 minutes on each side until browned. Remove roast from pot and place on top of vegetables in slow cooker. Pour wine, stock and tomatoes into pot and whisk together while lightly scraping brown bits off bottom of pan. Bring to light boil, then remove from heat and pour over roast and vegetables in slow cooker. Place fresh herbs around roast.
Cover slow cooker and cook on low 6–7 hours until very tender. Serve with vegetables and sauce.
"As we continue to cope with the pandemic, we can eat in a way that both satisfies our cravings and nourishes our bodies," said Mihaela Vincze, public health expert at Transamerica Institute. "Our cookbooks offer recipes for delicious and nutritious meals to support your well-being."
Transamerica Institute® is a nonprofit, private foundation dedicated to identifying, researching, and educating the public about retirement security and the intersections of health and financial well-being. Transamerica Center for Retirement Studies®, an operating division of Transamerica Institute, conducts one of the largest and longest-running annual retirement surveys of its kind. Transamerica Institute is funded by contributions from Transamerica Life Insurance Company and its affiliates. The information provided here is for educational purposes only and should not be construed as insurance, securities, ERISA, tax, investment, legal, medical, or financial advice or guidance. Please consult independent professionals for answers to your specific questions. www.transamericainstitute.org.
Visit Transamerica Institute's website for more on health, personal finance, and retirement security resources, including its health care guides, cookbook series, podcast, academic collaborations on workplace wellness and age-friendly employers, and the 21st Annual Transamerica Retirement Survey. Follow Transamerica Institute on Twitter @TI_insights, LinkedIn and Facebook.