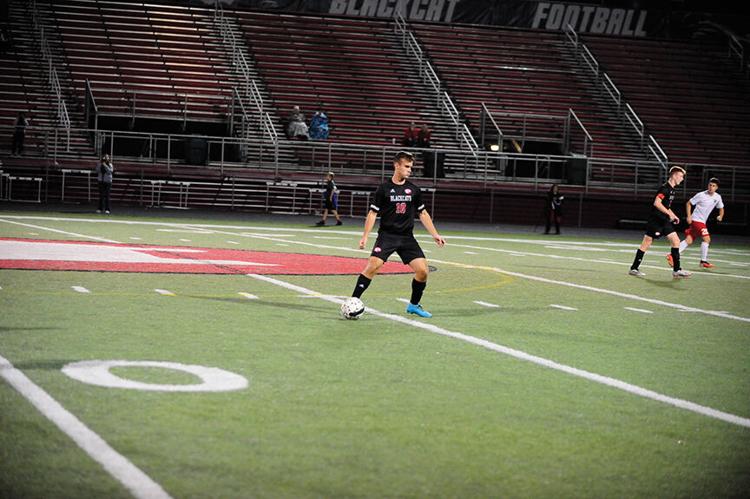 Back-to-back 15th Region champion Prestonsburg is preparing to compete in the 2020 boys' high school soccer season.
Prestonsburg is scheduled to open the 2020 boys' high school soccer season at 15th Region rival Martin County on Tuesday, Sept. 8.
The Blackcats are anxious to open the upcoming campaign. The Prestonsburg boys' soccer team resumed practice earlier in the week.
"First off, we are thrilled to just be able to play at this point," said Prestonsburg Coach Brad Burchett. "These kids were off for so long due to the pandemic, and they came in on June 15 very eager to start working. It's been a long couple of months with a lot of uncertainty, but now that we have some clarity and know that we will play, they are chomping at the bit."
Prestonsburg boasts an experienced roster, which includes some of the 15th Region's top players.
"We return nine starters from last season's team, including three seniors, Grant Justice, Preston Crase and Jacob Martin," noted Burchett. "These guys have been staples of our program and meant a lot to Prestonsburg Boys' Soccer. I'm looking for big seasons out of all three.  Along with those guys we return four other All-Region players, juniors Matt Burchett, Isaiah Collins, Dylan Moore and Austin Buchanan, who have all four worked hard to become better players."
Prestonsburg concluded the 2019 boys' high school soccer season 19-3-2. The Blackcats suffered a season-ending loss to East Carter in double overtime in the second round of the 2019 KHSAA Boys' Soccer State Tournament.
"I'm excited to see what this team can do," added the Prestonsburg boys' soccer coach. "We have won back-to-back 15th Region championships and sometimes success can lead to complacency. We are focusing hard on not letting that happen to us. We want to stay hungry.
"This will be an unusual season with some of the restrictions that we will have due to COVID-19, but we can't wait to get back on the field and compete."