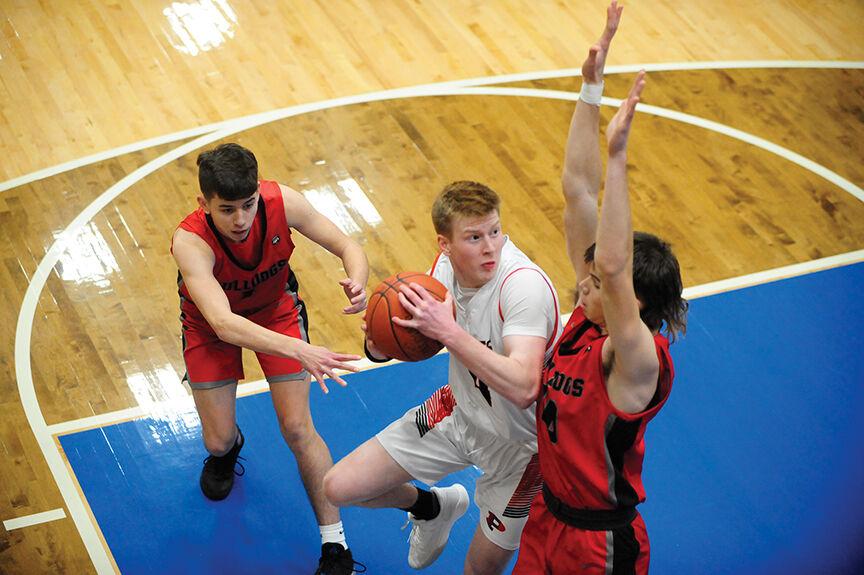 BETSY LAYNE — After splitting two games during the regular season, Prestonsburg and Lawrence County were matched up in the postseason. Reigning champion Lawrence County made the most of its opportunities to beat Prestonsburg 68-52 in the 58th District Boys' Basketball Tournament Semifinals at Junior Newsome Arena on Monday, March 15.
Following the loss, Prestonsburg exited the 2020/2021 boys' high school basketball season 9-14.
Lawrence County improved to 11-9 and advanced to the 58th District boys' basketball title game after claiming the win.
Starting strong, Lawrence County outscored Prestonsburg 18-11 in the opening quarter.
Lawrence County led 33-26 at halftime and stretched its lead after the intermission period. The Bulldogs led 48-33 at the conclusion of the third quarter.
Cody Maynard scored a game-high 27 points to lead Lawrence County to the win.
Accompanying Maynard in double figures for the Bulldogs, Kaden Gillispie scored 14 points and Trenton Adkins netted 12 points.
Will Lafferty (eight points), Zach Holt (three points) and Dawson Bellomy (two points) chipped in offensively as Lawrence County won to advance in the postseason.
Ryan Rose paced Prestonsburg, scoring 15 points for the Blackcats in the season-ending loss.
Joining Rose in double figures for Prestonsburg, Grant Justice scored 14 points and Connor Hopkins netted 11 points.
Rounding out Prestonsburg's individual scoring, Will Gullett chipped in nine points while Jacob Martin finished with three points.
Lawrence County is slated to face tournament host Betsy Layne in the 58th District boys' basketball title game at 7:00 p.m. on Thursday, March 18.