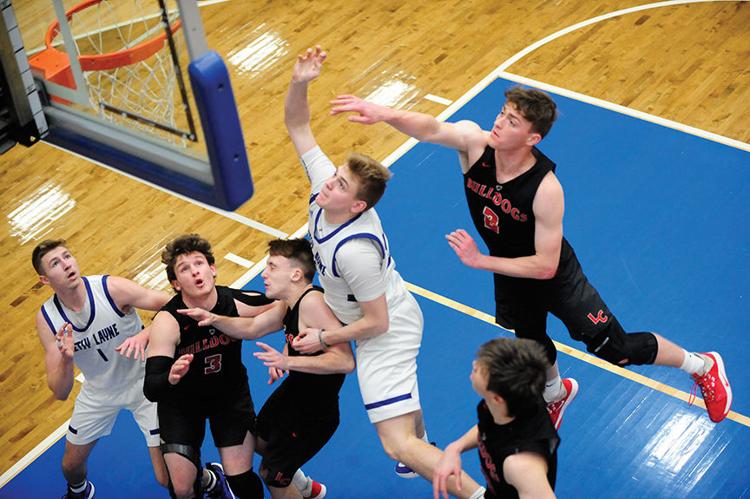 After reeling off five straight wins, Betsy Layne was limited offensively as visiting Lawrence County pulled away to win 71-51 in a 58th District boys' basketball game at Junior Newsome Arena on Friday night.
With the loss, Betsy Layne dropped to 14-8 overall and 4-2 in the 58th District.
Lawrence County improved to 17-9 overall and 5-0 in the district with the win.
Betsy Layne was without starting guard Brady Robinson in the district matchup. Being shorthanded didn't help the Bobcats' cause while Lawrence County executed well offensively. Lawrence County steadily pulled away to win convincingly.
The victory allowed Lawrence County to lock up the top seed for the 58th District Boys' Basketball Tournament for the second straight season.
Four different Lawrence County players reached double figures in the scoring column. Trenton Adkins paced the Bulldogs with 20 points. Accompanying Adkins in double figures in scoring for the Bulldogs, Tyler Maynard netted 13 points, Chase Satin posted 12 points and Cody Maynard contributed 11 points.
The additional scorers for Lawrence County were Baden Gillispie (six points), Will Lafferty (four points), Alex Ratliff (three points) and Bryce Blevins (two points).
Jordan Frazier led Betsy Layne with a game-high 27 points. Betsy Layne featured three scorers in double figures. Joining Frazier in double figures for the Bobcats, Chase Mims and Lukas Manns added 10 points apiece.
Rounding out the Bobcats' individual scoring, Connor Hopkins and Jake Rainey chipped in two points apiece.