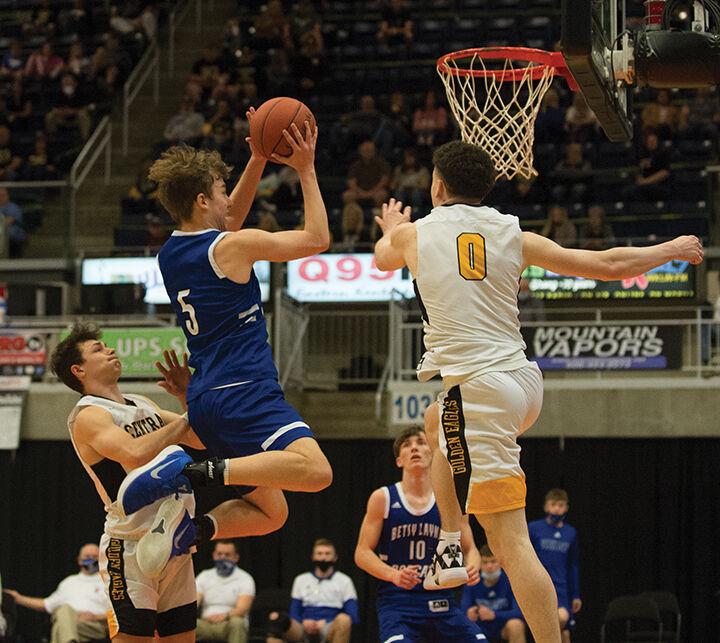 Betsy Layne's postseason run ended in the 15th Region Boys' Basketball Tournament Semifinals. Johnson Central, the runner-up out of the 57th District, pulled away to beat Betsy Layne 72-55 in the 15th Region Boys' Basketball Tournament semifinals at the Appalachian Wireless Arena on Friday, March 26.
The win lifted Johnson Central into the 15th Region boys' basketball tournament title game.
With the loss, Betsy Layne ended its season 13-9.
Johnson Central improved to 21-3 with the win.
A perennial 15th Region title contender, Johnson Central shot 49.1 percent (26 of 53) from the field.
The Golden Eagles finished 5-of-22 (22.7 percent) from three-point range.
Johnson Central shot 78.9 percent (15 of 19) from the free-throw line in its winning effort.
Cory VanHoose led Johnson Central with a game-high double-double, scoring 21 points and pulling down 10 rebounds. VanHoose was 7-of-8 from inside the arc
Accompanying VanHoose in double figures in scoring for the Golden Eagles, Isaiah May netted 15 points and Ryleh McKenzie contributed 13 points.
Johnson Central received scoring from nine different players, including John King (six points), Conner Lemaster (six points), Grant Rice (four points), Kamen Slone (three points), Mason Lawson (two points) and Josh Slone (two points).
Betsy Layne shot 39.5 percent (17 of 43) from the field. The Bobcats were five of 13 (38.5 percent) from three-point range.
Betsy Layne shot 61.5 percent (16 of 26) from the free-throw line.
Brady Robinson paced Betsy Layne, scoring a team-high 18 points for the Bobcats.
Accompanying Robinson in double figures for Betsy Layne, Chase Mims scored 12 points and Byron Tackett netted 11 points.
Rounding out Betsy Layne's individual scoring, Andrew Kidd and Jake Rainey chipped in eight points and six points, respectively.
Mims paced Betsy Layne on the backboards, hauling in eight rebounds.
Under the direction of head coach Derrick Newsome, Betsy Layne showed improvement throughout the 2020/2021 boys' high school basketball season, returning to the top in the 58th District.