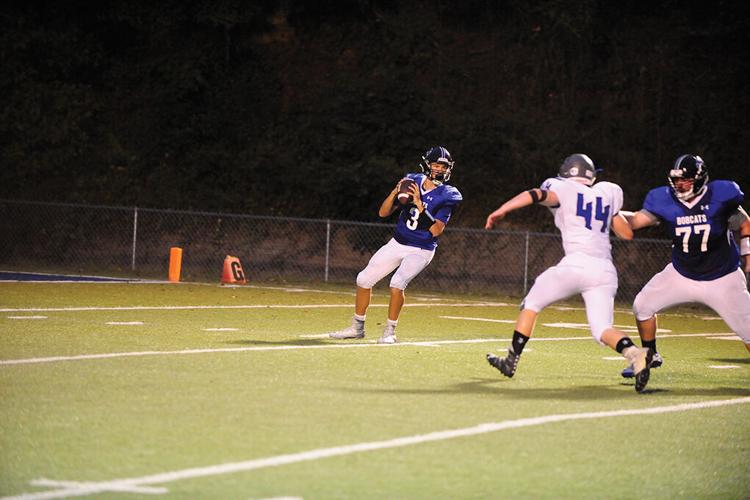 Betsy Layne is scheduled to kick off the 2020 high school football season at Martin County on Friday, Aug. 21.
An improved team, Betsy Layne notched back-to-back wins on two separate occasions during the 2019 high school football season.
The Bobcats, under the direction of head coach Scotty McCoy, ended the 2019 high school football regular-season 4-6. Following a loss to Raceland in the opening round of the Class A Football Playoffs, Betsy Layne finished the 2019 season 4-7.
Betsy Layne notched wins over Morgan County, East Ridge, Fairview and Jenkins during its latest gridiron campaign. The Bobcats dropped games to Raceland, Martin County, Magoffin County, Knott County Central, Phelps and Paintsville in the 2019 season. Class A District 6 rival Raceland defeated Betsy Layne during the regular-season and the playoffs.
Headed into his junior year, quarterback Chase Mims led Betsy Layne throughout the 2019 regular-season, completing 77 of 163 passes for 1,212 yards and 10 touchdowns. Mims threw 10 interceptions but proved to be an accurate passer in his second season as a varsity high school football starting quarterback.
Shawn Howell, who is now a senior, led Betsy Layne in receiving during the 2019 high school football season, reeling in 14 receptions for 366 yards and five touchdowns.
As a team, Betsy Layne rushed 278 times for 1,451 yards and 15 touchdowns in the 2019 high school football season. Austin Tackett led Betsy Layne on the ground, rushing 116 times for 667 yards and seven touchdowns. Leading Betsy Layne through the air and ranking as the Bobcats' second-leading rusher, Mims rushed 81 times for 354 yards and five touchdowns. Tackett is headed into his senior year.
Defensively, Marcus Hall led Betsy Layne , posting 69 tackles. Hall is preparing to take the field for the Bobcats as a junior.
Jaxson Burchett led Betsy Layne in another key defensive category, registering four interceptions for the Bobcats. Burchett is poised to enter his sophomore season.
Kickoff for the Betsy Layne-Martin County gridiron matchup is set for 7:30 p.m.