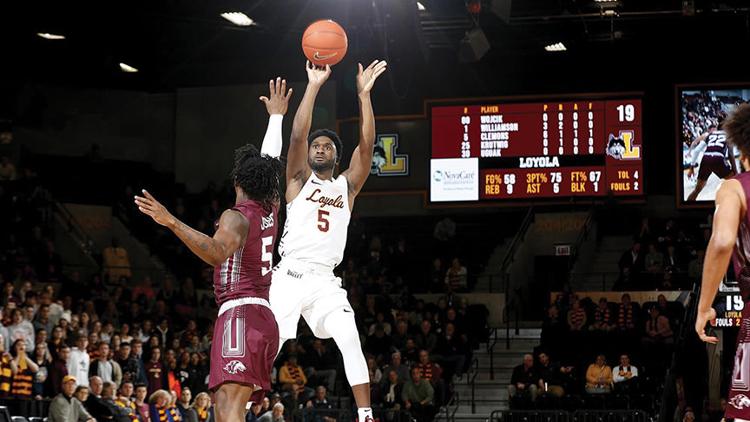 Overcoming early adversity, former Wesley Christian standout Keith Clemons averaged double figures in scoring as a junior for Loyola University Chicago during the 2019/2020 men's college basketball season.
Clemons thrived in his debut season for the Loyola University Chicago men's basketball team.
After being sidelined for the first eight games of the 2019/2020 season following preseason knee surgery, Clemons excelled for the Ramblers, averaging 10.4 points, 1.7 rebounds, 2.0 assists and 1.2 steals per game in 24 appearances, all starts, at point guard. Clemons shot 45.9 percent (78 for 170) from the field, including 45.7 percent (37 for 81) beyond the three-point line. He scored in double figures on 13 occasions, twice netting 25 or more points. Loyola went 17-7 with Clemons in the lineup and only 4-4 while he was sidelined.
Loyola ended the 2019-20 season 21-11, finishing runner-up to Valparaiso in the Missouri Valley Conference.
Prior to helping to lead Loyola during the 2019/2020 season, Clemons starred at junior college powerhouse Vincennes. Clemons averaged 15.1 points, 2.0 rebounds and 5.1 assists per game in the 2018/2019 season, helping Vincennes to a 34-2 overall record and the NJCAA Division I Championship.
During his freshman campaign at Vincennes, 2017/2018, Clemons, a native of Norcross, Ga., put up 10.9 points, 1.7 rebounds and 2.7 assists per game with a 3.1 assist-to-turnover ratio (101-33), in 37 games.
Clemons is one of the top all-time players in the Wesley Christian boys' basketball program's history. He averaged 17 points and six assists per game as a senior at Wesley Christian, finishing his prep career as the second-ranked point guard prospect in Kentucky. Clemons exited the Wesley Christian basketball program ranked 15th nationally in the point guard rankings.