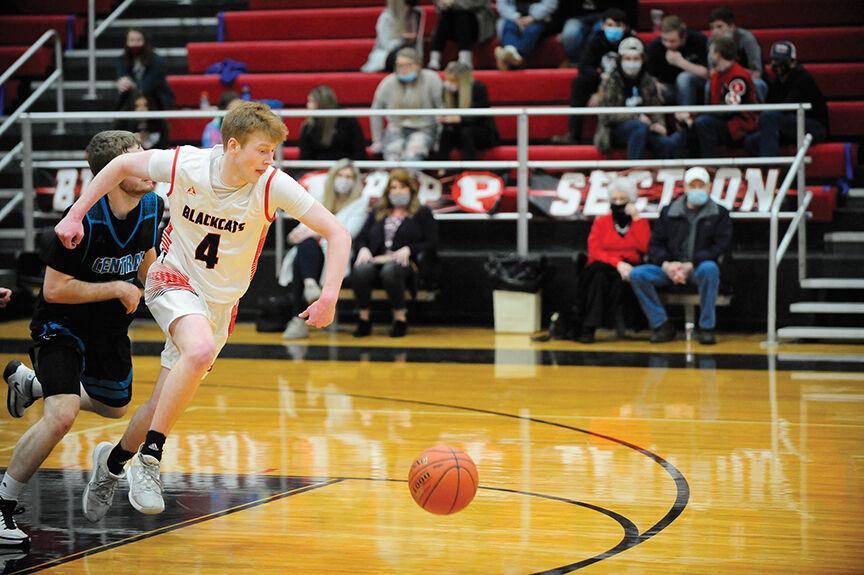 PRESTONSBURG — Senior guard Grant Justice poured in a game-high 28 points to lead Prestonsburg over visiting Floyd Central 67-56 in a 58th District boys' basketball game on Friday, Feb. 19.
The win allowed Prestonsburg to sweep a 58th District regular season series from Floyd Central.
With the win, Prestonsburg improved to 5-6 overall and 2-1 in the 58th District.
Floyd Central dropped to 4-8 overall and 0-4 in the district with the loss.
"I am really proud of the effort and desire the kids gave," Prestonsburg coach Brent Rose commented, following his team's district win. "We had been in quarantine and also dealing with the weather so practice was very limited. We were able to get three practices in prior to the game but only had seven or eight there due to the road conditions. But because of that it took a total team effort to win the game. Obviously Grant had a special night, scoring 28 points. It's good to see him playing healthy. He missed so much of last season and has been beat up this year but is starting to get healthy and playing at a high level."
Connecting on over half of its attempts inside the arc, Prestonsburg shot 53.2 percent (25 of 47) from the field. The Blackcats were four of 11 (36.4 percent) from three-point range.
Prestonsburg shot 59.1 percent (13 of 22) from the free-throw line.
The Blackcats outrebounded the Jaguars 33-29.
Prestonsburg forced Floyd Central to play from behind during the 58th District boys' basketball matchup. The Blackcats led 28-23 at halftime and pulled away after the intermission period.
Justice was 10 of 14 from inside the arc on his way to tallying the game-high scoring total.
Ryan Rose delivered a double-double for Prestonsburg, scoring 13 points and pulling down 12 rebounds.
Joining Justice and Rose in double figures for the Blackcats, Connor Hopkins added 11 points.
Prestonsburg featured eight different scorers, including Jacob Martin (four points), Jon Little (three points), Will Gullett (three points), Wes Salisbury (three points) and Kaleb Jarvis (two points).
Floyd Central shot 33.9 percent (19 of 56) from the field. The Jaguars were two of 13 from three-point range.
Floyd Central shot 69.6 percent (16 of 23) from the free-throw line.
Tanner Hall scored 20 points to lead the Jaguars. Hall was seven of 12 from inside the arc.
Joining Hall in double figures in scoring for the Jaguars, Ronnie Samons added 12 points and Braden Moore contributed 10 points.
Rounding out Floyd Central's individual scoring, Brody Buck (six points), Dylan Mosley (five points), Sheston Johnson (two points) and Dalton Younce (one point) chipped in offensively
Younce paced Floyd Central inside, pulling down a team-high 10 rebounds.