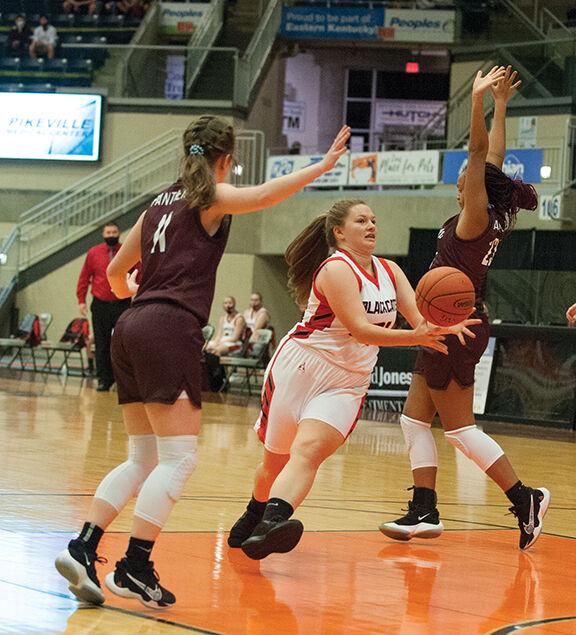 Once Pikeville picked up its press in the second quarter, it was all over for Prestonsburg in the 15th Region All "A" Classic semifinals.
Pikeville rolled off a 22-3 run to end the first half and take a 42-14 lead into the halftime break.
That put the game away as the Lady Panthers got a running clock on the Lady Blackcats early in the third quarter.
Trinity Rowe and Mackenzie Maynard led the way for Pikeville scoring 17 points each.
Emma Ratliff, Kristen Whited and Kylie Hall each added eight points; Ratliff pulled down a team-high seven rebounds and had several steals for the Lady Panthers. Madison Thacker finished with seven points, while Rylee Theiss and Lieghan Jackson each scored four points apiece.
Pikeville was 29 for 66 from the field on the night (43.9 percent).
The Lady Panthers were seven of 22 from three-point land (31.8 percent).
Pikeville out rebounded Prestonsburg 31-21.
Faith Lazar and Alivia Slone led Prestonsburg with five points apiece. Abby Goble added four. Alexis Skeens and Allison Howard each scored three points. Maggie Nelson and Shae Robinson chipped in with two points each.
Pikeville held the Lady Blackcats to 23.7 shooting from the field (nine of 38).
Prestonsburg made three of its 10 three-point attempts on the night, though.