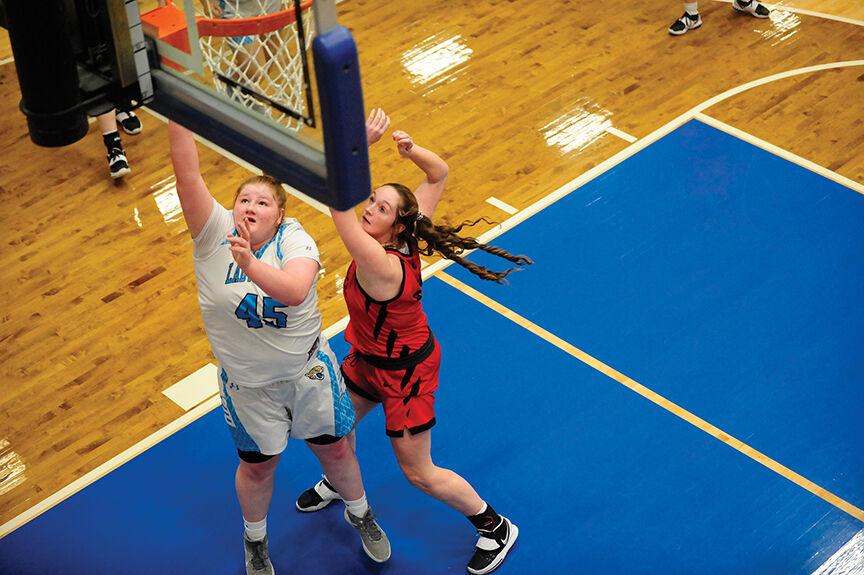 BETSY LAYNE — Floyd Central faced a deficit at the conclusion of each quarter as Lawrence County gradually pulled away to win 72-58 in the 58th District Girls' Basketball Tournament title game at Junior Newsome Arena on Friday, March 19.
Lawrence County repeated as 58th District girls' basketball champion.
With the loss, Floyd Central dropped to 17-5.
Lawrence County improved to 18-10.
Both Lawrence County and Floyd Central advanced to the 15th Region Girls' Basketball Tournament.
Lawrence County outscored Floyd Central 16-12 in the opening quarter and clung to a lead midway throughout the matchup. Reigning champion Lawrence County led 28-27 at halftime.
Expanding its lead after the intermission period, Lawrence County led 45-38 at the end of the third quarter.
Finishing strong, Lawrence County outscored Floyd Central 27-20 in a high-scoring fourth quarter.
Lawrence County shot 44 percent (22 of 50) from the field in the district title game. The Lady Bulldogs were four of 12 (33.3 percent) from three-point range.
Productive Lawrence County shot 85.7 percent (25 of 28) from the free-throw line.
Kensley Feltner led Lawrence County to the district title-clinching win, scoring 47 points and hauling down 14 rebounds. Feltner, who scored 20-plus points in each half, finished 12 of 21 from the field. The Lawrence County standout was 17 of 18 from the free-throw line and led all players in scoring and rebounding.
Both Feltner and Kaison Ward delivered a double-double for Lawrence County in the victory. Ward added 10 points and 11 rebounds.
Chipping in offensively, Sophie Adkins (six points), Kyleah Ward (four points), Ellie Webb (three points) and Tyra Hammond (two points) accounted for the rest of Lawrence County's individual scoring.
Floyd Central finished nine of 15 from the free-throw line in the setback.
Katie Moore, who encountered foul trouble early, paced Floyd Central with a team-high 22 points.
Accompanying Moore in double figures in scoring for the Lady Jaguars, Grace Martin added 17 points and Jada Johnson contributed 10 points.
Rounding out Floyd Central's individual scoring, Kennedy Harvel pushed in six points, Chelsea Johnson posted two points and Riley Compton finished with one point.