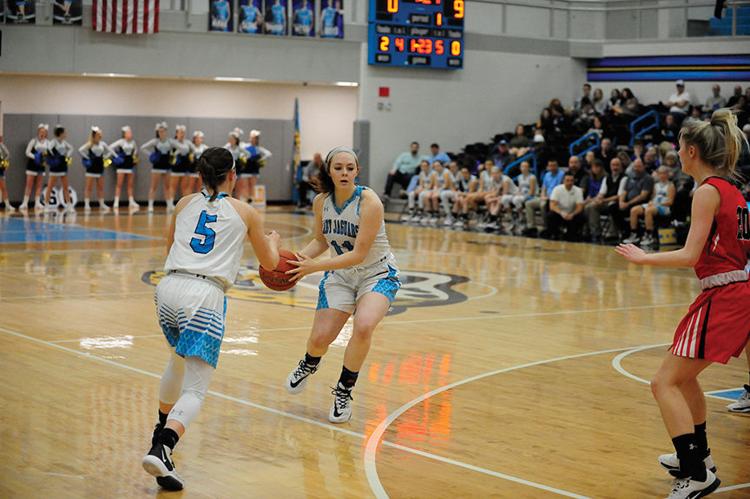 Floyd Central's third season included finishing as the 58th District runner-up, reaching the 15th Region Girls' Basketball Tournament semifinals and 20 wins.
The Lady Jaguars, under the direction of head coach Justin Triplett, exited the regular-season on a seven-game winning streak. Floyd Central compiled the best regular-season record among 58th District girls' basketball teams. The Lady Jaguars were 6-4 through the first 10 games in the 2019/2020 girls' high school basketball season and narrowly missed claiming their third straight 58th District title. Lawrence County edged Floyd Central 56-53 in overtime in the 58th District Girls' Basketball Championship Game at the Prestonsburg Fieldhouse in late-February.
'We had our ups and down this season because of players having to take on new roles," said Triplett. "Coming into the season we had a lot of players that didn't have a lot of experience. But as the season progressed so did our team. We played a difficult schedule but I feel that it helped late in the season."
Floyd Central edged preseason favorite Martin County 52-51 in the opening round of the 15th Region Girls' Basketball Tournament at Appalachian Wireless Arena in Pikeville. However, Shelby Valley pulled away to defeat Floyd Central 55-43 in the 15th Region Girls' Basketball Tournament Semifinals.
Junior Katie Moore led Floyd Central throughout the 2019/2020 hoops season, averaging 19.8 points and 9.9 rebounds per game. In 29 games, Moore scored 573 points and grabbed 288 rebounds. Moore, who was the only Floyd Central player to average double figures in scoring, shot 45.7 percent from the field.
Kennedy Harvel (8.8 ppg, 2.9 rpg), Grace Martin (7.0 ppg, 5.8 rpg), Brook Stumbo (5.4 ppg), Jada Johnson (5.2 ppg, 5.0 rpg), Kamryn Shannon (3.8 ppg, 3.7 rpg) and Kennedy Blevins (4.1 ppg) helped to pace Floyd Central in its latest campaign.
Floyd Central will have to replace one starter from its 2019-20 team. Stumbo is a longtime leader for the Lady Jaguars.
"We lose one of the best defenders in the 15th Region in Brook Stumbo and great teammates and shooters in Kennedy Blevins and Kayci Stumbo," confided Triplett. "But we return a lot for next season. I feel that we will grow from the previous season and see a lot of improvement in players Grace Martin, Kennedy Harvel, Kamryn Shannon, Jada Johnson and Natalie Holle. I expect a lot out of these girls. Katie Moore will yet again be our leader and will be expected to lead by example for this team."
The Lady Jaguars exited the 2019/2020 hoops season with the third-best record among 15th Region girls' basketball teams. Floyd Central is expected to remain among the 15th Region's top-five teams in the 2020/2021 girls' high school basketball season.