Jaguars knock off Hazard, 24-21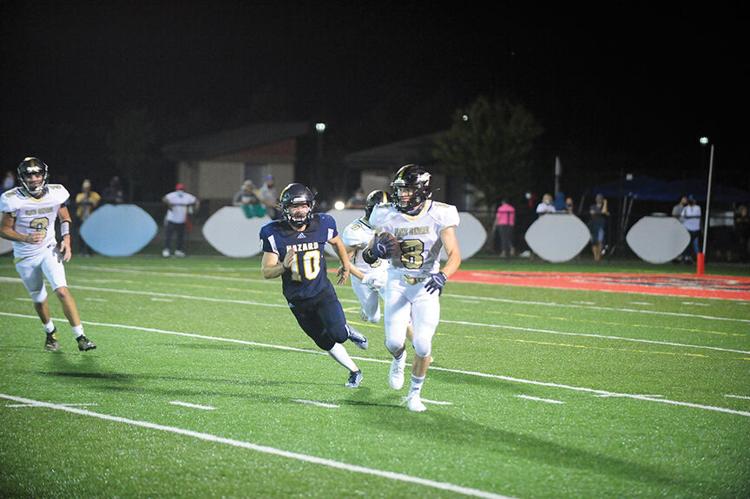 HAZARD — Determined Floyd Central outscored Hazard 18-0 in the second half to win 24-21 in the Bill Dixon Bowl at East Perry Elementary School on Saturday, Sept. 12.
A high school football team from the Beaver Creek portion of Floyd County notched a win over a Hazard prep gridiron squad for the first time since 2004. In 2004, South Floyd defeated Hazard 56-20.
The Jaguars limited Hazard, which led 21-6 at halftime, throughout the second half.
"This was a big win for our program," said Floyd Central coach Shawn Hager. "We are out of shape, but I am very proud of our kids for not giving up. We looked better on offense and defense in the second half. I thought our kids were very nervous during the first half, but settled down in the second half once they got a little confidence."  
The Jaguars moved ahead of Hazard 24-21 with 7:02 remaining in regulation.
Senior quarterback Caleb Hager, who accounted for the game-winning TD, led Floyd Central to the victory. Caleb Hager rushed 15 times for 59 yards three TDs.
The senior quarterback had a hand in on each of the Jaguars' four TDs. Hager completed three of 10 passes for 99 yards and one TD. He threw one interception in the season opener.
Brant Potter was on the receiving end of Hager's scoring pass. Potter paced Floyd Central in receiving, reeling in two receptions for 91 yards and one TD.
Defensively, Floyd Central recorded three interceptions.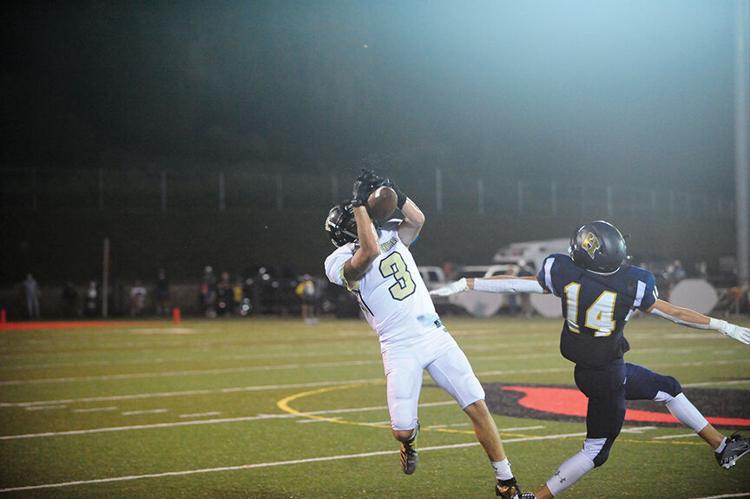 Quarterback Garrett Miller led Hazard. Miller completed 10 of 20 passes for 240 yards and two TDs while throwing one interception. On the ground, Miller rushed seven times for 30 yards.
Splitting time at quarterback for the Bulldogs, Nick Miller completed one of five pass attempts for 17 yards and threw two interceptions. More productive on the ground, Nick Miller rushed six times for 57 yards.
Tyson Turner and Andrew Ford hauled in one TD pass reception apiece for the Bulldogs.
Turner led Hazard on the ground, rushing six times for 101 yards and one TD.
The Bulldogs rushed 24 times for 271 yards and one TD in the loss.
Floyd Central is scheduled to visit county rival Prestonsburg on Friday, Sept. 18. Kickoff for the Floyd Central-Prestonsburg football game is set for 7:30 p.m.
Blackcats drop opener to Powell County
STANTON — Prestonsburg owned multiple leads but lost its momentum in the second half as host Powell County overcame a slow start to win 34-28 in a high school football season opener on Friday, Sept. 11.
The Blackcats experienced a letdown after leading 22-7 at halftime.  
Powell County fared well on the ground, rushing 52 times for 324 yards and five TDs. Five different Powell County running backs rushed for positive yardage.
Stephen Norris paced Powell County on the ground, rushing 17 times for 131 yard and two TDs. In a similar offensive performance for the Pirates, Tyler Charles rushed 16 times for 111 yards and a pair of TDs.
Three Powell County running backs combined to rush for 300-plus yards. Following Norris and Charles, Larry Shifflet rushed four times for 82 yards and one TD.
Elijah Miller (10 tackles), Blake Hall (9 tackles) and Josh Ledford (6 tackles) ranked as the Pirates' top three tacklers.
Prestonsburg outrushed Powell County in the setback. The Blackcats rushed 33 times for 340 yards and four TDs. Quarterback Brayden Slone led Prestonsburg offensively, rushing 10 times for 127 yards and three TDs.
In another strong offensive effort for the Blackcats, Nathan McGuire rushed four times for 99 yards and one TD.
Ethan Jarvis (13 carries, 78 yards) and Carter Akers (4 carries, 41 yards) provided depth for Prestonsburg in the rushing department.
Through the air, Slone completed three of five passe for 33 yards while throwing one interception.
Adam Blair hauled in a team-high 32-yard receptions for the Blackcats.
Defensively, Owen Green led Prestonsburg with a team-high 11 tackles. Finishing directly behind Greene, Gavin Stephens posted 10 tackles.
Prestonsburg is scheduled to host county rival Floyd Central for a home opener at 7:30 p.m. on Friday, Sept. 18.
Bobcats fall to Magoffin County
SALYERSVILLE — Visiting Betsy Layne fell behind early and was limited offensively as Magoffin County pulled away to win 36-8 in a high school football season opener on Friday, Sept. 11.
Host Magoffin County held Betsy Layne scoreless until the fourth quarter. The Hornets led 36-0 before the Bobcats answered offensively.
Senior quarterback Lucas Litteral led Magoffin County to the victory, completing 8 of 15 passes for 199 yards and three touchdowns. Litteral, one of the most underrated high school quarterbacks in the state, showed poise throughout the season opener.
Brad Standifer and Isaiah Salyer combined to account for the majority of Magoffin County's receiving yardage. Standifer hauled in a pair of receptions for 108 yards and two touchdowns. Magoffin County's team leader in catches, Salyer reeled in four receptions for 82 yards and one touchdown.
The Hornets rushed 23 times for 239 yards and two touchdowns. Caleb Howard led Magoffin County on the ground, rushing three times for 96 yards. Finishing closely behind Howard, Aden Barnett rushed three times for 90 yards and one touchdown.
Defensively, Magoffin County applied heavy pressure against Betsy Layne, which features experienced quarterback Chase Mims.
Austin Tackett rushed for Betsy Layne's only touchdown in the setback.
Betsy Layne is scheduled to visit Knott Central on Friday, Sept. 18. Kickoff for the Betsy Layne-Knott County Central football game is set for 7:30 p.m. in Hindman.